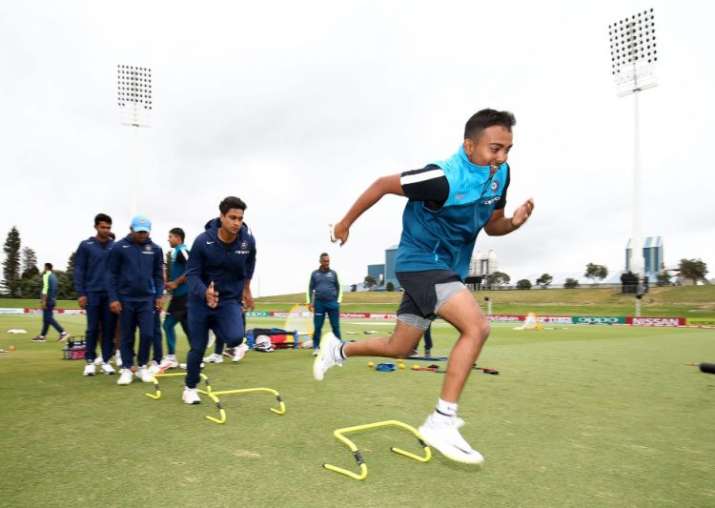 Currently vying in South Africa, captain Virat Kohli took out time to wish India's U-19 squad ahead of the World Cup final against Australia and said he will be closely tracking the title clash on Saturday.
"It feels amazing (to see them do well). I interacted with them before they left and its a lovely bunch of boys. Compared to our lot (when India won in 2008 under Kohli), the confidence levels are somewhere else which is a great sign," said Kohli ahead of the first ODI against South Africa on Thursday.
"You'll see many people making a strong statement for themselves much earlier than we all did. They've done amazingly well and the semifinal (against Pakistan) was an amazing game."
Kohli said the boys look set to win a record fourth U-19 world title.
"Playing such a high-pressure game (against Pakistan), they really stood up and that's what you want to see. You want to see people standing up when its needed the most. I want to wish them all the very best for the final.
"We'll all be following very keenly and well be eagerly waiting to see them lift the cup again. I believe they have the talent, and they believe in that much more than I do, which I think is very, very important," he signed off.
Former captain Sourav Ganguly also tipped India as the favourites to win the Under-19 World Cup final. India crushed arch-rivals Pakistan by 203 runs yesterday to set up a summit clash against Australia on February 3 at Mount Maunganui in New Zealand.
"India (will win U-19 World Cup). U-19 team is playing very well. There are immensely talented boys like Prithwi Shaw, Shubman Gill, Kamlesh Nagarkoti, Shivam Mavi, Ishan Porel are players who have come up from the BCCI system. Our Board members have invested time to prepare them from the junior, under-19 and senior level," Ganguly said.
"You can't make players without structure. They are product of our system. In the next five years, barring Australia and England, Indian cricket will be the best in the world," he told reporters on the sidelines of the release of the 20th edition of Shelly's Cricket Year Book.
Ganguly was full of praise for Bengal youngsters Ishan Porel and Kanishk Seth who bowled extremely well in the U-19 World Cup.
"Ishan Porel is a product of CAB's Vision 20-20 programme. U-19 is just the beginning, the stepping stone of one's career. He has a long way to go. Porel stays in Bali. We from CAB will provide him with all help," the Cricket Association of Bengal president said.
(With PTI inputs)