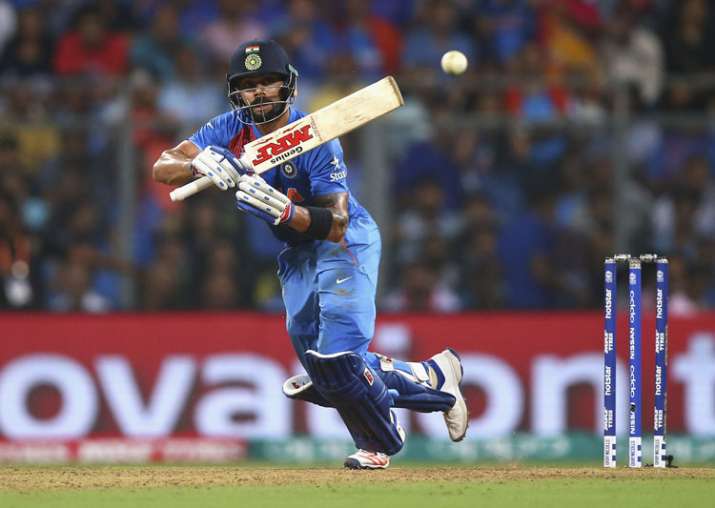 Former India Team Director Ravi Shastri feels captain Virat Kohli doesn't need any extra motivation to perform well in England in the ICC Champions Trophy 2017. Kohli averages an astounding 92.37 in one-day cricket over the last one year and with 27 centuries, he is already fourth on the overall list of most tons in the format. With India keen on defending their Champions Trophy title in England, Kohli will return to the same soil where he failed three years back.
This will be Kohli's first assignment as India captain in an ICC tournament and incidentally, his first outing in England since the disastrous tour of 2014, where in five Test matches, Kohli managed to score just 134 runs at an average of 13.40 and a highest score of 39. 
Kohli was undone by the seaming and swinging conditions in England. In the following four-match ODI series, he again failed to deliver scoring just 54 runs at an average of 18 and with a highest score of 40. It was only in the one-off T20I where Kohli managed to score 66 in a losing cause.
However, the Delhi stalwart shrugged off his failure in England with a highly productive Test series in Australia where he hammered four hundreds in four Tests and amassed 692 runs. And with Kohli being somebody who likes to wear his pride on his sleeve, it will be a no brainer that he would be eager to prove a point in England.
Kohli has made his intentions clear right from the beginning. The Indian captain slammed an unbeaten 52 and guided the team to victory over New Zealand in the first warm-up game of the Champions Trophy. 
"Virat Kohli was looking very motivated in the warm-up matches. I feel the couple of weeks rest after the Indian Premier League has helped him. And I feel he doesn't need any motivation to perform in England. He has scored runs everywhere barring England," Shastri told India TV.
Shastri believes the key for Kohli in England will be playing with controlled aggression. 
"Scoring runs in the first match must have boosted his self-confidence. He spent some time at the crease which is very important in England because the ball keeps on moving and you must play late. As a batsman, your shot selection changes, you also must keep an eye on your foot movement and you have to leave the deliveries going outside the off-stump. All these things are not taken in consideration in India. You just can't hit the ball from the word go. You need to settle down first and play cautiously for the first 15-20 minutes," he added.
Apart from Kohli, India will also rely heavily on the seasoned campaigners in former captain Mahendra Singh Dhoni and Yuvraj Singh. 
Shastri, a former India captain, felt that India have a much better team this time which can retain the title. 
Shastri also emphasized on the fact that the Indian team has four quality pace bowlers in Mohammed Shami, Umesh Yadav, Bhuvneshwar Kumar and Jasprit Bumrah.
"The Indian team for this year's Champions Trophy is better than the team which won the tournament in 2013. The players are more experienced this time and the biggest factor is our pace attack which can compete against any team. 
"Earlier, there used to be a lot of talk about the fast bowlers from Pakistan but things have changed now. India also have fast bowlers who can consistently clock 140 km/per hour and it will benefit the team in England. Plus, we have two world-class spinners who can take wicket in any condition. It is why I feel that this Indian team is better as it is a seasoned team," he said.