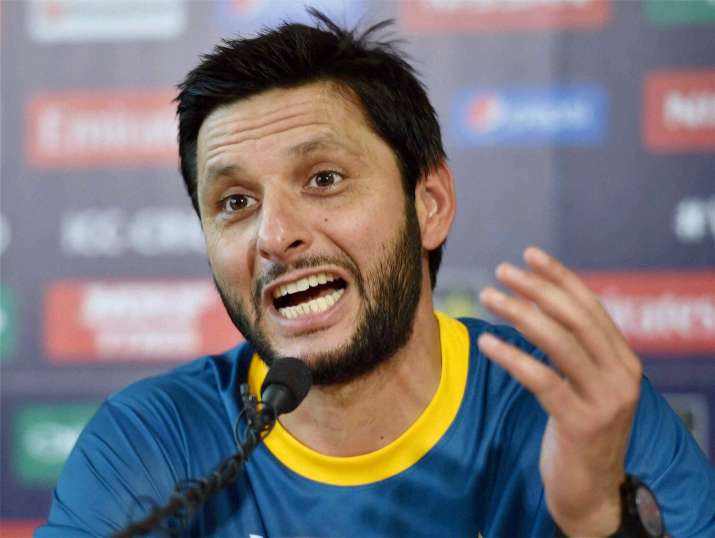 Kolkata: Under attack in Pakistan for stating that cricketers from his country are loved more in India, captain Shahid Afridi today sought to douse the fire by saying that he did not intend to demean his nation and was merely trying to give a 'positive message' by showing respect to the fans here.
"I am not just captain of the Pakistan cricket team but I am representing all the Pakistani people here and I think if one looks at my comment in a positive way then it is obvious that I did not mean to say that anybody else would matter more to me than Pakistani fans. My whole identity comes from Pakistan," he said in an audio message posted by the Pakistan Cricket Board on its Twitter handle.
"I was asked a question by a journalist and I tried to answer it in a positive way because I know whatever I say would be heard all across the world. So I was merely trying to give a positive message to the rest of the world that we enjoy a lot when we play in India. Whether it is Wasim Akram, Waqar Younis or Inzamam ul Haq, they will also say that they get a lot of respect here because cricket is literally worshipped in India. You can even ask Imran bhai, cricket is a religion here," the skipper said.
"I merely gave a diplomatic statement so that the message that goes to the world is that cricket brings people together and Indo-Pak relations have always got a boost because of cricket," the skipper added.
 
"I think I made a positive statement on behalf of my country but if somebody looks at it negatively, he would get a negative message. But my intention was positive," he further said.
Afridi has been criticised for the statement made on Sunday with former captain Javed Miandad calling it shameful. The flamboyant all-rounder has also been issued a legal notice in Lahore for his comment.
"We get lot of love from fans here, even more than the love we get from fans in Pakistan," Afridi told the media at the Eden Gardens, a day after their arrival to take part in the World Twenty20.
Pakistan, who arrived later than scheduled in India owing to security concerns, will open their World T20 campaign against Bangladesh here tomorrow.
With PTI Inputs