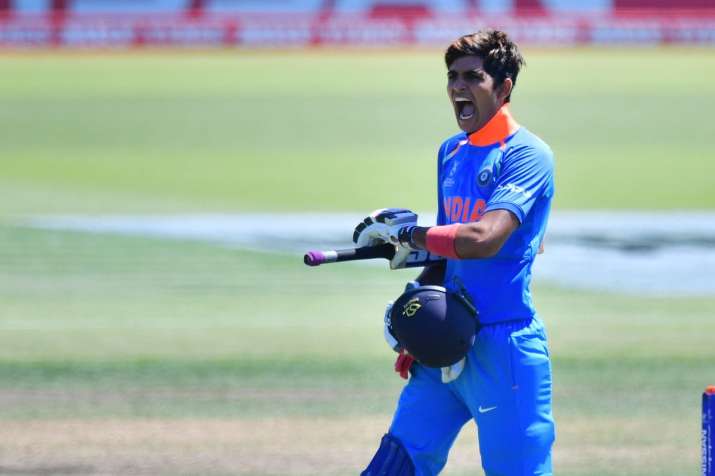 Indian colts made headlines on Tuesday morning as they blanked arch-rivals Pakistan in the big semi-final by a huge margin of 203 runs at Christchurch in the ongoing ICC U-19 World Cup tournament. With this win, the boys in blue have set up the final clash with Australia on February 3 at Bay Oval. 
Opting to bat after winning the toss, India posted a challenging total of 272 courtesy Shubman Gill's brilliant century. The 18-year old played a match-winning knock of 102 runs off just 94 balls at a strike rate of 108.5 that included seven boundaries. Later, it was pacer Ishant Porel who helped Team India's attacking unit bundle out Pakistan out for a meagre score of 69.  India have reached the ICC U-19 World Cup finals for the sixth time. 
Hailing India's splendid show in the semifinal against Pakistan, our cricket expert Virender Sehwag heaped special praise on young batsman Shubman Gill. Sehwag feels the 18-year old has a bright future ahead of him and will don the national outfit soon along with the big names of Indian cricket. The former Indian opener said: "Definitely, I see him playing in the Indian team alongside the likes of Virat Kohli. But this will only happen on the basis of performance in first-class cricket. 
However, he has shown his talent on a platform like this... I would like to congratulate Shubman and his parents. Over the weekend during the IPL 2018 Auction, Gill bagged an Indian Premier League contract for Rs 1.8 crore with Kolkata Knight Riders.
Speaking more about Shubman's brilliant knock, Sehwag added, " It's always a big thing to score a century in such a high-pressure match and when you do it against Pakistan, it can't get better than this." 
Sehwag old also reminisced the 2003 World Cup encounter against Pakistan in Centurion where he opened the batting for India alongside his 'idol' Sachin Tendulkar in the important clash against Pakistan. Both Sachin and Sehwag provided the men in blue a blistering start in that match which India won comfortably by 6 wickets. 
When asked about India's chances for the big final against Australia in the ongoing ICC U-19 World Cup, Viru said: " India will definitely play much better in the final. Now the thinking has changed. Earlier, there was a time when we used to be scared of facing Australia. Now, Australia think before playing against India. This Indian team has beaten Australia easily in the first match in the group stages."
The 39-year old also spoke about the change of mindset among the cricket lovers when playing against a team like Australia. He said, " It took a lot of time to change this mindset. Even when we were playing, we used to think that we might lose against Australia. But now our current Indian team and also the young U-19 team have changed this thought. We can now beat any team in the world and the opposition teams are rather scared of us."
Sehwag signed off on a positive note saying, "I am proud of this U-19 team because these kind of players are not born every day. And I wish them all the best for the final."