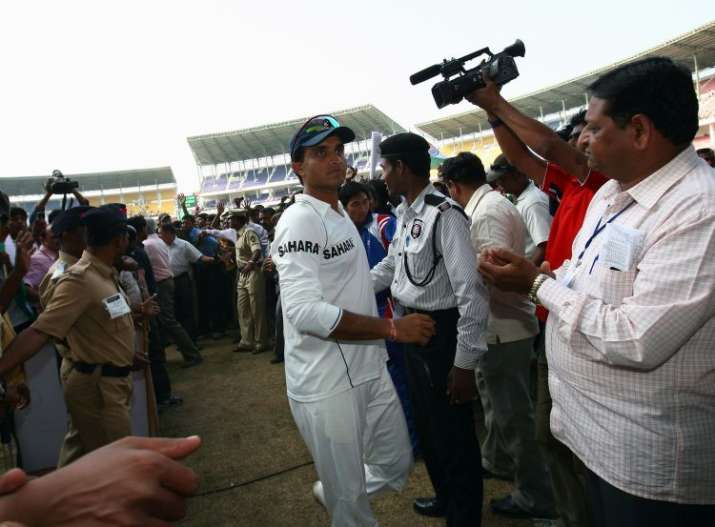 Former India captain Sourav Ganguly, regarded as one of the most successful and impactful skippers of Indian cricket, has revealed the reason that led to his sudden retirement from international cricket in 2008, in the preview chapter of his debut book 'A Century is Not Enough'.
The southpaw, remembered for his fearless and never-say-die attitude, remains as a game-changer in India's cricket history. It was a four-match Test series between India and Australia when Ganguly announced his retirement out of the blue. 
The 45-year-old, fondly known as the "Prince of Kolkata", has not talked much about his retirement decision but now he is ready to tell the world the reality through his upcoming book. "I am super excited to give you a first look at my debut book #ACenturyisNotEnough ,to be published end of this month," Ganguly said on Twitter.
I am super excited to give you a first look at my debut book #ACenturyisNotEnough ,to be published end of this month. 

Read the first chapter, go to Juggernaut: https://t.co/OChPk6UUiJ@juggernautbooks @gbsaltlake pic.twitter.com/KI8nNm3MH9

— Sourav Ganguly (@SGanguly99) February 2, 2018
"I have had rejections, disappointments, tragedies all my cricketing life. I have been at the receiving end of truly vicious gossip. I have lost count of how often I have come back from the jaws of getting rejected. At times I felt my life resembled a roller coaster. As they say in Hindi, kabhi upar, kabhi nichey (ups and downs). It could have broken the spine of someone who was talented but emotionally weak. But I have always been a fighter. I have handled the bad news head-on, and embraced pressure as part of the package," Ganguly wrote in his book.
"I told myself that this too was an investment. My experience had taught me that I played best when I worked the hardest. So I continued to believe that my time would come. I knew I was a winner. Being a winner is about what happens in your head. And I had never lost the belief in myself. I looked at a cricket ground and believed it was mine. Looked at the pitch and believed we would win. Looked at the bat and told myself I would score runs. I woke up every morning to succeed," he added.
Ganguly, who scored 7,212 Test runs and 11,363 runs in ODIs, led the national side from 2000 to 2006 and propelled them to 21 Test series wins out of 49. Ahead of the squad selection for the four-match Test series against Australia, Ganguly found himself "extremely agitated" to see the selectors' mindset.
"The Indian team for the first two Test matches of the Australian series was soon announced. I found my name in it. Simultaneously a Board President's team was also announced. This was the secondary team that would take on the Australians in Chennai. The Board President's XI is traditionally used to vet the potential of promising youngsters or assess veterans whose Test future is uncertain," he explained.
Ganguly was included in both the squads, an indication that selectors were in a mood to access the seasoned batsman to the fullest ahead of the big series. While mentioning the name of former India selector Krishnamachari Srikkanth, the aggressive cricketer said: "I was included in it as well. These teams got picked by the new selection committee under Krishnamachari Srikkanth. But its mindset seemed to be no different from the previous committee's. The message was crystal clear - that a veteran of 100-plus Test matches, a certain Sourav Ganguly, was again on trial."
"I felt extremely agitated. That is when I told my father that I needed to call it a day. Enough was enough. My father was a bit surprised. In the past when Greg Chappell had kept me out of the team and I was desperately fighting to claw my way back, he had wanted me to retire, unable to bear his son's struggle. Then I had resisted. I had told him, Bapi, you wait. I will be back. I still have cricket left in me. When I grow older I don't want to sit on my sofa and tell myself, Sourav, you gave up when the going was tough. You should have tried harder. I wanted to catch the bull by its horns and win," Ganguly added.
In his last match, Ganguly scored an impressive knock of 85 runs in the first innings and was dismissed for a duck in the second innings at Vidarbha Cricket Association Stadium on November 10, 2008, in Nagpur.