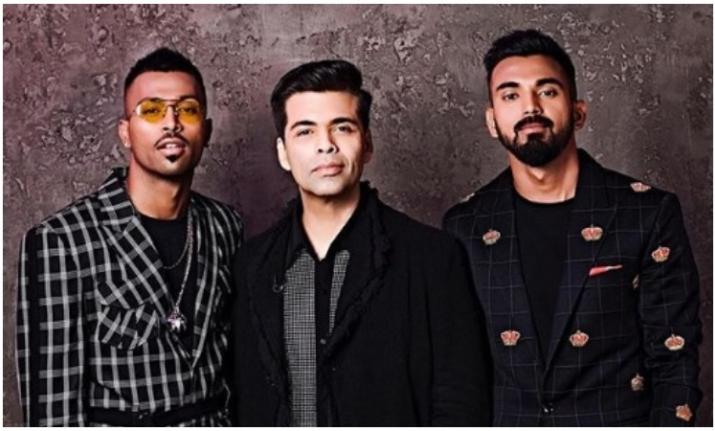 The latest episode of 'Koffee with Karan' Season 6 has been taken down from Hotstar's website after public outrage over the sexist comments the cricketer Hardik Pandya made on the talk show. The episode that was aired on January 6th was nowhere to be found on the broadcaster's website today after the cricketer's sexist remarks gave rise to a wide range of the public lambasting Pandya and KL Rahul (who also featured in the episode) for their offensive comments.
The Committee of Administrators (COA) on Wednesday issued a show-cause notice to Indian cricketers Hardik Pandya and KL Rahul and sought an explanation within 24 hours for their remarks on women on popular celebrity talk show 'Koffee with Karan' hosted by Bollywood filmmaker Karan Johar.
The show-cause notice came hours after Pandya apologised for making remarks that were construed as 'misogynist' and 'sexist' on the show, saying he got "carried away by the nature" of the show.
On the show, Pandya boasted about hooking up with multiple women and spoke about how open he is with his parents.
Guy's check it out !!!! @KaranJoharTeam @hotstartweets has deleted the entire episode of @hardikpandya7 @klrahul11 @imVkohli!!!!! So much to clean down a image !! #KoffeeWithKaran #KoffeeWithCricketers #hardikpandya #KLRahul pic.twitter.com/6fwkaNrRLv

— VB (@selfLOVEisIMP) January 10, 2019
When the host of the show asked him why didn't he ask women their name in a club, Pandya responded by saying, "I like to watch and observe how they (women) move. I'm little from the black side so I need to see how they move."
A barrage of criticism started coming Pandya's way soon after.