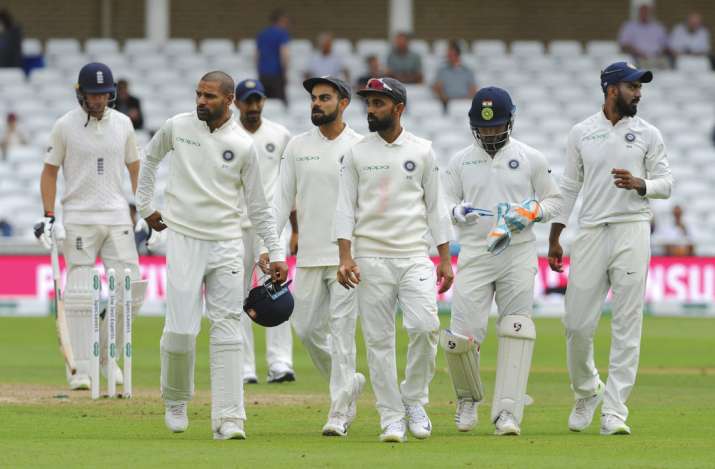 The Indian cricket team suffered it's third consecutive Test series loss in England (2011, 2014 and 2018). The Virat Kohli led Team India were already trailing the five-match series 2-1 and with the hosts winning the fourth Test at Southampton, they have taken an unassailable 3-1 lead in the series, with a match to spare. 
England cruised to a series win after bundling out India for 185, handing the visitors another disappointing loss by 60 runs. The Virat Kohli led Team India made a remarkable return by winning the 3rd Test at Nottingham, however, England assured not to repeat the same mistake once again. 
In 2011, England whitewashed the four-match Test series 4-0. At the time, India was being led by Mahendra Singh Dhoni. 
In 2014, England won the five-match Test series 3-1 (1st Test drawn). 
And coming to 2018, India lost the five-match rubber 3-1, with a match to play at the Oval. 
India had a chance to level the series after Cheteshwar Pujara's ton in the first innings gave the visitors a chance to remain alive in Southampton, however, the inevitable once again occurred as the batting line-up once again collapsed, losing the 4th Test by 60 runs. 
The match had been tightly poised after a fourth-wicket century stand between Virat Kohli (58) and Ajinkya Rahane (51) moved India within sight of victory.
However, Kohli fell just before tea to Moeen Ali, who picked up where he left off after the interval as he completed a triumphant return to the England side.
What will hurt Virat Kohli and his men most is the fact that they were beaten by one of the weakest teams in recent times. An ageing bowling attack of Jimmy Anderson-Stuart Broad along with off-spinner in Moeen Ali (5/63 and 4/71) tormented the Indians just like they did during the 2014 series.
Under Ravi Shastri's coaching, India have now lost Test series in all those countries, which are considered to be tough places for touring teams.
While the Indian coach has repeatedly stressed about being a good travelling side, save Trent Bridge Test, there hasn't been indications enough to show that Kohli's team is ready to beat the best when conditions are alien.
Under Shastri-Kohli duo, India have lost in Australia (where MS Dhoni captained in two Tests), in South Africa and now in England.
The inconsequential final Test will be played at the Oval from September 7.
(With PTI Inputs)