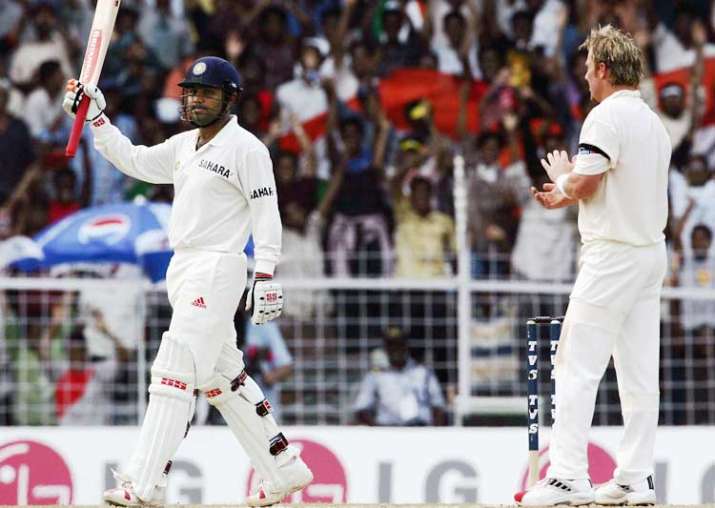 Happy 39th birthday, Virender Sehwag - a batsman who knew no fear, simple yet devastating, funny yet frightening. 17,253 international runs and one of just two players to score both 300 plus in Tests and 200 plus in ODIs, Sehwag captured the imagination of millions of fans across the globe and instilled fear into the opposition with his "see ball, hit ball" approach.
Hailing from Najafgarh - a town in Delhi - Sehwag grew up dreaming to be Sachin Tendulkar, just like many from his generation, and ended up becoming one of the best Test openers of all time. Sehwag's scoring rate in Test cricket is second to none and never did he let his minimal footwork come in the way of his blazing run scoring.
During his career, Sehwag laid down new rules of risk-taking with his fearless approach and gave a new dimension to scoring in Test cricket. His approach was simple - to score as many runs and as quickly as possible - regardless of the quality of the bowling attacks he faced. There have been very few batsmen who have hit a cricket ball harder on the off side and as frequently as Sehwag. And his assaults against some of the best spinners is a part of the game's folklore. 
Happy Birthday @virendersehwag. Your witty cricket anecdotes churned quite an applause in #AapKiAdalat. pic.twitter.com/lZtnT5TAcp

— Rajat Sharma (@RajatSharmaLive) October 20, 2017
Sehwag had an unparalleled impact on India becoming a force to reckon with - in both Tests and ODIs. 8586 runs in 104 Test matches at an average of 49.34, hitting 23 hundreds and 32 half-centuries. His strike-rate in Tests - a marauding 82.23 which increased up to 83.10 whenever he came out to open the batting - making him the most attacking opener in history of the format. 
Having once being written off as a Test player, Sehwag was the first Indian to slam a triple hundred - a feat which he brought up with a six against Pakistan in Multan in 2004. His innings of 309 paved the way for India's victory by an innings and 52 runs made him the "Sultan of Multan". 
Sehwag is also the only Indian and one of the four in the world to score two triple hundreds in Tests. His second triple ton came against South Africa in Chennai in 2008.
Sehwag was equally destructive in ODI cricket. 8273 runs in 251 matches at an average of 35.05, notching up 15 hundreds and 38 fifties. 
After hanging his boots in 2015, Sehwag has continued to slam hundreds off the pitch and remains an entertainer on social media. His unique birthday wishes for former and present cricketers, his witty replies and the ever-so-funny one-liners have made him the undisputed king of Twitter, leaving his over 13 million followers in splits.