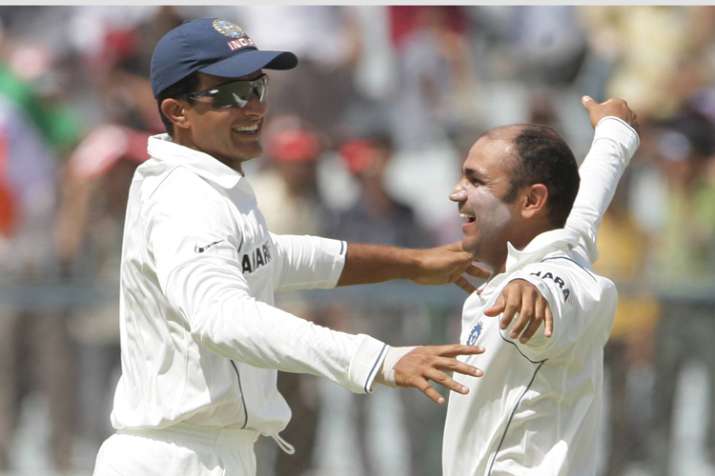 Former India captain Sourav Ganguly turns 46 today. Known as 'Dada', Ganguly is remembered as one of the finest captains in world cricket with a distinct style and immense cricketing knowledge. 
Often credited for changing the face of Indian cricket - Ganguly is also responsible for giving Indian cricket a plethora of future stars like – Virender Sehwag, Yuvraj Singh, Harbhajan Singh, Zaheer Khan and MS Dhoni who went on to make it big at the international arena. 
Thus on his special day, his former teammates didn't miss a chance to make the occasion more memorable. Ex-India opener Sehwag who credits Dada for believing in his abilities and resurrecting his career by promoting him to open the innings wrote on Twitter in his familiar witty style: "Step 1-Wake up, blink your eyes twice & dance down the track Step 2-Smash the bowler & at times even spectators(no violence intended) Step 3-Swing not only the ball but also ur hair,bowl ur heart out Step 4-Celebrate like no one's watching To a wonderful man, #HappyBirthdayDada."
Step 1-Wake up, blink your eyes twice & dance down the track
Step 2-Smash the bowler & at times even spectators(no violence intended)
Step 3-Swing not only the ball but also ur hair,bowl ur heart out
Step 4-Celebrate like no one's watching
To a wonderful man,
#HappyBirthdayDada pic.twitter.com/ytk8zaGTcy

— Virender Sehwag (@virendersehwag) July 8, 2018
Wishes from other ex-cricketers who played under and with him like Mohammed Kaif, VVS Laxman, Pragyan Ojha and others are continuously pouring in. Let's have a look:
Wishing you a very happy birthday and best of health dada! @SGanguly99 #HappyBirthdayDada pic.twitter.com/z4t4eoO0If

— Pragyan Prayas Ojha (@pragyanojha) July 8, 2018
Happy Birthday to one of the most inspiring man, the man who changed the face and attitude of Indian Cricket. Aise bhi koi chadhta hai kya @SGanguly99 dada !#HappyBirthdayDada , have a great life ahead pic.twitter.com/KjiggQcAuS

— Mohammad Kaif (@MohammadKaif) July 8, 2018
Wish you a very very happy birthday @SGanguly99 .May you enjoy an abundance of good food, wonderful conversations and love of people around #HappyBirthdayDada pic.twitter.com/u6QPadqha9

— VVS Laxman (@VVSLaxman281) July 8, 2018
Happy birthday tiger @SGanguly99 wishing you all the happiness 🙏🤗

— Harbhajan Turbanator (@harbhajan_singh) July 8, 2018
Wishing you a very Happy Birthday @SGanguly99! 😊👑 pic.twitter.com/5udntt56oF

— K L Rahul (@klrahul11) July 8, 2018
A left hander's true delight. Happy birthday Dada! 🇮🇳 @SGanguly99 #HappyBirthdayDada pic.twitter.com/oT5c43IKfD

— Washington Sundar (@Sundarwashi5) July 8, 2018
One of the first daring personalities in the world of cricket, who took the Indian Team to great heights agression and passion for the game and my 1st Indian Captain who I played under. Happy Birthday, @SGanguly99! #HappyBirthdayDada pic.twitter.com/ykp6Ss4gAY

— R P Singh (@rpsingh) July 8, 2018
Wishing former India Captain @SGanguly99 a very Happy Birthday! pic.twitter.com/iYSY8o2bmq

— BCCI (@BCCI) July 8, 2018
Ganguly's former IPL team Kolkata Knight Riders too wished him on the occasion:
Have a great one, Dada! 🎉
Wishing @SGanguly99, the president of @CabCricket and the first leader of the #Knights, a very Happy Birthday! 🎂#HappyBirthdayDada pic.twitter.com/tWo93BVQ1j

— KolkataKnightRiders (@KKRiders) July 8, 2018
Current India cricketer Suresh Raina who made his debut under the left-hander tweeted:
Wish you a very happy birthday dada @SGanguly99, may god bless you with all the success & happiness! #HappyBirthdayDada

— Suresh Raina🇮🇳 (@ImRaina) July 8, 2018
Many many happy returns of d day dadi @SGanguly99 🍰😊 Wish u hav a great one nd may God always bless u nd ur family members 👍 pic.twitter.com/Exe44NIrfY

— MANOJ TIWARY (@tiwarymanoj) July 8, 2018