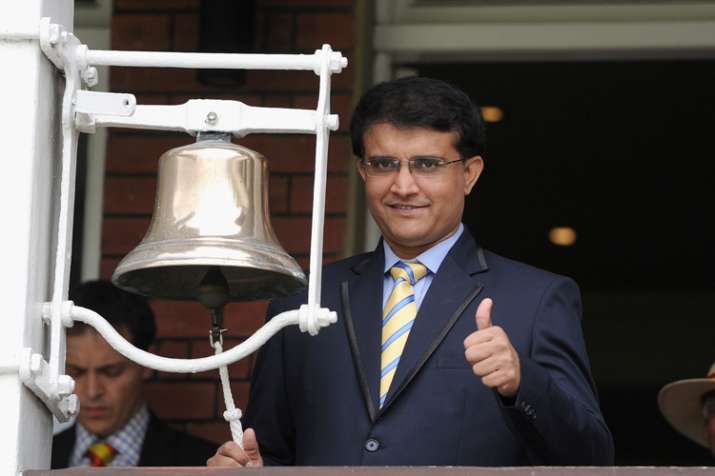 Former India captain Sourav Ganguly turns 46 today. Known as 'Dada', Ganguly is remembered as one of the finest captains in world cricket with a distinct style and immense cricketing knowledge. 
Since making his dream debut at the iconic Lord's in 1996, the 'Prince of Kolkata' went on to write numerous memorable tales in the history of Indian cricket during his glorious career.
Often credited for changing the face of Indian cricket - Ganguly is also responsible for giving Indian cricket a plethora of future stars like – Virender Sehwag, Yuvraj Singh, Harbhajan Singh, Zaheer Khan and MS Dhoni who went on to make it big at the international arena. 
The attacking left-hander went on to lead Team India in 49 Tests and 147 ODIs. His Test record as captain on foreign soil is still the best in terms of stats in Indian cricket. He throughout remained a thoroughly successful skipper during his reign. Also referred as the 'God on the off-side' – Ganguly was also a legendary batsman. He made 7,212 runs in 113 Test matches at an average of 42.17. While in ODIs, Ganguly made 11,363 runs in 311 games.
Ganguly finally called it quits in 2008 after the home series against Australia. 
On his special day, fans shared heartfelt messages and wishes on Twitter for their favourite captain:
Happy Birthday Sourav Ganguly. The Captain Who Put The Much Needed Aggression In Team India & Made Them Believe That You Can Win No Matter How Difficult The Situations Are. This Pic Is Etched Into The Heart Of All Cricket Fans. Thank You Dada For Such Memories🙏#HappyBirthdayDada pic.twitter.com/yYvWwtI4ZA

— Sir Ravindra Jadeja (@SirJadejaaaa) July 7, 2018
#HBDSouravGanguly #HappyBirthdayDada
Happy Birthday
Royal Bengal Tiger
Prince of Kolkata

💐💐Sourav Ganguly💐💐💐 pic.twitter.com/7yi9wbO9Dq

— RAJASEKHAR TARAK😍 (@DRajasekhar9999) July 8, 2018
Happy birthday#sourav Ganguly🎂 🎉🎉World cricket will never forget historical win against #England in natwest series 🇮🇳Dada the inspiration for more young cricketers 🏏🏏 pic.twitter.com/bpAvOxXb14

— Karthick Palanisamy (@Karthic48258263) July 8, 2018
On the offside, first there is God, then Sourav Ganguly. –Rahul Dravid#HappyBirthdayDada pic.twitter.com/KtZgKYuzOy

— #APwithCBN (@SravanVadlamudi) July 7, 2018
#SouravGanguly Greatest ODI Batsman of All- Time in History...

• 1000+ ODI Runs in a Calendar Year : 6 Times
• 1000+Winning Cause ODI Runs in a Calendar Year : 3 Times
• Most ODI Runscorer in the World in 1997, 1999 and 2000
• 1000+ Runs in ICC WC#HappyBirthdayDada pic.twitter.com/QjRd8sgfm0

— Jana (@_iamjana) July 7, 2018