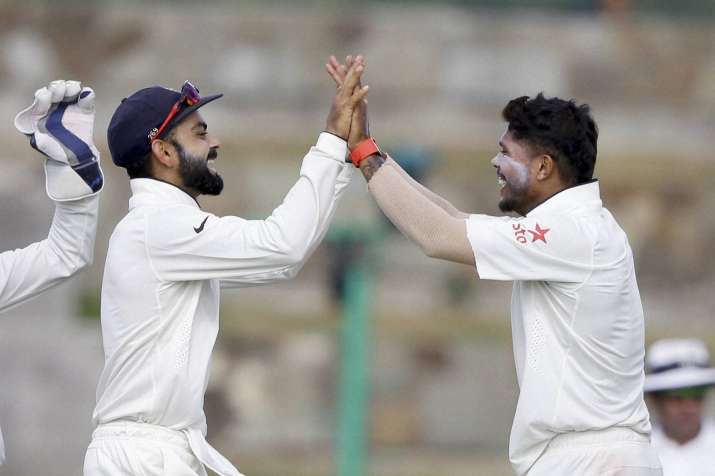 "Winning is contagious!" said Indian skipper Virat Kohli after his boys trounced West Indies by an innings and 92 runs well inside four days in the first cricket Test of the four-match series.
With boosted confidence after a win outside the country, Virat Kohli feels that it is a "good habit" that his boys can create in order to become a formidable Test team anywhere in the world.
"We want to create winning habits, good habits. And you know, winning is contagious. If we learn to win Test matches, then we'll learn how to win Tests everywhere. We will learn how to play in different situations and we will know exactly what to do when a certain situation is going a certain way," Kohli told mediapersons after a thumping victory against the hosts.
"We want to be consistent side, we need to set ourselves goals and look to execute that rather than looking at the opposition which I think this team is willing to do," said Kohli after the win.
"That for me is a very pleasing thing as a captain and for the team as well. Everyone understands the way we want to play on the field - where we need to bat, how we need to bowl, etc. We need to be comfortable with what the team requires and
I think that's the most important for this team going forward."
It was an all-round effort from the bowlers with pacers Mohammed Shami and Umesh Yadav snaring eight scalps among themselves in the first innings and premier spinner Ravichandran Ashwin with his 7 for 83 singlehandedly decimating the opposition in the second innings.
"It was a very good effort from the bowlers. The good thing was that we did not bowl that much in the first innings, so everyone's mindset in the second innings was, yes, we can bowl again. I think the first innings ended at a perfect time for us last evening, and then we got 13-14 overs and got a wicket again.
"So it was good to get some rest in the evening, and the bowlers' attitude was very good, all of them voluntarily said, yes, we will bowl, and the spinners took the responsibility," said the skipper.
India bowled out the West Indies for 243 in their first innings, having amassed 566 for eight declared after opting to bat. Forced to follow-on after conceding a massive lead of 323, the hosts failed to cope up with intense pressure created by Ashwin and Co on a pitch that offered assistance to slow bowlers and bundled out for 231.
Virat Kohli's side showed great professionalism in all departments, with the India skipper recording his maiden double century and all-rounder Ashwin supporting with 113. It was the second time Ashwin has hit a century and taken five wickets in an innings in the same match.