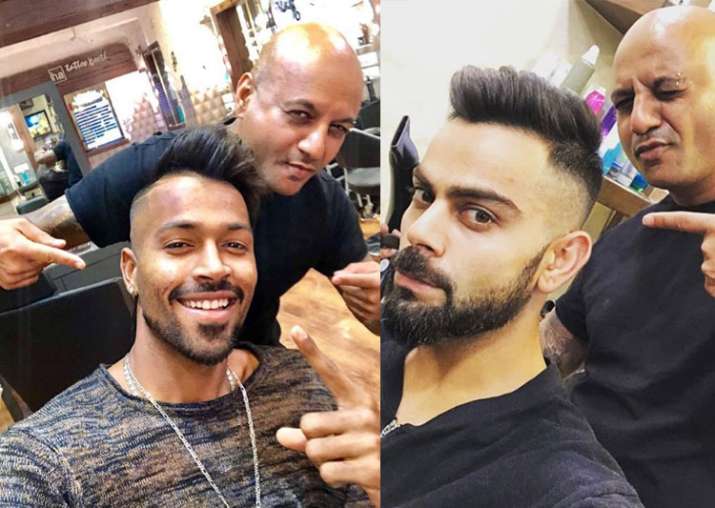 Presently enjoying a much-needed break from their strenuous schedule, Indian cricketers are opting for many several ways to wind up before the start of the fresh new season. Some of the players are partying, some are holidaying, some are putting all the hard yards in training while some are just busy getting their 'hair sorted'. With the countdown for the cash-rich Indian Premier League already begun, our cricket stars are leaving no stone unturned to put their best foot forward in the T20 extravaganza which is all set to kick-off from April 7 in Mumbai.  
Cricketers these days are nothing short of style icons and known to set the bar high be it on the field or off it as well. Their fashion choices become a trend and is followed by millions of their fans around the world. We have always loved how our favourite stars decked up and most of us follow them on various social media platforms just to keep a tab on their daily lives and more than anything else find ways to look as glamorous as they always do. 
And when you know it's one man who styles and chops the hair of the top Indian cricketers and Bollywood actors, it's normal for your inquisitiveness to reach an all-time peak. From cricketers to B-town celebs, Aalim Hakim is the most trusted hairstylist. He successfully carries forward the legacy of his legendary father and mentor - Hakim Kairanvi, a famous hairstylist who styled veterans like Dilip Kumar and Amitabh Bachchan. 
The hairstylist is renowned to cuts the manes of Indian cricket stalwarts like Virat Kohli, Yuvraj Singh, Hardik Pandya, Zaheer Khan, Suresh Raina and Ajinkya Rahane. The celebrity hairstylist of Mumbai not only cuts their hair but sets the style trend for the whole nation.
India captain Virat Kohli had last week posted a picture of his new hairdo which he got from the master Hakim in Mumbai.
"Great cut from the style master @aalimhakim," Kohli wrote on his post on Instagram.
Similarly, veteran cricket star Yuvraj Singh also changed got a new haircut ahead of an 11th season of the IPL. The 36-year-old all-rounder visited Hakim's Aalim salon in Bandra to get a new look. 
He posted a few pictures with Angad and celebrity hairstylist Aalim Hakim and wrote, "finally my long battle with my long hair is over it's time for a new look what say? Sorry, @rahulkl @angadbedi forced me to cut it thank you @aalimhakim and sky for the haircut."
Yuvraj is making a return to Kings XI Punjab in this year's IPL after being bought at his base price of Rs 2 crore by the Punjab-based franchise at the player auction in January.
Another dynamic all-rounder of Team India, Hardik Pandya who has always been in the headlines for his unique hairstyles also shared his new look on Instagram before the start of the glittering league. Pandya who is known for his attacking brand of cricket received a good response on the social media.
He shared the picture on his Insta account and also captioned 'My style master @aalimhakim.'
Earlier, several other Indian cricketers like Ajinkya Rahane, Suresh Raina and Zaheer Khan have also used the services of the renowned hairstylist to get the desired look.
One of the most sweetest guy and the pride of India, Zaheer Khan with our Hair Artist Ali at Salon Hakim's Aalim Bandra.#TeamHakimsAalim #SalonHakimsAalim #HArocks 🤘❤️ pic.twitter.com/kFmtuXpXRv

— Aalim Hakim (@AalimHakim) November 22, 2017