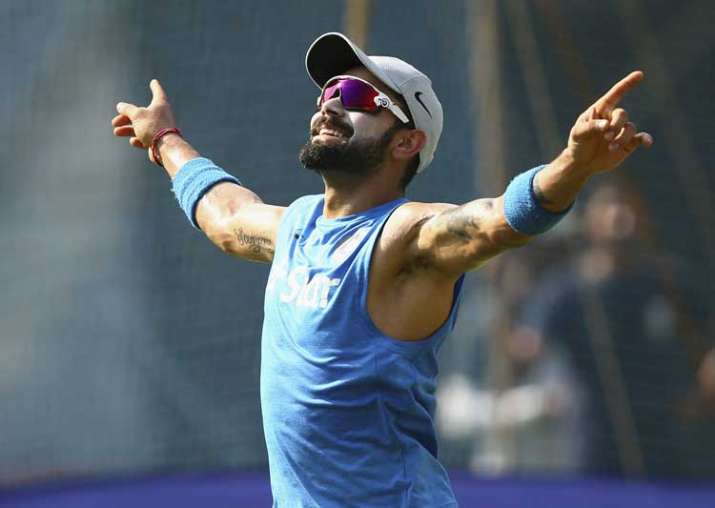 One of the fittest cricketers in business at the moment, India captain Virat Kohli has expressed the desire for people to get out from the comforts of their homes and take up a sport to stay healthy. Kohli has collaborated with Puma to launch a clothing brand "One8" that will be introduced in the upcoming season. The 29-year-old, a fitness fanatic, compliments the fact that his vigour has played a crucial role in his game so far which has helped him achieve wonders over the years in cricket. 
Undoubtedly 'King Kohli' has influenced the entire Indian cricket team to follow suit, which makes the Men in Blue fearless in all formats of the game. In recent times, the Indian team has earned a reputation of one of the most fittest teams around with run-outs and flying catches becoming the latest fad in the side. 
The main focus of Kohli's brand is to attract people to take up any kind of sport and play outdoors. Known for a fact that today's youngsters indulge in anything other than sports brings 'fitness' to an all-time low among the latest generation.
Kohli's idea is to add fashion to sports. He said that it's because of his fitness that he has been able to achieve records and perform consistently on the pitch with his bat. 
"I want people to come out and play. I want everybody to take care of their health and fitness. My life has revolved around sports and I am reaping its benefits now. I want people to spare some time from their schedule and devote it to sports," Kohli told India TV in a exclusive chat.
Kohli has always set standards, be it with his bat, his fitness routine or his sense of fashion on and off-field. The Delhi dasher states that fashion should be incorporated into sports which brings out a different swagger to the game. Kohli has given his own inputs into the making of the logo of the brand and feels that his ideology can connect with the people.
Interestingly, Kohli's jersey number is 18.
"The reason to collaborate with Puma was that I have full faith in their quality because I am personally sponsored by Puma. Puma has made the clothes stylish and affordable for people. Puma understands how to incorporate fashion into sports," Kohli added.
Kohli's performance this year has been outstanding which has helped him become the fastest batsman to reach 9,000 runs in ODI's, surpassing South Africa's AB de Villiers. Kohli has credited his fitness, which he says, has complimented his game.
Kohli talks about how being fit has inspired him to continue his consistent performances with vigour. Kohli has surpassed Lionel Messi on the Forbes list of top 10 valuable brands among athletes. Kohli's brand value is currently pegged at $14.5 million, which overtakes FC Barcelona star Messi's $13.5 million. 
Kohli has humbly requested youngsters to take up sports which will help them improve their fitness levels in a competitive world.
"Motivation is the biggest driving force behind fitness. If you just want to look good then there are a lot of unhealthy ways to achieve that. But if you want to stay healthy then you have to focus on your fitness on a daily basis. I won't say this a difficult task but yes it demands discipline. Fitness is easy to achieve but difficult to sustain". 
"I would tell people to go out of the comforts of their homes and get indulge in sporting activities", concluded Kohli.
Kohli decided to launch his brand on his birthday itself on November 5 with an Instagram post requesting people to get out of their houses and start playing any sport and discipline their lifestyle with a fitness routine.
(With inputs from India TV Sports Correspondent Vaibhav Bhola)