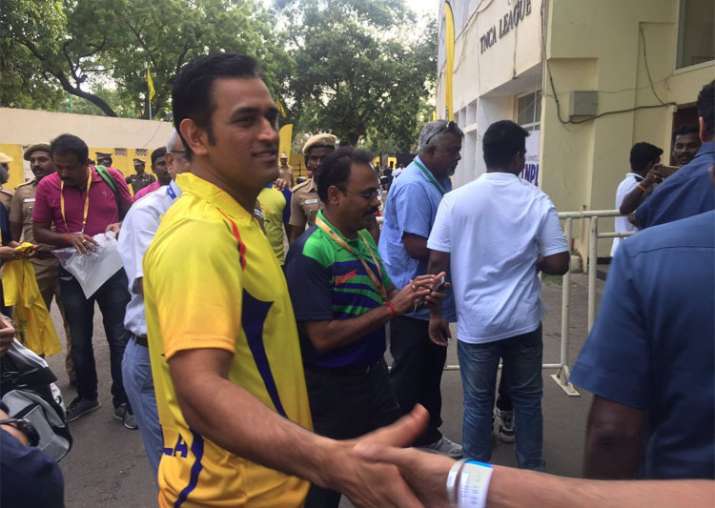 Former India captain Mahendra Singh Dhoni has said Chennai Super Kings (CSK) have the biggest fan following and that the fans were eagerly waiting for the franchise to return in the Indian Premier League. The ban on CSK and Rajasthan Royals is over officially and they can now return to the cash-rich league after both the franchise were suspended for two years in July 2015 when they were found guilty in 2013 of betting and spot- fixing. "CSK has the biggest fan following. In the last two years, we were not there but the way the fans supported us, it was like they were waiting for CSK to come back," Dhoni, who captain CSK for eight years, said in a conversation with Tamil Nadu Premier League website ahead of the start of its second edition.
"A lot of fans are waiting for the team to come and play at Chepauk. Today, at the opening ceremony, we may get a glimpse of that. This is the first time I am coming back to the ground after two years, so I think it will be pretty interesting," Dhoni added.
In his eight years with the Chennai-based franchise, Dhoni led them to two IPL and Champions League tiles. Following CSK's ban, Dhoni represented Rising Pune Supergiant for two years. However, the 36-year-old continues to be revered by the millions of CSK fans worldwide. 
Now with the ban officially over, a top CSK official said the franchise will look to retain as many players and support staff it had in 2015. 
Dhoni also revealed his fond memories playing for the franchise.
"I can't put it so simply because it is eight years, season after season, not only in the IPL, but we played the Champions League also. We had a spree where we were winning a lot of games at home and we had a time when we weren't winning many games at home. We have seen the ups and downs, but what is remarkable has been the support of the fans over here. They love their cricket, irrespective of which team is playing or who has scored runs. They appreciate the game."
"Yes, they want CSK to win and if India is playing, they want India to win but overall they have always appreciated good cricket and that is why it is so different. For me to pick one or two instances saying these are my favourite instances will be tough. Overall when we are down and we needed the crowd support, it was always there. Even in games where opponents needed two runs to win in four balls, the crowd support was amazing. Overall, we had a very pleasant eight years with the team and hopefully it will go on for another eight years and more," Dhoni added.