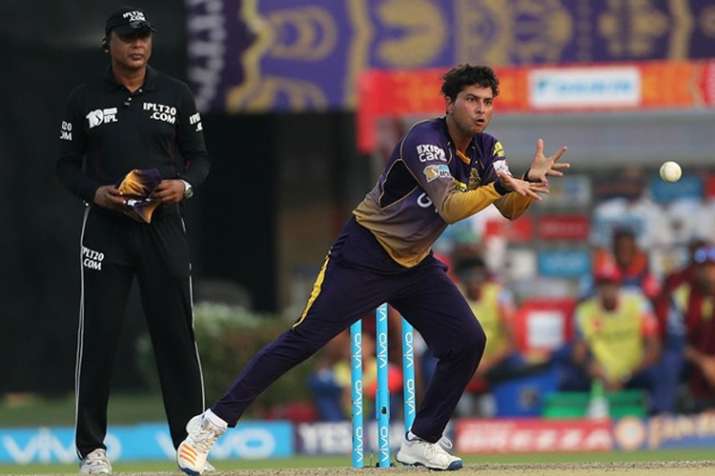 Team India chinaman Kuldeep Yadav will be gunning for the wickets of two outstanding batsmen in world cricket and fellow countrymen, captain Virat Kohli and MS Dhoni in the upcoming 11th edition of the Indian Premier League, starting April 7 in Mumbai. The Uttar Pradesh spinner has been deadly with the ball and has impressed since his international debut last year. The 22-year old chinaman, who was retained by Kolkata Knight Riders in the 2018 IPL auctions, feels that the pressure will mount when he comes across the Royal Challengers Bangalore and Chennai Super Kings skippers. (IPL 2018 Full Schedule)
In an Exclusive interview with India TV, Kuldeep mentioned that there is nothing he would enjoy more than dismissing Kohli and Dhoni as this is the only platform where the chinaman would get a chance to face-off against the greats of the game. (Also Read: Fit-again Chris Lynn bats in full flow at KKR nets, Sunil Narine bowls)
Kohli, on the other hand, will be eager to end RCB's long wait to win the IPL trophy by aiming for the silverware this season whereas an experienced MS Dhoni-led CSK side have their eyes firmly placed on a third title shot after a two-year suspension from the T20 league.
"Obviously, there will be pressure on me while bowling to Virat Kohli, MS Dhoni... there are world's best players. But I will enjoy it because I won't get a chance to bowl at them anywhere else. I will be happy to get their wickets," Kuldeep told India TV. (Also Read: Tom Curran replaces injured Mitchell Starc in Kolkata Knight Riders squad)
Kuldeep, along with Sunil Narine and Piyush Chawla, will be shouldering the spin-responsibilities of the Kolkata-based franchise. The spinner was retained via Right to Match (RTM) for Rs 4.8 crore in the auctions this season.
Under new captain Dinesh Karthik, Kuldeep has admitted that he would like to try his hands with the bat this season and help in scoring whenever the opportunity is presented to him. 
"I hope to score some runs in the IPL this season. I have made runs for Uttar Pradesh and the Indian team whenever I have got a chance." 
Kuldeep, who has played with the Knight Riders for the past four seasons, feels that there is some major cutthroat competition this season and the pressure is immense. 
"This IPL will be very important for me. It is a new edition... there will be pressure on us... I have been playing for KKR for the past four seasons... let's see how this season goes".
Kuldeep was handed an IPL contract in 2012 by the Mumbai Indians but failed to make it to the playing XI and two years later he joined the Shah Rukh Khan co-owned franchise. He finally made his debut in the 2014 season for KKR and won the IPL in the same year, under the leadership of Gautam Gambhir. 
Kuldeep has so far played 15 matches in which he has collected 18 wickets with a best figure of 3/35 and at an average of 24.44.