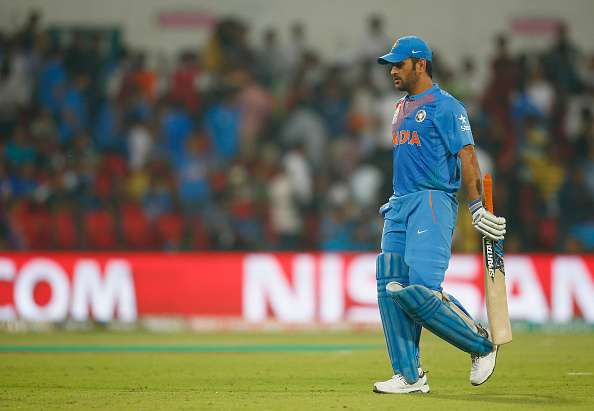 At a time when Mahendra Singh Dhoni's future in the Indian cricket team is once again up for discussion, Virender Sehwag has backed his former teammate, saying that Team India needs the wicket-keeper batsman at the moment, even in the shortest format of the game. Sehwag said Dhoni is not blocking the way of any youngster and is playing because the team needs him. "I don't think that Dhoni is blocking the youngsters' way. He is playing in the team because the team needs him. If this kind of situation arrives in future, then I think Dhoni will himself step aside or the selectors will drop him," Sehwag told India TV on Monday during its hugely popular cricket show "Cricket Ki Baat".
Dhoni was criticised by former India cricketers VVS Laxman and Ajit Agarkar after Team India lost their second T20I against New Zealand on Saturday. Chasing a tall target of 197 runs at Rajkot, India fell short by 40 runs, allowing New Zealand to draw level in the three-match series. Captain Virat Kohli scored his 19th T20 half-century off 32 balls and became the second-highest scorer in T20 cricket behind former New Zealand captain Brendon McCullum. Kohli added 56 runs for the fifth wicket with Dhoni (49), but the asking rate kept creeping up and even they couldn't pull off the chase. Dhoni's 49-run knock which came off 37 balls came under scrutiny as India fell to their third-biggest loss by runs in T20s.
Laxman, who is commentator with the hosts broadcasters, had said that Dhoni should step aside from the shortest format of the game and focus on 50-over format. Laxman slammed Dhoni for his slow scoring rate and said it was "not good enough". "In T20s, MS Dhoni's role is at No 4. He requires more time to get his eye in and then do the job. But today [Saturday] was a classical example because when Virat Kohli was batting, Dhoni had to give strike to Kohli. Kohli's strike rate was 160, MS Dhoni's strike rate was 80. That's not good enough when India were chasing a mammoth total," Laxman said in a post-match show. 
"I still feel it's time for MS Dhoni to give youngsters a chance in T20 format. It will be an opportunity for a youngster to blossom and get confidence playing international cricket. He is definitely an integral part of ODI cricket," he added.
Agarkar also felt that India should look for options other than Dhoni in T20Is. The former pacer said India will not miss Dhoni as a batsman in the T20 format.
"I think India must now look at other options, at least in T20Is. In one-day cricket, they seem to be happy with the role that he is playing. When you were the captain of the side, it was different. But just as a batsman, will India miss him, I don't think so. In T20 cricket, it is lot easier to make that transition as there is lot of experience in that team apart from MS Dhoni now," Agarkar told ESPNcricinfo.
However, Sehwag said Dhoni should continue playing at the moment but the former opener insisted that the team management must brief him about his role in the side.
"Dhoni is playing as a player in the team. I don't think he can take the decision on whether or not he will stay in the team. This decision is with the captain and the team management.
Sehwag felt Dhoni needs to play his natural brand of cricket. 
"I feel Dhoni should play at the moment. However, the team management needs to tell him that he has to play freely from the first ball. The management should assure him that even if he gets out, he should keep on playing attacking cricket," Sehwag said.
"MS Dhoni has to realise that he has to change the momentum of the game right from the very beginning, especially in T20 cricket. India lost the game at the point where Dhoni scored 19 runs in 21 balls. Virat Kohli was at a good form that time but he didn't get the strike. Dhoni couldn't rotate the strike properly that build the pressure on Kohli," he added.
Sehwag was also critical of the way India played in Rajkot, saying that the hosts were completely outplayed by the visitors in all the departments of the game.
"New Zealand played really well in Rajkot. They batted well, bowled well and fielded well. Whereas India fielded poorly, didn't bowl in the right way and in fact they batted really poorly. India should have batted well in Rajkot because it was a proper batting wicket. They should have won the game," he said.