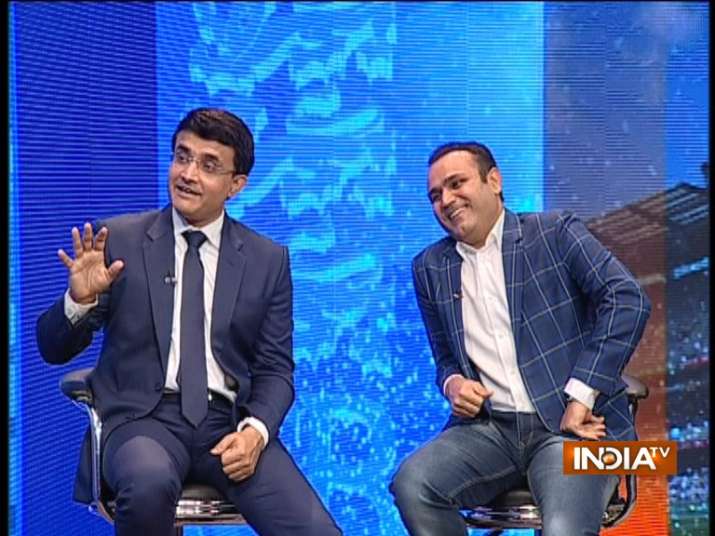 Together after years, an opening pair were reunited once again as Indian cricket legends Sourav Ganguly and Virender Sehwag come together to analyse and discuss India's chances of creating history in England. 
Before the two legends could get down to business on the show 'Cricket ki Baat', there was a gesture by Virender Sehwag which practically left Ganguly touched. 
Before being seated, Sehwag lowered his chair than the former skipper's and on being asked why did he do so? Sehwag has this to answer," A player cannot be bigger than his captain. A person who made us who we are, is Ganguly himself." 
Giving credits to one of India's finest captains, Sehwag stated that he is what he is simply because of Ganguly. 
READ: GANGULY, SEHWAG ANALYSE INDIA'S CHALLENGE AT ENGLAND
Taking a trip down memory lane, Sehwag spoke about the time when they couldn't find a decent opening pair. With players such as Sehwag, Ganguly, Rahul Dravid, VVS Laxman and Sachin Tendulkar in their pack, a dilemma was unsolved regarding who would open for the Indian cricket team. Here's what Sewhag had to say. 
"We were in the 2003 World Cup and me and Dada used to open during the New Zealand tour, Sachin used to bat at a No.4 spot, and it was during the practice matches when we realised that the pairing wasn't good. The opening match came, Dada and Sachin opened, even in the second match but the pairing didn't match. So when we went to Zimbabwe, John Wright held a meeting and asked all that which pair could be suitable for opening. He asked us to write it down on a piece of paper and not say a word. Everyone did and 14 out of 15 players wanted me and Sachin to open, and that one player wanted Ganguly and Sachin to open, must have been Dada."
Ganguly responded with a gentle laugh at the side, 'it could be'.