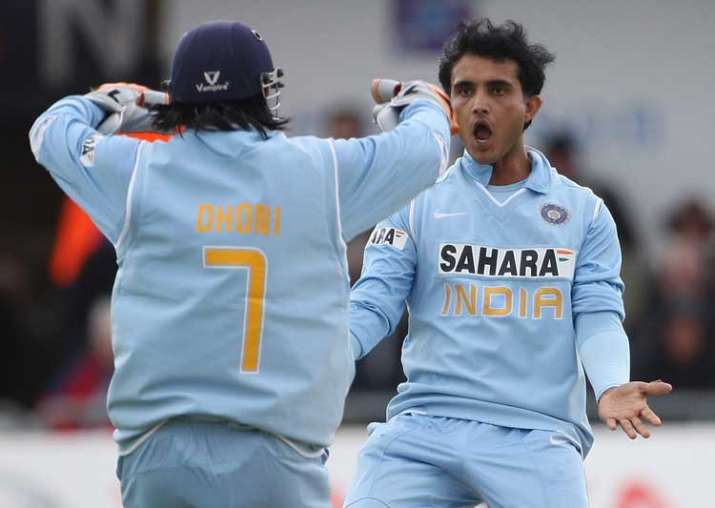 Mahendra Singh Dhoni's meteoric rise in world cricket is well documented. Coming from a nondescript cricketing state of Jharkhand to leading India to triumphs in three ICC tournaments (ICC World Cup, ICC World T20 and ICC Champions Trophy) - Dhoni's journey, which saw him becoming the country's most successful captain, is no less than rags to riches story.
While his explosive batting demolished the opposition on stadiums around the world, it was his unique ability to calm and composed during tense moments which made the pundits sit back and take notice.  
Now even as the world remains in awe of the wicketkeeper-batsman, former India opener Virender Sehwag has revealed Sourav Ganguly's role in shaping Dhoni's career. 
During India TV's "Cricket Ki Baat" show ahead of the first T20I between India and Australia in Ranchi, Sehwag said it was former captain Ganguly who sacrificed his batting spot to make way for Dhoni. 
Dhoni made his India debut in 2004 under the leadership of Ganguly and became an instant hit with ODI innings of 148 and 183 within a year of his debut.
"We were experimenting with the batting order at that time. We decided that if we get a good opening partnership then Sourav Ganguly would come at No.3 but if we had a bad opening stand then we would send pinch hitters like Irfan Pathan or Dhoni to accelerate the scoring rate. 
"Ganguly at that time decided to give Dhoni a chance at No.3 for three or four matches. There are very few captains who would first give away his own batting spot for Virender Sehwag and then his set spot of No.3 for Dhoni. Had Dada (Ganguly) not done that, Dhoni would not have become such a great player. Ganguly always believed in giving chances to new players," Sehwag told India TV.
Sehwag further said that it was during Rahul Dravid's captaincy which saw Dhoni becoming one of the best finishers of the modern era. He also revealed that how Dhoni was once reprimanded by Dravid for losing his wicket by playing a rash shot.
"During Rahul Dravid's captaincy, Dhoni got the role of a finisher. He got out a couple of times playing a bad shot and he was also reprimanded by Dravid during one instance. But from that instance, he completely changed his approach and became a very good finisher. The kind of partnerships he had with Yuvraj Singh are memorable," Sehwag said.