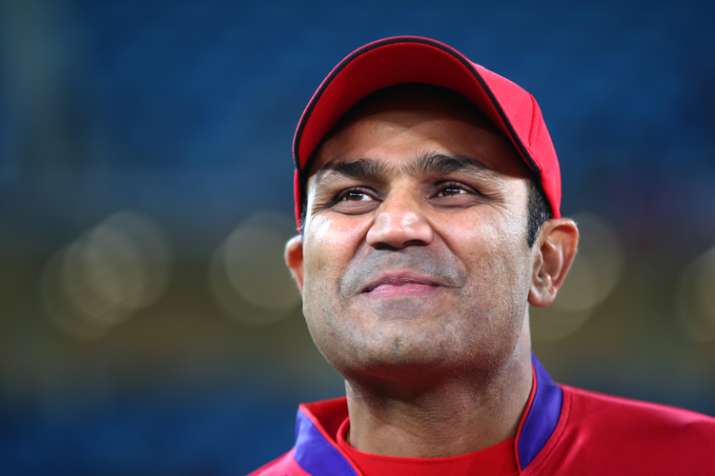 Under the captaincy of Virat Kohli, a spirited Indian team will look to start its summer campaign in London with a victory when it takes on Eoin Morgan-led England in the first T20I of the three-match series at Old Trafford, Manchester, on Tuesday.
Speaking exclusively to IndiaTV on the show 'Cricket Ki Baat', the former Indian opener Virender Sehwag talked about India's chances in the first T20I, the likely playing combination and Jasprit Bumrah's injury among other issues. (India's tour of England Full Coverage)
Sehwag believes that India start as firm favourites to take a lead in the T20I series. "In my opinion, India have 95% chance of winning the first T20I," said the firebrand batsman. 
The Multan of Sultan also believed that Bumrah's absence due to injury might not necessarily prove to be a disadvantage for the team. "Bumrah's injury has given Umesh Yadav a chance. He did well in the IPL and he might play along with Bhuvneshwar Kumar, Hardik Pandya and two spinners. Bumrah will be missed in the team but I believe, whenever a player gets injured the other player gets a chance and he tries to make the best out of it," opined Sehwag.
 
He also felt that owing to a long line of Indian batsmen historically being susceptible to fast bouncers, it is imperative that the current squad prepares well for such deliveries. In his own words, "India need to be prepared for bouncers as England would like to test our batsmen with bouncers. In a T20 game, it can make a huge difference."
Another raging issue with the Indian team has been the concern regarding their captain Virat Kohli's poor run in England during India's last tour in 2014. The fact that Kohli could score just nine runs in the recent two T20Is against Ireland has only added more fuel to the debate. But Sehwag thinks that Kohli's failure in Ireland might be a good omen for him and his team. 
"It's good that Kohli couldn't score much in Ireland. When you don't get to score in matches, you try hard in the next ones. He will look to score against a stronger side and we may get to see a hundred from him in England," quipped Sehwag.
 
He further said, "In the first match, he got to bat very late. In the next match, he got out early in an attempt to play a good shot. It happens. But I am sure he's due to make runs in big matches ahead. He couldn't make many runs on his last tour but he won't miss the opportunity this time."
 
Sehwag seemed very impressed with the performance of the Indian wrist-spin duo - Kuldeep Yadav and Yuzvendra Chahal - who he believes are going to be instrumental if India are to win. "Both the spinners Kuldeep and Chahal are X-factors of Indian cricket team. If they fail in England, it will be difficult for India to win. We are not talking about Ashwin and Jadeja. Kuldeep and Chahal have overshadowed them in past one and a half years. They claimed wickets in South Africa and Ireland, and will look to take wickets in England as well," he said.
Not only India, but Sehwag also talked about English players and singled out Alex Hales and Jos Buttler among others as the ones India should watch out for. "Buttler, Alex Hales, Jason Roy and Joe Root are some players who can lead England to victory singlehandedly. Opener Jonny Bairstow can also make an impact. Both India and England are playing two wicketkeeper-batsmen and it's working out well," said Sehwag.
On the issue of India's playing XI, Sehwag is of the opinion that Dinesh Karthik and KL Rahul should get a chance ahead of Suresh Raina while the charismatic MS Dhoni should play at No. 4 or 5. "Raina is playing in place of an injured player, DK has been there in the team before him. So he deserves a chance. Looking at his form, India must play KL in limited-overs cricket. He made runs in the last match also, so I don't think it will be a wise decision to exclude him from the team. It will be good for India if Dhoni bats at No 4 or 5," he said. He concluded by saying that the Indian playing eleven should consist of "Rohit Sharma, Shikhar Dhawan, KL Rahul, Virat Kohli, Dinesh Karthik, Hardik Pandya, MS Dhoni and four bowlers."