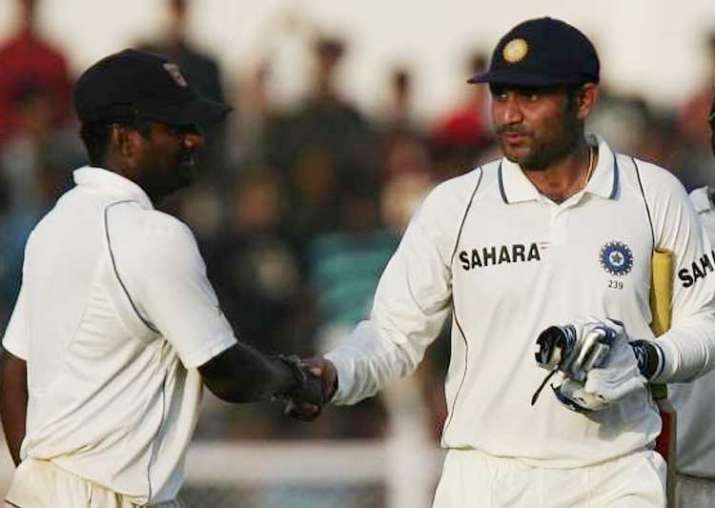 One of the most destructive batsmen of his generation, former India opener Virender Sehwag was known for his swashbuckling style of play and fearless approach that helped him dominate the best of the bowling attacks in his illustrious international career. The Delhi-born cricketer played with the same approach across all formats and dominated all types of bowlers during his 16-year long career. 
When on song, Sehwag used to instill fear among the opposition bowlers and made some of the best look ordinary with his wielding willow. The 38-year old played with a clear mindset which used to reflect in his batting. Considering Sehwag's batting style, it is inconceivable that he was ever put in a spot of bother by any bowler.
However, during an exclusive chat with India TV, Sehwag made an honest confession that he has had his own share of fears while facing up the legendary Sri Lanka spinner Muttiah Muralitharan. Sehwag revealed that it was really difficult for him to pick Muralitharan and it was not at all easy to bat against him.
"Although I was not scared to face any bowler but Muttiah Muralitharan's bowling action, facial expressions scared me off. He used to bowl the doosra which was not easy to pick," Sehwag told India TV.
Known for completing milestones by hitting a six, Sehwag is the first and only Indian batsman to score two triple hundreds in Test cricket. His first triple hundred came against arch-rivals Pakistan in Multan in 2004. Whereas, his second one was against South Africa in Chennai. 
Sehwag played memorable knocks of 201 in 2008 and 293 in 2009 against the Lankans despite the presence of spin wizard Muralitharan in their attack.  
Meanwhile, Sehwag also revealed that no fast bowler has ever caused problems for him.
Earlier, Sehwag told India TV that Team India will comfortably whitewash Australia in the three-match T20I series. "I think India will win 3-0 in the T20 series because we have beaten them 3-0 in Australia. So, I think we can easily beat Australia 3-nil in our own backyard," Sehwag said on India TV's "Cricket Ki Baat" show.
The hosts comfortably defeated Australia by nine wickets in a rain-curtailed opening T20 International in Ranchi on Saturday. It was the seventh consecutive win for India in the shortest format having last against Australia, way back in 2012 at Dhaka in the ICC World T20.
The second T20I is on Tuesday in Guwahati.