Follow us on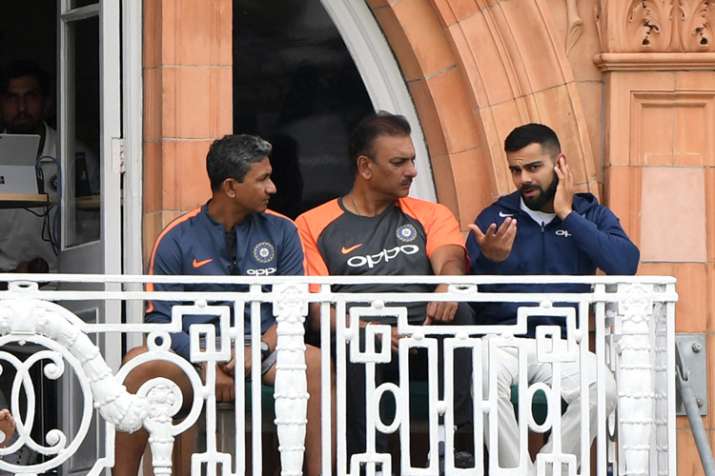 Following India's Test series loss to England, former India captain Sourav Ganguly strongly feels that the team management, especially head coach Ravi Shastri and batting coach Sanjay Bangar have to come up with answers regarding the issues currently facing the team. "Regarding Ravi Shastri, he has to be held accountable for the results along with Sanjay Bangar regarding why only one batsman is performing whereas others seem to have taken backward steps. Unless these questions are answered an overseas series win in the three countries looks impossible for India," ​Ganguly told IndiaTV.
The Indian team has failed yet again in its bid to win a Test series in England in the current decade after going down by 60 runs in the 4th Test in Southampton on September 3. While they raised hopes of coming back into the series after winning the last Test at Trent Bridge, all the good work was undone by another familiar batting collapse as the team capitulated in the face of Moeen Ali and Co. failing to chase a modest target of 245 on the fourth day. This meant that England have now taken an unassailable 3-1 lead in the ongoing five-match series.
On IndiaTV's show 'Cricket ki Baat', the channel's cricket expert Ganguly said that the current batsmen seem to have taken a backward step or two as they are failing to chase modest totals in Tests. "This batting lineup hasn't been making runs for a long time now. If you look at India's overseas performances from 2011 until now, they have lost every big series. When Virat Kohli is at the crease it seems that he is playing against totally different bowlers as compared to when the other batsmen are batting. I believe that the batting ability of the current players has gone down. There are a lot of reasons for this. Firstly, the players are short of confidence, whether you look at (Cheteshwar) Pujara or (Ajinkya) Rahane, you'll find that four years ago, the latter was matching Kohli shot-by-shot in Adelaide which is not the case at the moment. The same goes for Pujara too", said Dada.
Moeen took nine wickets in Southampton almost emulating his feat from 2014 when he bagged ten in the match. Ganguly had a different take on the tweaker's match-winning performance: "The primary reason why Moeen bowls so well against India in England is that there is continuous pressure being applied by (James) Anderson and Co. from the other end. So Moeen gets wickets because batsmen feel that they can release that pressure against him. But when the same Moeen comes to India and realises that he has to be the chief wicket-taker, he is a different bowler altogether."
'Dada' continued in the same vein by saying that the captain and the coach can't keep on repeating the same statements after losing matches on the trot. "I can understand why Virat Kohli is saying what he is saying in the press conference because you still have to sound positive in such situations. But in the last 7 away Tests, India has lost five. Agreed that the Southampton Test was a close contest, but after Kohli got out the commentators started saying that India will lose the match. That is what happened and has been happening for quite some time now, match after match, innings after innings. Just taking 20 wickets won't win you matches, you have to score runs as well," he asserted.
Ganguly also defended the choice of going with one spinner in Southampton as the wicket wasn't turning square to merit playing an extra spinner. "In my opinion, the selection for the fourth Test was alright. The ball was turning from the footmarks outside the right-hander's off-stump. The ball wasn't turning at right-angles when Ali was bowling to the left-handed Pant. Jadeja's record outside India is not great anyway and the pitch wasn't suited for two spinners. A spinner will have to use the rough patches when playing outside India. When I was the captain, at times I used to bowl Harbhajan Singh ahead of Anil Kumble because I wanted him to use that rough. Virat Kohli will have to talk to Ashwin about why he looks so impatient. He is bowling six different deliveries in an over. Ability-wise Moeen Ali is not better than Ashwin. Rather Ashwin is twice as good as Ali as a spinner. But Ali keeps his bowling simple. On the other hand, Ashwin keeps experimenting with the doosra, wrong'un and leg-spin rather than utilising the rough. Sometimes in Test cricket, you have to become boring to win matches," said Ganguly.