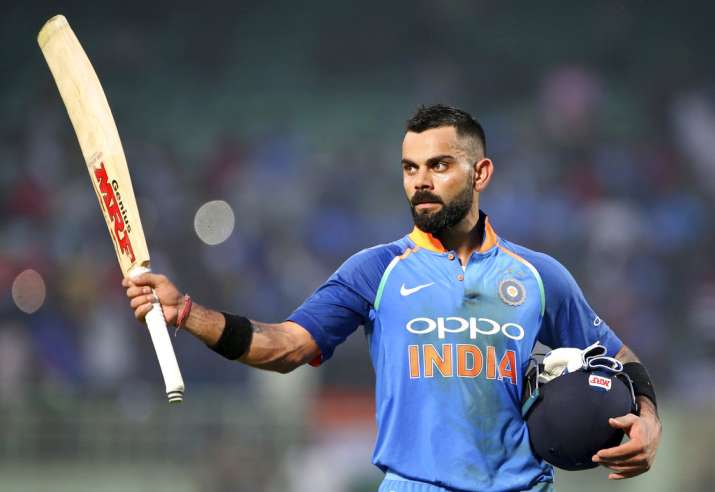 Fastest to 10,000 ODI runs, 38 ODI and 24 Test centuries so far, Virat Kohli is currently a player who has a knack to strike fear in the heart of the oppositions. He's broken arduous records and is still on path to shatter a few more before the year 2018 comes to an end. 
One of the greatest players of all time, Brian Lara, feels that the Indian skipper is 'up there with the very best' and for a man of such stature to commend Kohli, you very well know just how 'good' the Indian captain is. 
In an exclusive interview with IndiaTV, Brian Lara, who is one of the games' most renowned contemporary players, believes that there is no point making any sort of comparisons between Master Blaster Sachin Tendulkar and Kohli and one should just sit back and enjoy the latter's performances whilst he produces sublime and majestic performances on the pitch. 
"I've played with and against great players. I've been with Viv Richards, Richie Richardson and played against Sachin Tendulkar, Ricky Ponting, Jaque Kallis and Virat Kohli is up there with the very best," Lara told IndiaTV. 
"I believe his work ethic and the way he plans his career, it's built on a certain amount of efficiency. I'm amazed by that and his numbers speak for himself. I'm not going to compare as Tendulkar and Virat are from different eras. You just got to appreciate every single moment you've had the opportunity to see them." 
The Indian captain broke Tendulkar's record in becoming the fastest to the 10K milestone in just 205 innings, whereas for the Master Blaster, it took him 259. 
Kohli's job is no doubt demanding and strenuous, but he makes it seem efficiently easy and Princey is 'amazed' by that. 
Besides white-ball cricket, Kohli has been a run machine in Tests as well. He couldn't steer India to a Test series win on English soil, however, personally, he exorcised the demons of 2014 by shutting all with his ruthless performances. In the 5 Tests, he smashed 593 runs, the top scorer of the series and hammered two hundreds on English soil which proved to be a herculean task the previous time he was there. 
India will strive to accomplish a feat which has never been done before - A Test series win in Australia. The Windies legend gives his advice on what has to be done and the method is simple. But it's easier said than done. 
"It's all about getting 20 wickets. You've got to have a bowling attack that can get the opposition out twice and the batting power to get the runs and the combination has to be right," says Lara.
Princey has no doubt that Kohli will come out with 'flying colours' and that India have a great 'opportunity' at hand which they shouldn't miss out on, given Australia's position in recent times. 
"India can do it, he's (Virat) has gone down there and performed well. Everyone is worried about the bouncy pitches in Australia but I think he will come out with flying colours. India do have an opportunity at hand. Australia's is always a tough team at home but they are without a few of their stars, so let's see what happens." 
Since Cricket Australia banned Steve Smith, David Warner and Cameron Bancroft, Australia lost the ODIs to England (June), Tri-series between Zimbabwe and Pakistan, lost a Test and T20I series to Pakistan and will face South Africa in a limited-overs series before the India tour. 
Coming on to West Indies making an impact in the ICC 2019 World Cup, Lara expects the team to put up a 'good' show in the tournament.
"I'm proud of the batsmen, Shai Hope has done well, Hetmyer is looking good. I expect West Indies to put up a good show, leading up to the World Cup, a nice, good fit team of cricketers," concluded Lara. 
(With Inputs from IndiaTV's Sports Correspondent Vaibhav Bhola)