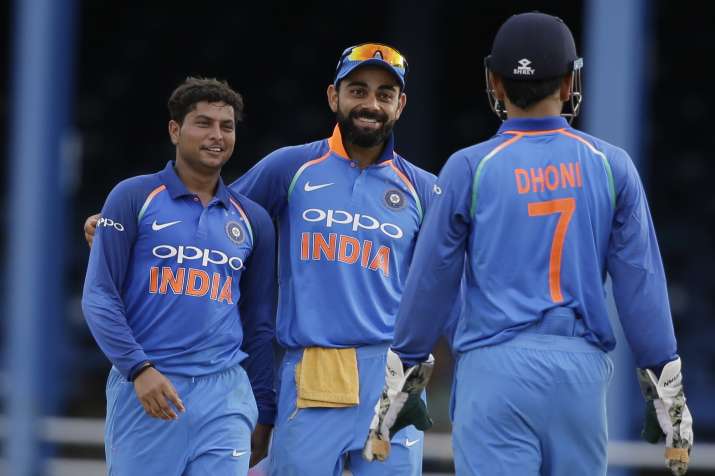 Since his international debut in the fourth Test against Australia in Dharamsala in 2017, Kuldeep Yadav has become an integral part of Team India's plans, particularly in the limited-overs format. With his guile and subtle variations, the young Chinaman has since carved a niche for himself and is now the preferred spinner in limited-over formats, making it tough for stalwarts like Ravichandran Ashwin and Ravindra Jadeja to make a comeback into the team. 
 
In a country like India, which is famous for producing some world-class slow-ball bowlers, Kuldeep has attracted immediate attention due to his distinctive calibre which helped him to leave a mark in the minds of cricket experts and fans. Before making debut for the national side, the Kanpur-born cricketer had successful stints at the Under-19 level. Crediting his success at the big stage to Indian team's skipper Virat Kohli, the 23-year-old feels it's the belief of the captain which has worked wonders for him and motivates him to become better every time he steps on to the 22-yard strip.
 
In an exclusive chat with India TV from his hometown, Kuldeep said: "Virat Kohli is the team's life. He likes to lead from the front and when you have such a leader in your ranks the job becomes so much easier. Also, Virat's involvement makes things easier for the youngsters like me in crucial situations. He motivates [Yuzvendra] Chahal, [Hardik] Pandya and me at times on the field during matches and he makes us believe in ourselves."
 
The 29-year-old Kohli is quite an animated character on the field and likes to wear his emotions on his sleeves. The Indian captain barely shy away from speaking his mind be it on the field or off it. Sharing his views about Kohli' aggression, Kuldeep said: "It's very rare to see Kohli getting angry and even if he does shout at anyone, it's only for the benefit of the player."
 
"On the ground, it's important to be aggressive and everyone follows him and gets inspired. I've become more aggressive than before as it helps me take the team forward. As we have Kohli and Dhoni by our side, we have nothing to worry about," the young spinner added.
 
Kuldeep also praised former India skipper MS Dhoni and believes his inputs from behind the stumps play an important role. 
"Dhoni has plenty of experience, he has played over 300 One Day Internationals and has brought many laurels for the country. When we bowl, we need a person to instruct us and with Dhoni behind the stumps, we have nothing to worry about as he guides us continuously with his invaluable inputs," Kuldeep said.
Praising head coach Ravi Shastri, he said: "Shastri is more of a friend and motivates us. He calls me 'Khabba', a person who is a lefty. Before the 3rd ODI, he told me that he wants me to pick up three wickets as we want to win the series. I ended up collecting four."
 
"Batting, bowling or fielding - in every department Shastri shares his experience with us. Just before the last T20I vs South Africa in Cape Town, he told us to enjoy the last three hours of the tour to the fullest. We didn't even know that Kohli was injured during the 3rd T20I and we weren't that affected."
 
Kuldeep also didn't forget to mention his partner in crime - Yuzvendra Chahal, with whom he has formed an inseparable bowling pair especially in coloured clothing for India. "We enjoy playing with each other a lot. We've known each other for over five-six years and our biggest plus point is that we talk and have played many matches together as well.
 
"We motivate each other during the matches and our main aim to break the partnership during the middle overs. As a unit we believe in giving our all on the field, also Chahal is a funny guy off-field the as well," Kuldeep signed off.