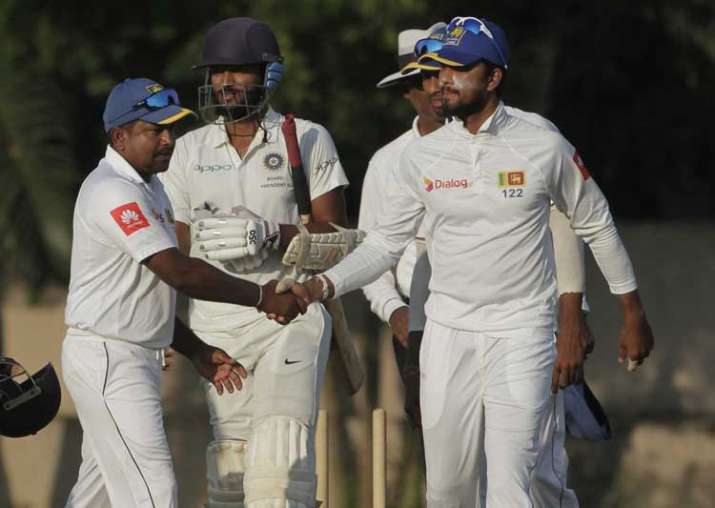 Former India opener Virender Sehwag said India will definitely not take Sri Lanka lightly in the upcoming three-match Test series as the visitors are expected to give a better fight this time as compared to the last Test series between the two nations. India mauled Sri Lanka 3-0 in Tests, 5-0 in ODIs and won the one-off T20I when they toured the Island nation in July-August. "India can definitely win by 9-0 margin (across all formats). But India will definitely not take Sri Lanka lightly. I think Sri Lanka will give India a better fight this time around," Sehwag told India TV while speaking on "Cricket Ki Baat" show.
Sehwag felt the 2-0 win over Pakistan in the Test series in UAE would have boosted the confidence of the Sri Lankan team.
However, the 39-year-old 'Nawab of Najafgarh' maintained that if India can continue to play the way they have been in recent times, they will definitely prove out of reach for the Sri Lankan team.
"They (Sri Lanka) have recently beaten Pakistan in the Test series and they will be confident playing here but the question here is will the three Test matches last for five days? Is the Sri Lankan team capable of fighting the Indian team for five days? I think India will definitely win the series but let's wait and watch in how many days," Sehwag added.
Sehwag also backed batsman Murali Vijay, who is making a comeback to the team after recovering from a wrist injury, to open with Shikhar Dhawan ahead of KL Rahul.
"In my opinion, India should go with Shikhar Dhawan and Murali Vijay as openers. Both are experienced openers in Test cricket and I think Virat Kohli will go with experience," Sehwag said.
Sehwag justified his stance of keeping KL Rahul out of the playing XI by saying that the youngster needs to convert his half-centuries into big innings. Rahul recently equalled an all-time Test record by scoring his seventh consecutive half-century during India's tour of Sri Lanka in July-August. 
However, Sehwag felt that the 25-year-old Karnataka batsman should look to score big runs to cement his place for the opener's spot.
"Murali Vijay has more hundreds than KL Rahul and whenever he crosses the half-century mark, he converts it into a big hundred. If KL Rahul had scored a hundred or a double hundred in the seven consecutive fifties which he scored, then I would definitely considered his name. I feel you give preference to the player who can score big runs in Test cricket and Vijay was not dropped from the squad, he was out due to his injury. 
"I think Vijay will be preferred over KL Rahul and Dhawan, who is in good form, will definitely play. In my opinion, a player who is scoring big runs, should be preferred in Test cricket," said Sehwag, who is India TV's cricket expert.