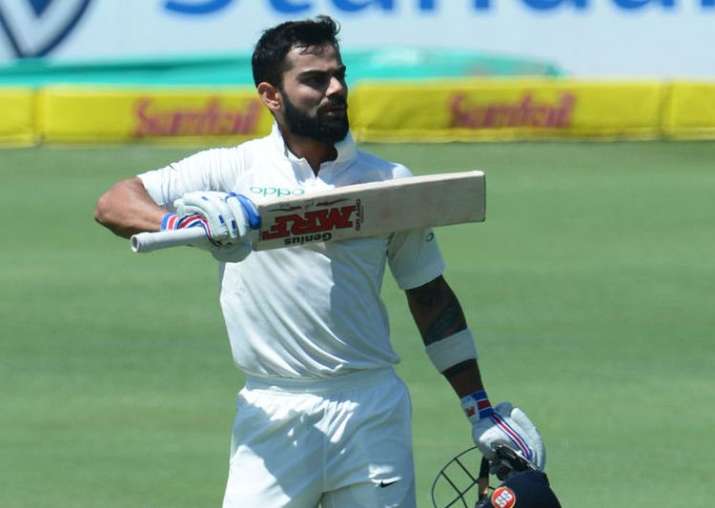 After winning three and losing an equal number of matches in the limited-overs leg of the tour, India are ready for the five-match Test series against England, feel former India captain Sourav Ganguly and former opener Virender Sehwag. The first of the five Tests starts in Birmingham from August 1.
Speaking exclusively to IndiaTV on the show 'Cricket Ki Baat', the former India teammates talked about various issues from India's preparedness to the poor form of Shikhar Dhawan and Cheteshwar Pujara. (Also read: Ishant tips fast bowlers to be the decisive factor)
When asked whether the performances in the just concluded practice game against Essex would be on the mind of Indian captain Virat Kohli while choosing the playing XI for the first Test, Ganguly said: "India are prepared for the challenge. A confident team like India shouldn't decide its playing XI on the basis of performances in the practice match."
Viru backed his former skipper's statement by saying: "India are ready for the first Test. However, one confusion remains: whether they are going to play two fast bowlers, one all-rounder and two spinners or three fast bowlers, one all-rounder in Hardik Pandya and one spinner. The decision will depend on the playing conditions."
Against Essex, while Kohli, KL Rahul and Dinesh Karthik impressed with fluent half-centuries, opener Dhawan bagged a pair and lasted just four balls across two innings. This has reignited the debate on whether Rahul should replace Dhawan at the top of the order. Dada didn't mince words while tipping Rahul for the opening slot ahead of Dhawan.
"Dhawan's history on overseas pitches hasn't been very impressive. He goes overseas, fails to perform and gets dropped after a few Test matches. He has played amazing cricket in the subcontinent and recently scored a century against Afghanistan before lunch. Rahul, on the other hand, has scored a hundred in Australia, played well in South Africa and West Indies too. I like him technically and he has been successful overseas. I'll be surprised if India choose not to open with Murali Vijay and Rahul in the first Test," said the Prince of Kolkata. (Also read: Sehwag's gesture of respect floors Ganguly)
On the other hand, Pujara who wasn't able to leave any sort of impact against Essex, should come good in the Tests despite being in poor nick according to the two India veterans.
"Pujara is not in good form. He recently played county cricket and his average was just 13-14. However, in his last Test at the Wanderers, where India won the third Test, he scored a fifty. He has a century in South Africa to his name. He hasn't been up to the mark in England, but has played better than Dhawan in countries like South Africa, West Indies and England," said Ganguly.
Sehwag too echoed similar sentiments when he said: "It is his second tour of England, so he'll get to learn a lot. Ajinkya Rahane and Vijay were the only successful batsmen on India's last tour of England. I strongly believe that both Pujara and Dhawan will perform better this time in England. Dhawan will have to score this time because as Dada said if you don't make runs overseas, you won't get home series either." (Also read: Indian team has potential to win Test series in England)
The five-Test series will prove to be a stern examination for the India batsmen as England have in their ranks two bowlers - James Anderson and Stuart Broad who are a handful in home conditions. On India's last tour here in 2014, the duo broke the back of Indian batting as they combined to take 44 wickets across five Tests. In Dada's view they still remain the biggest threats owing to their amazing home record.
"Jimmy and Broad have a fabulous home record. They will be the biggest threats for India in Tests. It'll be interesting to see how much grass the curator leaves on the pitch for the fast bowlers. Ben Stokes and Sam Curran will also strengthen England's bowling attack in home conditions," said the 113 Test veteran.
Meanwhile, Yorkshire spinner Adil Rashid has been facing a lot of flak from ex-cricketers after being recalled in to the national Test squad even though he hasn't played a red-ball game since last September. Sehwag feels the ploy to bring in Rashid was triggered by his dismissal of Kohli during the ODIs. Though in his opinion, Moeen Ali still remains the first-choice spinner for England. 
"They have brought in Adil Rashid specially for Virat Kohli, but he won't get to play if there is grass on the pitch in the first Test. In that case, England would go with Moeen Ali because he can bat as well. Last time, he was the highest wicket-taking spinner against India. If England play one spinner in Birmingham, Moeen Ali will play and if they prepare a dry wicket then Adil Rashid might get a chance," said the Najafgarh-born.
Considering Virat Kohli's below-par returns on his last Test tour to England, there is a lot of pressure on the Indian captain to perform this time around. Both Viru and Dada feel that they see no reason of the story of 2014 repeating itself this year as far as Kohli's performance is considered.
"We hope for a century from Virat Kohli this time as he failed to put up an impressive show in 2014. However, he has changed a lot since then. It's hard to imagine Kohli not performing in a lengthy five-match Test series. England's batting is weak at the moment as we saw Pakistan defeat them in the first Test. India have the best chance to win the series this time," said Ganguly.
Viru while agreeing with Sourav, added: "He made two fifties in ODIs and made 70 runs in the practice match. Seeing his current form, I hope he scores at least two hundreds in ten innings of the five-match Test series. India will have to match the first innings total of England if they want to win the first Test."
Lastly, Sourav also expressed satisfaction at the current crop of Indian bowlers and singled out Umesh Yadav for special praise after his impressive haul against Essex.
"I am happy with the current form of Umesh Yadav. He not only claimed four wickets but conceded just 30 runs in 20 overs. It's a good sign for India," concluded Ganguly.
Ganguly's Playing XI: KL Rahul, Murali Vijay, Cheteshwar Pujara, Virat Kohli, Ajinkya Rahane, Hardik Pandya, Dinesh Karthik, R Ashwin, Two fast bowlers and Kuldeep Yadav