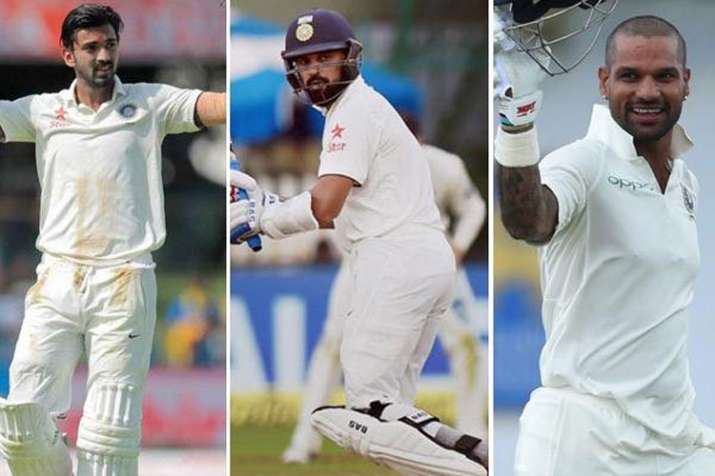 After being dismissed for a duck in successive innings of the practice match between India and Essex, opener Shikhar Dhawan has become a hot topic of discussion. Former India batsmen and IndiaTV cricket experts Sourav Ganguly and Virender Sehwag believe the 32-year-old southpaw needs to perform better overseas if he wants to remain in the Test team for home series. (India tour of England 2018)
The Delhi-born batsman has been impressive in the subcontinent and remarkable at home, though his overseas performances have always invited flak. In India, he has scored 710 runs in 11 matches with two centuries and a best of 187 runs. Out of the subcontinent, Dhawan has 750 runs to his name from 14 Test matches, having played in countries like Australia, England, New Zealand, South Africa and West Indies.
Talking on the show 'Cricket Ki Baat', Ganguly opined that the India skipper should play KL Rahul in place of the struggling Dhawan. "Shikhar Dhawan's history on overseas pitches hasn't been very impressive. He goes overseas, fails to perform and gets dropped after a few Test matches. He has played amazing cricket in the subcontinent and recently scored a century against Afghanistan before lunch. But he needs to perform overseas as well," he said.
"KL Rahul, on the other hand, has scored a hundred in Australia, played well in South Africa and West Indies too. I like him technically and he has been successful overseas. I'll be surprised if India choose not to open with Murali Vijay and KL Rahul in the first Test," Ganguly added.
While former India captain outrightly excluded Dhawan from his playing eleven for the first Test, Sehwag still sees some hope in the left-handed batsman. Mentioning the swift century against Afghanistan in the last Test, he said it's not fair to drop a player on the basis of a practice match.
Besides Dhawan, Cheteshwar Pujara also failed to shoulder responsibilities in the practice match against Essex as he was dismissed for 1 and 23 runs in successive innings. Ganguly claimed the Saurashtra batsman is not in good form but it's not a matter of concern right now.
"Pujara is not in good form. He recently played county cricket and his average was just 13-14. However, in his last Test at the Wanderers, where India won the third Test, he scored a fifty. He has a century in South Africa to his name. He hasn't been up to the mark in England but has played better than Dhawan in countries like South Africa, West Indies and England," Ganguly said.
According to Sehwag, both Dhawan and Pujara are on the same page as far as current form is concerned and they would look to improve their past records in England.
"This is Pujara'a second tour of England, so he'll get to learn a lot. Ajinkya Rahane and Murali Vijay were the only successful batsmen on India's last tour of England. I strongly believe that both Pujara and Dhawan will perform better this time in England. Dhawan will have to score this time because as Dada said, 'if you don't make runs overseas, you won't get home series either'," the former India opener explained.
The three-day warm-up match between India and Essex concluded in a draw in Chelmsford on Friday. The No. 1-ranked Test team will now take on England in the five-match Test series, with the opening match at Birmingham starting August 1.