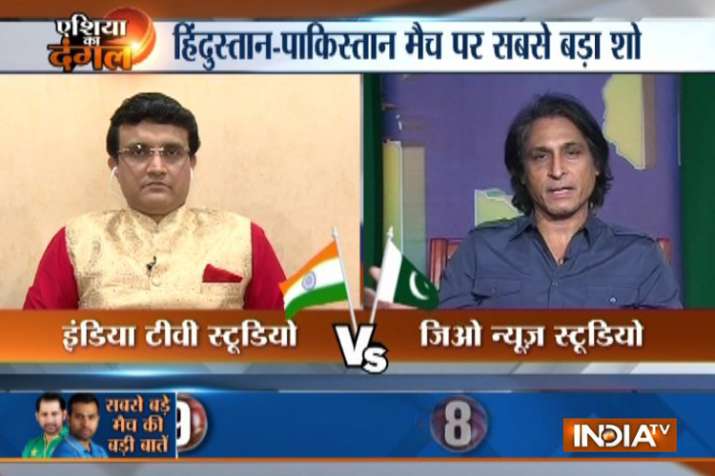 Former India captain Sourav Ganguly and Pakistani batsman turned commentator Ramiz Raja feel that the way Pakistani batsmen fare against Indian spinners is going to be the key when the arch-rivals meet in an all-important match in the ongoing Asia Cup on September 19 in Dubai.
During IndiaTV's special show ahead of the Indo-Pak clash, 'Cricket ki Baat', the former internationals spoke their heart out on the different aspects of the hugely anticipated game. The show was done in collaboration with Geo News from Pakistan. 
One of the main talking points of India's campaign in the Asia Cup has been the absence of their charismatic skipper Virat Kohli from the squad who has been rested after an arduous tour of England. When asked whether his absence meant that India were fielding a weaker side in the tournament, Ganguly agreed that Kohli makes the team strong but it shouldn't matter much in one-dayers. 
"Kohli is a player who provides a lot of strength to the team. India is a bit weaker in his absence but in the conditions in which the Asia Cup is being played - Rohit Sharma, Shikhar Dhawan and Hardik Pandya - all can be matchwinners. It will be a clash between equals. No one team can be said to be ahead. In the last decade or so you could have said that India had the edge over Pakistan but this time in Abu Dhabi where Pakistan plays a lot of cricket, it will be an even contest," said Dada.
When the same query was posed to Ramiz he concurred with the Prince of Kolkata by saying: "I don't think that Pakistan is ahead by any means as the performance against Hong Kong was sort of a middling one as the fast bowlers failed to swing the ball appreciably. Also, Pakistan doesn't have a good pool of spin bowlers unlike the other teams in the tournament. (Lasith) Malinga, on the other hand, swung the ball in Dubai in similar conditions. If Pakistan bowlers don't take wickets with the new ball, their bowling will be under a lot of pressure."
After completing an almost three-month-long tour of England the Indian team has been thrust into UAE without proper rest or preparation time. This has irked many in the cricket fraternity calling for a relaxation in the international schedule thereby giving more time for players to prepare for different conditions. Sourav, however, believes that the lack of game-time wouldn't hurt India in this day and age of 24/7 cricket.
"I don't think that the lack of preparation in UAE is going to hurt India. They just completed a long tour of England and thus deserved a break. The players who are playing so much cricket these days shouldn't be troubled by this."
On the topic of various vulnerabilities and abilities of the two teams, Sourav was of the opinion that Pak spear-head Md. Amir has the potential to trouble Indian opener Dhawan as history shows: "Dhawan can be troubled by the left-arm swing of Md. Amir as he is vulnerable against left-arm pacers eg. Sam Curran in England, Mitchell Starc. In my opinion, Pak is playing an extra seamer and can afford to play with one more batsman instead. Rohit Sharma too would like to press the case for his inclusion in the Test team. India was beaten badly in England and it will be interesting to see if the Indian batsmen can raise their game on the big occasion as great players always do."
When Ramiz was asked what are the strategies that Pakistan should focus on for the game he replied: "If Pakistan are playing in Abu Dhabi then the ball swings more under lights. But in Dubai you have to play an extra spinner as the pitches there are overused due to a number of domestic matches and leagues played. It could be helpful for the spinners but not at all for the fast bowlers."
Every Indo-Pak clash is famous for its intense and sometimes heated rivalry. Matches in the past have also shown enough evidence that the next one in Dubai might throw up some more surprises. When asked about how much verbal abuse is common in such clashes Ganguly brushed aside the question saying: "There weren't too many foul words or abuses thrown at each other during Indo-Pak games. Akhtar used to say something or the other at times but he still would bowl faster rather than abusing. Ramiz bhai never used to curse, never did Inzamam. I always felt more excited during these games."
Ramiz Raja also believes that the wrist-spinning Indian duo of Kuldeep Yadav and Yuzvendra Chahal pose a great threat to Pakistan. "Kuldeep and Chahal are going to be a serious threat for Pakistan and if they fail to read Kuldeep from his hand then it will be fatal. Pakistani players don't play spin very well. Their record against (Shane) Warne and (Graeme) Swann is not good and have struggled against Harbhajan Singh. Both teams depend upon eking out crucial wickets during the middle overs and India will rely on the duo to set the game for them in overs 10-40. If Pak plays spin well then they will get ahead of India in the game though if they fail to do so then India will be all over them," asserted Ramiz.
Ganguly agreed with Ramiz by saying: "As Ramiz was saying Kuldeep's performance in the middle-overs will be interesting to see. I have seen him doing a lot of damage in the first match of a series but then there is a dip in his performance. So we will have to see whether Pak takes advantage of this fact."