Follow us on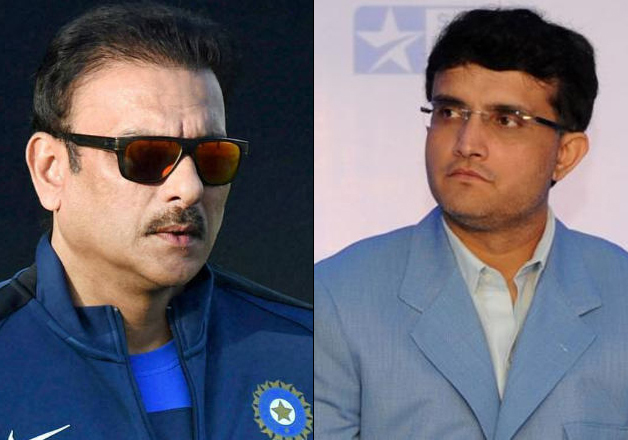 Former India captain Sourav Ganguly played down the idea of playing Virat Kohli at No.4 as the top three remains India's strength in limited-overs cricket, according to him.
Ganguly opposed the idea put forward by coach Ravi Shastri to add flexibility to the batting line-up in the World Cup in England later in the summer.
"Virat Kohli will be coming back in the series to play at No.3. I was reading in the papers that Ravi [Shastri] wants him to play at No.4 but I don't know who will play at No.3 then. Maybe Ambati Rayudu will play at No.3 with Kohli at No.4 but I don't think that it is the right move  because Kohli at No.3 is a huge player and this is India's strength in ODIs -- Shikhar Dhawan, Rohit Sharma and Virat Kohli," Ganguly said in IndiaTV's show Cricket ki Baat on Sunday.
"So, if these are your top four batsmen and then MS Dhoni comes with Kedar Jadhav at No.6 and Hardik Pandya at No.7. Dinesh Karthik will also be there and India should undoubtedly play Rishabh Pant in these five ODIs and play in the top-order and we can see if he is your match-winner at No.6 because Pant as a batsman can win you matches. So, giving him chances will be really important," he added.
This comes in after Shastri told Cricbuzz that India can play Kohli at No.4 if the situation demands.
"The good thing about this Indian top-three is we can separate them if conditions and situations demand. Someone like Virat Kohli can go to number four, and we can put a good number three to bring more balance to the batting line-up. That's flexibility for you, and for big tournaments like the World Cup, you have to be flexible to see what's the best balance for the side. So we will decide that (accordingly in England)," Shastri said.
"Yes, maybe Rayudu, or someone else, could bat at number three, and Kohli comes in at number four. We wouldn't want to disturb the opening combination. Separating the top-three could make the batting stronger.
"But we will assess that on seeing conditions in England. You don't want to be 18-3 or 16-4 in a big tournament. I don't care about bilateral ODIs, but why should I lose my best batsman early in a World Cup match (if the conditions are bowler friendly)?," he added when asked if Rayudu will come in at No.3 in place of Kohli.
The 46-year-old also threw his weight behind the team management's use of Kuldeep Yadav, who has been used sporadically lately.
"I agree with India's use of Kuldeep...there is no need of exposing him too much. [Yuzvendra] Chahal will play, Ravindra Jadeja will come in and play and Krunal Pandya can also be looked at in ODIs because he makes the lower-order strong. He gets wickets and also makes runs down the order which are useful.
"A good team is one which has depth in both batting and bowling and I feel these are the things India try and there is no need to think too far ahead about the World Cup as I feel India's best preparation has happened over the past one year as they have won one-day series in South Africa, Australia and New Zealand and there is no bigger preparation than winning and this will give India loads of confidence when they reach England in May," Ganguly said.
India will next play Australia in two T20Is and five ODIs end the last international series for the Men In Blue before the World Cup, which begins on May 30 in England.
The likes of Kohli and Jasprit Bumrah are expected to return for the limited-overs affair.
The first T20 will be played on February 24 in Visakhapatnam and the last ODI will be in Delhi on March 13.