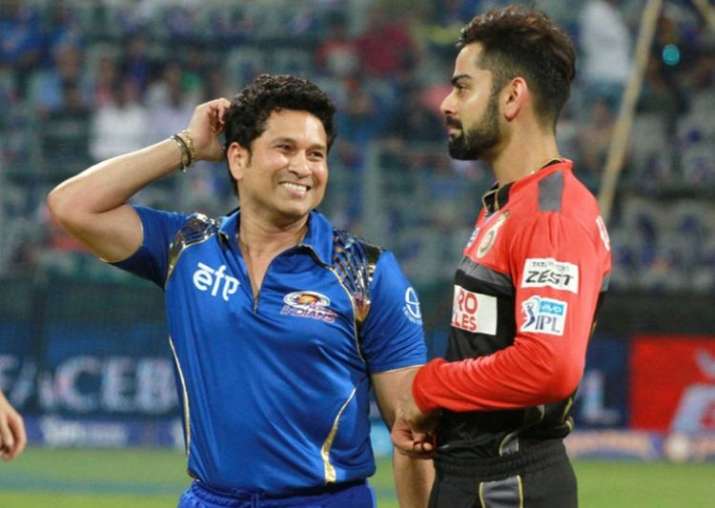 Former Team India opener and IndiaTV's expert cricket analyst, Virender Sehwag, believes that it is unfair to compare current ICC No.1 Test batsman Virat Kohli to the legendary Sachin Tendulkar as the latter has set really high standards for everyone to achieve.
"I don't feel it is right to compare Kohli with Tendulkar. It will be logical only if he is able to achieve the numerous records (200 Tests, more than 30,000 international runs etc.) set by Sachin. Every player including Virat wants to reach the benchmark of 100 international hundreds set by Sachin so he will try to do the same," Sehwag said on IndiaTV's show 'Cricket Ki Baat'. 
He further added: "He (Kohli) can do it as he has the talent and the hunger required to achieve these milestones. It becomes clear after you see the way he prepares and focuses on each match disregarding whatever happened in the previous one."
Dwelling on the reasons that make Kohli such a worldwide batting phenomenon Sehwag believes that it's his preparation that sets him apart. The Sultan of Najafgarh also pinned Kohli as the best batsman going around the world today irrespective of the format he plays.
"A player becomes great only if he prepares well for each and every game. Today there is no one better than him in all three formats. He is an inspiration for players around the world. Even international players, when I talk to them in IPL, they talk about Kohli and his successful method", revealed Sehwag.
When asked about whether he thinks that Kohli might have settled on a playing XI after tinkering with it in the last 38 Tests he has captained in, Viru said he was not sure whether the captain sees it that way. Although former backed India to go in with the same XI that won the Trent Bridge Test, he conceded that given Kohli's habit, we shouldn't be surprised if there are one or two changes in the next Test in Southampton.
"It is difficult to say that there won't be any changes. I personally don't want changes for the next Test but he (Kohli) might not. The team looks balanced and strong with a good pace attack and Ashwin in good form. The openers are doing well and the middle order also played well at Trent Bridge. KL Rahul, Rishabh Pant and Kohli were phenomenal with their catching which was a big factor in the win. During my playing days we had an experienced slip cordon filled with greats like Rahul Dravid, VVS Laxman and Tendulkar who hardly dropped catches," concluded Sehwag.