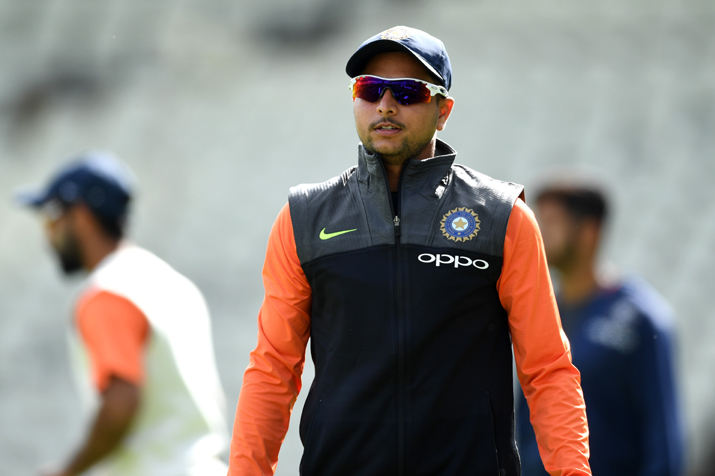 Kuldeep Yadav is travelling to Australia for the first time with the senior squad but he is not short of confidence.
The chinaman bowler feels that they have a really good team and can do the unthinkable -- beat Australia in their own backyard but he knows that for that to happen, the whole team needs to step up.
The 23-year-old, in an exclusive interview to IndiaTV, said the Indian team can beat the Aussies Down Under if they win the first Test, which starts on December 6 at Adelaide.
"We are the best team in T20Is and ODIs. In Test matches, we have to see how the first Test goes. If we manage to win the first match, we will win the series," said Kuldeep.
However, he knows that the batsmen have to step up for that to happen.
"We have to bat well in Australia, our bowling is strong and we did well in South Africa and in England. We have good fast bowlers in Test cricket, 4-5 of them bowl over 140 kmph. Our spinners are also bowling superbly. So, we have a great bowling attack," said Kuldeep when asked about India's bowling unit.
He is not the only one, who feels down the lines as captain Virat Kohli also stressed on the batting before leaving for Australia on November 16.
He urged his team to show character and said that unlike England, the specialist batsmen need to be more consistent in Australia.
"Apart from Lord's, we were not bundled out in one session. We batted well in patches. What happens is that when you have a bad session with the bat, you could end up losing the game and that can dent you mentally. The challenge is to overcome that. 
"When you play overseas, they aren't going to let you dominate. We've to understand how to control the situation (after a collapse). And if that happens in any case, we should know how to refresh rather than pile it on in our heads," demanded captain Kohli.
However, Kuldeep feels that the team needs to work on little things and they can definitely improve on their performances in England and South Africa and go the distance this time around.
"The team is playing good cricket from the last 2-3 years. Yes, we lost in England but we played well. A few things didn't go in our favour in England otherwise we could have won the Test series. However, we will definitely come up with a better performance in Australia," Kuldeep reckoned.
India's first match will be at the Gabba on November 21, when the two sides meet in the first of three T20Is.