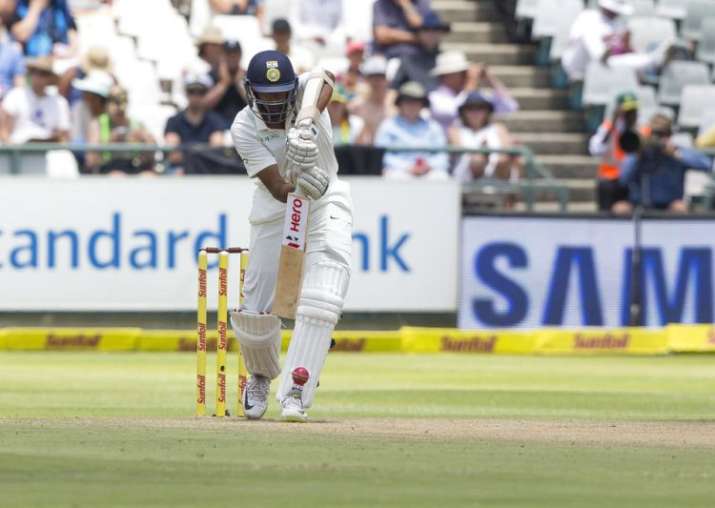 Watching the Indian batsmen struggle with the bounce at Newlands, Cape Town, former India batsman Virender Sehwag advised them to play backfoot in Centurion, avoiding risky shots on the bouncy wicket. The second Test of the three-match Test series will begin on January 13.
"Indian batsmen should play on backfoot in Centurion. They need to avoid risky shots on the bouncy balls. It's important to play with the body. Even if the ball hits you, it won't hit the wicket with this much bounce" Sehwag, who India TV's cricket expert, said on the show 'Cricket Ki Baat'.
"Don't fiddle with deliveries outside the off-stump will be my advise to the batsmen. Play as straight as possible. Get prepared to be hurt by some short stuff. Rather than trying to fend off short balls, get prepared to take blows on your body," he added.
India's much-valued batting line-up collapsed like a pack of cards while facing Vernon Philander, who claimed six wickets to help South Africa register an emphatic 72-run win in the low-scoring first Test at Newlands, Cape Town, on Monday.
With the win, South Africa grabbed a 1-0 lead in the three-match series and the visitors squandered a golden opportunity to script a memorable win outside the sub-continent.
Chasing 208 on Day 4 for their third ever Test match win in South Africa, the Indian batsmen let their team down for the second time in the match, getting skittled out for 135 in 42.4 overs. The game finished well inside three days despite a full day's play being washed out.
The 39-year-old Delhi batsman believes there are only three specific shots that can be played against Proteas' pace attack. "The batsmen can play only three shots in those conditions. Square cut, straight drive and flick can help them make runs without risking their wickets on the extra bounce."
According to Sehwag, India's top-order, comprising Murali Vijay, Shikhar Dhawan and captain Virat Kohli, needs to play aggressively in the second Test and a strong start will assure India's success in Centurion.
"The second Test is going to be crucial for India's top-order batsmen. We need to put a strong total in the first innings to match their score. Openers and Virat Kohli need to make runs as we need a good start to make a comeback in the series," he said.
When asked for a suggestion in the playing XI for the second Test, Sehwag said: "We can bring one more batsman, if required. The bowling formation can be decided after reading the pitch conditions."
Sehwag is of the opinion that South Africa's pace attack is even better than India's and thus, batsmen require to score runs to put pressure on the Proteas. "After losing the first Test, India's chance of a series win has come down to 30 percent. It will be difficult for India to win both the remaining Tests. A win and a draw is something that they can do at this stage to save the Test series."
"The tennis ball bounce in South Africa means that it will be very difficult for any batsman to get bowled. So one needs to stay positive and try to score runs at the rate of at least three runs per over," Sehwag concluded.