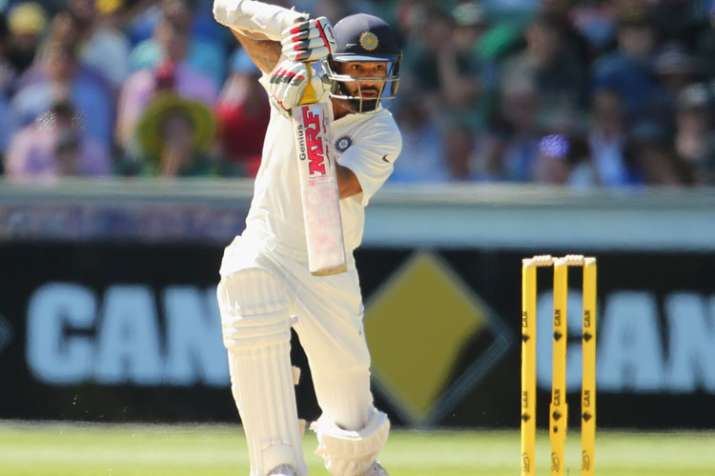 Team India opener Shikhar Dhawan is confident that the Virat Kohli-led side can create history with the red ball during India's tour of England which starts in July. India begin the gruelling tour with the limited-overs formats which consists of three T20Is and three ODIs, followed by a five-match Test series.
In an exclusive chat with IndiaTV, 'Gabbar' said that he was ready for the challenges ahead of him. The southpaw, however, said he is firstly looking forward to the one-off Test against Afghanistan. History beckons on June 14 as Afghanistan play their maiden Test match against India, who will be led by Ajinkya Rahane in the absence of regular captain Virat Kohli, who is recovering from a neck injury.
"Definitely, I am ready for the England tour. The Indian Premier League has just got over so, I will take a few days rest and then will get on with the preparations. We also have a Test against Afghanistan in Bengaluru," Dhawan told IndiaTV.
Dhawan was in decent form during the recently-concluded Indian Premier League 2018 where he milked 497 runs in 16 matches playing for the Sunrisers Hyderabad, who lost to Chennai Super Kings in the finals of the 11th edition.
Putting that aside for now, Dhawan has his eyes set on making an impact in England and states that the tour is important for India. The left-hand batsman said India would want to win the Test series against the Three Lions on their turf. 
"The tour of England holds a lot of importance for us. We will try hard and create history there this time. Last time when we went there, we won the ODI series and it was after 25 years. This time we will try and create history by winning the Test series."
At the moment, England have had poor performances with the red ball so far, starting with the Ashes series they lost 4-0 Down Under, then they lost to New Zealand 1-0 and the Joe Root-led side is staring at an embarrassment as they trail 1-0 to Pakistan in a two-match Test series after losing the first Test at Lord's.
Dhawan, who has flourished in the limited-overs formats of the game and has been a prominent player and the go-to man when it comes to scoring in England, said that he would try to replicate his performances in Tests as well.
"It's good that I have been able to score in England. I will try and score runs this time too in the Test series," he said.
On skipper Kohli's leadership, Dhawan lauded the 29-year-old by stating that he leads from the front and is growing as a captain. Gabbar is quite fond of Kohli's aggression and says that he has never backed down during tough times.
Kohli, who faces a race against time to be fit for the tour of England, was ruled out from his maiden County stint with Surrey Cricket Club due to a neck injury and is currently under intense rehabilitation.
"Virat Kohli has been leading from the front. He is performing so well and is growing as a captain. He will also get better with experience. He plays aggressive cricket and is never bogged down in hard situations. That's the special thing about him."
Making a point on sledging in England, Dhawan said the team would rather want to make a statement with the bat and ball rather than going verbally at everyone else during a match. However, at the end of the day, Gabbar said that 'a little bit' of sledging does go on.
"By aggressive cricket what I mean is that we would like to perform with the bat and ball and not indulge in sledging. However, a little bit of sledging is okay," concluded Dhawan.