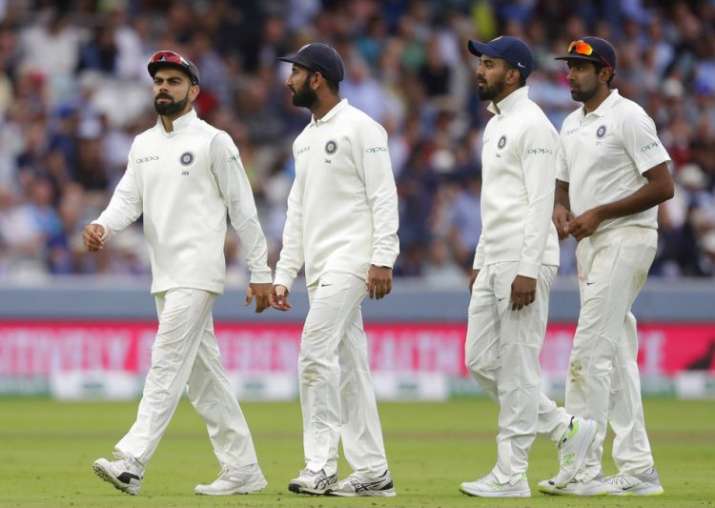 As India continue to struggle in the ongoing five-match Test series in England, former India captain and IndiaTV cricket expert Sourav Ganguly has come down heavily on Virat Kohli and his men, saying that it will be a 5-0 affair in favour of the hosts if the visitors fail to improve their game.
"If they continue to play like this, it'll be a 5-0 affair (in favour of the hosts)," Ganguly told IndiaTV on the show "Cricket Ki Baat", following India's embarrassing defeat against England at Lord's. (Also read: A happy-go-lucky coach is not what India need right now)
After the loss of first day's play due to rain, India were invited to bat on the second day of the Lord's Test. James Anderson claimed a five-wicket haul as England bundled out India for paltry 107 runs inside 35.2 overs.
 
For England, Chris Woakes (137*) and Jonny Bairstow (93) excelled with the willow as the home side declared their second innings on 396/7, with a lead of 289 runs. India batsmen continued their poor show as they managed to make 130 runs in their second innings. The visitors ended up losing the match by an innings and 159 runs to go 0-2 down in the series. Earlier, India lost the first Test by 31 runs at Edgbaston. (Also read: Ganguly, Sehwag feel Kohli will re-write history in England)
Disappointed with India's comprehensive defeat in England, Ganguly criticised the way their batsmen got out inside 80 overs of a Test match. "When the T20I series started in England, we expected India will play well in the longer format also. When we won the ODI series in South Africa, we thought now there will be an end of defeats overseas. But it felt bad after the Lord's defeat.
"While many don't even get a chance in a lifetime to play in an iconic stadium like Lord's, India got out twice inside just 80 overs. Wins and losses are part of a game, but there should be some fight. I couldn't see that determination in India in the first two Tests," he added.
The 46-year-old batting great from Kolkata opined that the India batsmen need to bring passion into their game. "Technique is one important thing, but you need to have the determination to fight. Murali Vijay has played around 60 Test matches, Shikhar Dhawan also has a good experience but he was dropped after the first Test. This is their fourth or fifth trip outside the subcontinent. A good batsman can adapt to these conditions very quickly. (Also read: Ishant tips fast bowlers to be the decisive factor)
Ganguly also commented on the form of KL Rahul, who has lost his wickets cheaply for 4, 13, 8 and 10 runs so far in the series. "There has been a dip in the form of KL Rahul, who started his career with an impressive performance in Australia. Batsmen have to fight against themselves. They have to play fearless cricket as it's not school cricket, they are representing the nation. Ashwin batted well in those conditions. It's important to show intent. You have to get on the top of their bowling attack," he said. 
India skipper Kohli, who started the England tour with a 149-run knock in Birmingham, struggled with a stiff back on the fourth day of the second Test. He managed to score just 17 runs and was missing from the field in the morning session.  
Kohli has assured that even if he doesn't get fully fit, it won't be an issue for him to bat in the third Test. Ganguly agreed with the captain, adding that the other batsmen will also have to score. (Also read: 'Kohli and Pujara's form will decide India's fate in England')
"As he said, it'll be easy for him to bat with a stiff back as compared to fielding because he has got the technique. However, no matter he gets fit or not, other batsmen will have to score runs as well. Virat Kohli is a bonus but others have to perform too. What if he doesn't get fit, won't they go out to play?"
Meanwhile, Ganguly was full of praise for the Indian bowling attack, which didn't disappoint much, unlike the batting department. "Shami, Umesh and Ishant have bowled well in England. But when there aren't many runs on the scoreboard, the game turns completely. Also, Virat Kohli opens the field too early that makes scoring easy for England batsmen. You have to make 350-400 runs if you want to put some pressure on England," he claimed.
With Jasprit Burmah set to return after an injury, Ganguly believes India should play their three fast bowlers in the third Test, starting Saturday in Nottingham.  "Since they haven't started well, Virat will have to make some changes in the playing XI. Bumrah was unfit, so he'll return in Nottingham. Besides him, India will have to play their best three fast bowlers. (Also read: India vs England will be 100 per cent entertainment, says Shastri)
Ganguly strongly feels that young players like Karun Nair and Rishabh Pant should get the chance over experienced batsmen. "I want India to play six batsmen in the third Test. Karun Nair should get a chance because he doesn't have a scare of failure. India should also give a chance to the new wicketkeeper, though I don't think there's a need to change the opening pair. Dinesh Karthik has appeared off-form since the beginning, so Rishabh Pant should get a chance," Ganguly opined.
Ganguly, who has played 113 Test matches for India, is optimistic of a comeback from the No.1-ranked Test team. "India should go with a mindset that now it's a three-Test series that is about to start for them," he concluded.