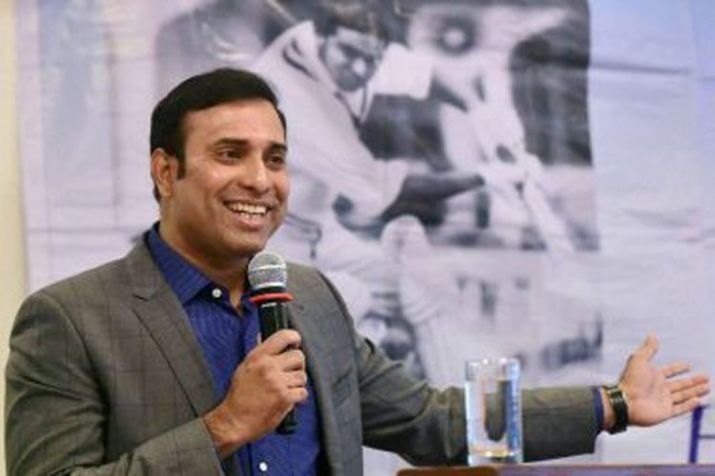 Former India great VVS Laxman while tipping India as the overwhelming favourites to win the upcoming four-Test series against Australia also cautioned the Men in Blue against relying on individual performances and focus on team effort if they want to achieve their maiden series win Down Under.
Laxman made these comments in an exclusive interview with IndiaTV in New Delhi on the occasion of the launch of his autobiography '281 And Beyond' in the capital city.
The stylish batsman didn't shy away from judging India as favourites to win the series in the absence of Steven Smith and David Warner from the Australian side. But he added that no team however weak it is can be taken lightly in its own backyard and the Indian team will still have to play well to clinch the series.
"If you compare both the teams on paper, India are definitely favourites to win the Test series. Potentially the Indian team is much better than the Australian team. However, no team is ever weak in their own backyard. If Virat Kohli and the Indian team play to its potential, it can definitely beat this Australian team," opined Laxman.
On the question of the strategies that India need to adapt to realise the dream, the right-hander pointed out two things - putting up a big total in the first innings and focusing on team effort. India have been found guilty of throwing away winning positions in the recent past on their tours of South Africa and England while their captain Virat Kohli has more often than not appeared to wage a lone battle with the rest of the batting crumbling around him. A repeat of the same would produce similar results in Laxman's opinion.
"India need to keep two important things in mind... their batting in the first innings because you would like to put up big first innings total when you are playing abroad. You can't rely on one or two batsmen for that and there has to be a collective contribution.
"Secondly, India have also failed to win the crucial moments in South Africa and England. This resulted in the respective series losses. So it will be really important for India to win such moments whenever they arrive in the next few weeks," said the 134- Tests veteran.
Laxman heaped praise on Indian captain Virat Kohli by saying that " all the grounds in the world right now are his favourite as he has scored runs all over the world now". He also stressed that the first Test is going to be the most important chapter in the series as far as Kohli the captain is concerned and wished for a repeat of what Kohli did in Adelaide four years ago.
India also have a few selection headaches ahead of the first Test. First of them is whether to play Rohit Sharma or Hanuma Vihari at six and who will be the openers as the young sensation Prithvi Shaw has got injured and will be unavailable to play. While Vijay and Rahul are all but confirmed to open if the tour match is anything to go by, the number six problem is still not fixed. For the Hyderabadi legend though, the choice is clear: Rohit's class trumps Vihari's determination.
"I will definitely play Rohit at no. 6 instead of Hanuma Vihari. even though the latter has made the runs and proved himself in the recent past, Rohit has the class and experience to succeed in Australian conditions. He is gifted with a game that is suited to the high pace and bounce of the Australian wickets," said Laxman.
Recently a number of ex-Australian cricketers including Ryan Harris, Ricky Ponting and Jason Gillespie have suggested that there are ways to rattle Kohli and get him out early. However, Laxman sees these as mind games and firmly believes that these kind of statements are always to be taken with a pinch of salt. 
He said: "Even when Mitchell Johnson was on fire four years ago, Virat ended up scoring hundreds which are proof enough that he will do it this time as well regardless of whether the Aussies bowl, short, wide or full to him."
"The first match is going to be crucial in Adelaide. It is important for Virat Kohli to perform well and also lead the team in a similar fashion. If India can create some sort of momentum in the first Test they can carry it forward. It was great to see Kohli hit the twin hundreds in his first match as India's Test captain on India's last tour and I am hoping he will continue to do so this time as well," signed off Laxman.