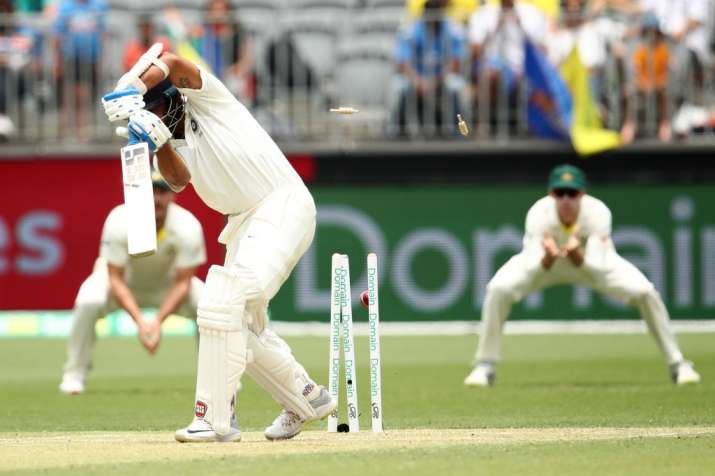 Former India captain Sourav Ganguly slammed openers Murali Vijay and KL Rahul after they failed once again to get India going after Australia were bundled out for 326 early on Day 2 of the second Test in Perth. 
India were placed at six one at lunch with Starc bowling Murali Vijay for a 12- ball duck, while Rahul followed suit no sooner than later when he was in two minds about how to play a full delivery aimed on the off-stump and was beaten all ends up as the ball destroyed his stumps. Rahul departed for 2. 
Speaking exclusively to IndiaTV, Ganguly felt that an opener has a huge responsibility and should be on the defensive foot when facing the new ball. Ganguly bashed Murali for his shot selection. 
"As an opener, you cannot play such shots outside the sub-continent. In Murali's all three dismissals, he tried to play the drive shots against the new ball. You're supposed to play defensively. You cannot just play cover drives with the new ball. Murali doesn't have much time on his hands because he didn't perform well in England, now here after three innings you haven't scored runs. He (Murali) has to be very careful," Ganguly told IndiaTV. 
"Rahul needs to learn from Kohli on how to play with the new ball. If you're born to be an opener then you have to play. You have to play defensively with the new ball around".
Post lunch, India were immediately under the pump as Josh Hazlewood (1-50) knocked over KL Rahul (2) in the third over after resumption of play.
However, it was once again the skipper who came to India's rescue. Virat Kohli played a crucial role with a gritty 82*, lifting India from the early blow at the beginning of innings to 172/3.
Ganguly was all praise for Kohli and lauded his performance on a difficult turf like Perth.
"He's (Kohli) is an all-time great, in India and in world and before this when they lost the openers and Virat came to bat, it felt like the wicket was different and the bowling as well. That gave Pujara and Rahane confidence to bat. You see Virat and say that he has scored everywhere in the world, but on this pitch, with this Australia's attack, it's very rare to see such fine innings being played." 
Kohli's unbeaten knock, coupled with Ajinkya Rahane's counterattacking 51, helped India to not only overcome the cheap dismissals of Murali Vijay (2) and K L Rahul (2) but also put the visitors in a position from where they can look to dominate the rest of the game.
The India captain stitched a 90-run unbroken partnership with Rahane by stumps on the second day, the stand coming after he added 74 with Adelaide hero Cheteshwar Pujara (24) for the third wicket. 
The former skipper also lauded Rahane and termed his knock as the best in the last two years. Rahane reached his 17th Test half-century before end of play as the two batsmen were sure in their shot selection and avoided any further damage to the Indian innings.
"I think this is Rahane's best performance in the past one and half years and I hope that this knock can help him boost his confidence in the upcoming matches. These two have played brilliantly. The way the wicket was behaving on the first day, everyone thought that it would be difficult for India to score past 150, but these two have batted phenomenally. He (Rahane) played some well-timed shots." 
Ganguly feels that the match is still alive after the duo's performances and hopes that they are able to level the host's score as the lower-order might struggle on such a wicket. 
"The match is still wide open, the partnership (Kohli-Rahane) is very important for India and I hope their partnership takes India level to Australia's score, because Hanuma and Rishabh will play for the first time on this pitch which will not be easy for them." 
Kohli (82*) and Rahane (51*) will resume India's innings on Day 3 of the second Test in Perth.