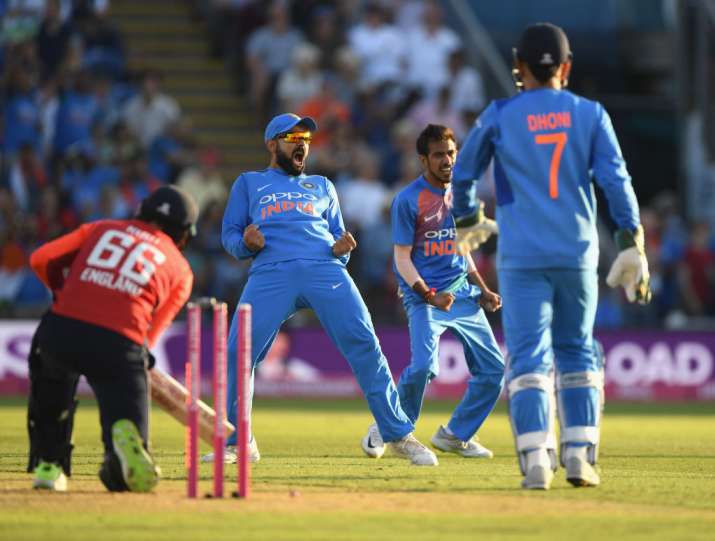 A loss for India in the second T20I of the three-match series is more of a wake up call and a reality check for the visitors as England are no pushovers and they have correctly established just that, by making an impressive comeback in the series, leaving Virat Kohli and Co. to chalk out new plans and strategy for the series decider on Sunday. (3rd T20I ENG vs IND Match Preview)
 
In an exclusive interview with IndiaTV, former Team India skipper Sourav Ganguly has decoded the Cardiff T20I and spoke about what went wrong for the Men in Blue and how they can learn from this loss. 
 
With the conditions favouring the seamers, India were restricted to a total of 148/5 after a brilliant performance by the Englishmen. However, it was a rough day at work for spin-twins Kuldeep Yadav and Yuzvendra Chahal as they were taken for a ride at Cardiff, leaking a combined 64 runs, resulting in England walking away with a win by five wickets. (ENG vs IND 2nd T20I MATCH SCORECARD)
 
"They didn't make enough runs. You cannot win a match by posting a score of 148. England bowled well, the surface was different from Manchester, as there was more grass and it carried a lot of pace, which played to England's advantage. Kuldeep and Chahal leaked 64 runs and that's why they won. You expect England to make a comeback in England. It's a challenging series, the fight will be worth it and surely the same can be expected in the ODIs," Ganguly told IndiaTV.
 
The 1st T20I in Manchester was all about Kuldeep as he picked a fifer, leaving the Englishmen dumbfounded and in need of a different plan to counter the chinaman. With the conditions in Cardiff quite diverse from Manchester, the wicket carried plenty of pace and bounce which favoured the hosts, resulting in a win to level the series 1-1.
READ: WE COULDN'T DO AS MUCH AS WE WANTED - VIRAT KOHLI
 
The first problem Ganguly pointed out, was that India need to score runs. Rohit Sharma and Shikhar Dhawan's wickets were a 'turning point' of the match and the former skipper believes that it was a good comeback by the hosts, making the series even more intense.
 
"It's a T20 match. You have to play shots to score runs. Shikhar Dhawan's run-out was the turning point of the match. He plays well in these conditions but he should have returned to the crease. After losing three early wickets, India felt the pressure cause Kohli and Raina had to rebuild. As I said, England bowled well. Plunkett had a poor show at Manchester but returned the favours at Cardiff. Willey is an asset for England as he can bat and bowl. It was a good comeback by England. They improved their game as they could tackle Kuldeep and Chahal." 
READ: SAKSHI HAS A SPECIAL MESSAGE FOR DHONI
 
Coming on to Rohit's form, Ganguly isn't concerned as he believes that the opener has performed well earlier in these conditions and will slowly find his rhythm in this tour.
 
"It's been a slow start for him in this series. He's a good player no doubt as he has scored in these conditions such as the Champions Trophy and the last time India toured England. He'll slowly find his rhythm. I'm not worried about him and the rest of the Indian batsman. It was a day when England played better than India." 
 India's top-order batsmen went for a toss as Rohit (5) and Dhawan (10) couldn't build a base for the rest of the batsman to build on. Overall, Ganguly feels that India fought well. 
 
"This game's rule is that the openers should set a platform for others to score. They couldn't gain the momentum they wanted and after losing three early wickets, the run rate went down, but India fought well. I'm not concerned as the first match was one-sided, England won the second and I feel India has a fighting chance to clinch the series."
 
Was it an off-day for Kuldeep and Chahal? Ganguly believes that the spinner should forget about Cardiff and focus on the series decider in Bristol and feels that the only way India can apply pressure, is by posting a good target on the board and then get the spinners into action.
 
The English batsmen were seen practising with the Merlyn bowling machine before the 2nd T20I and it seems that it somehow helped the hosts counter the chinaman. 
 
"Like how every batsman has a rough day at work, so did these two (Kuldeep and Chahal). In a 20-over match, it's not always going to be when Kuldeep picks up three or five wickets in every match. He should forget about his performance in Cardiff and should focus on Bristol. For Kuldeep and Chahal to apply pressure on the team, India need to score runs, even if they start the match slow. Taking into consideration about Bristol's field, there will be pressure on the bowlers." 
 
With the wicket at Cardiff carrying plenty of bounce and pace, Ganguly lauded the Indian seamers and said that they performed well despite the loss.
 
"Bhuvneshwar is bowled brilliantly at Cardiff, Umesh is finding his rhythm and so is Padnya. With Bumrah out, Umesh needs to bowl better. " 
 
On being asked who would win the series? The former captain feels that it's all to play for and said that if he was the England skipper, he would ask the curators to keep grass on the wicket to favour the seamers and negate the spinners who are India's asset.
 
"Anyone can win. Both captains love to chase. The toss will be crucial and you have to keep in mind that it's a day match, not a night. You have to keep in mind the conditions. If I was Eoin Morgan, I would want the curators to keep grass on the wicket as the pacers can bowl well and can negate Kuldeep and Chahal. But if India start well, they can mount pressure on them."
READ: KOHLI WISHES DHONI ON HIS 37th B'DAY
 
On MS Dhoni playing his 500th match and celebrating is 37th birthday, the former captain has a special message. 
 
"Happy Birthday MS. I really liked the salt and pepper look. I remember the first time I saw you back in 2004, you had long hair and now you have short just like a captain should. 
 
"Congratulations on the 500 International matches. I've played about 424 matches and it feels like quite a lot. What you have done for the team and the heights that you have taken the team to, is simply not easy for anyone else to achieve that and the whole country is with you. God Bless," Ganguly signed off.