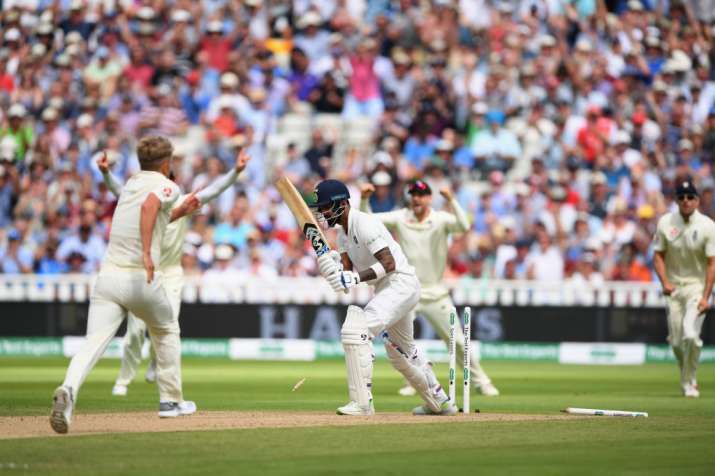 With Indian batsmen receiving strong criticism from experts and fans alike for poor show in England, former India opener and IndiaTV cricket expert Virender Sehwag has said that his former teammates Rahul Dravid, VVS Laxman and Sourav Ganguly could help the current lot as they have scored many runs in England.
According to Sehwag, the team management could rope in the legends as batting consultants to solve the batting woes in challenging conditions. Struggling in front of impeccable seam and swing bowling, the Indian batsmen have failed to impress much with the willow.
Following a 2-1 win in three-match T20I series and a 1-2 loss in the three-match ODI rubber, Virat Kohli started his Test campaign on a high, scoring 149 and 51 runs in successive innings of the first Test in Birmingham. However, no support from the other end resulted in India's 31-run defeat in the opening clash.
Things got worse for the visiting team in the second Test as it got bundled out for 107 and 130 runs in successive innings at Lord's. England rode on bowling all-rounder Chris Woakes' Test-best knock of 137 runs (not out) to thrash India by an innings and 159 runs to go 2-0 up in the five-match Test series.
Commenting on India's batting misery, Sehwag told IndiaTV during the show Cricket Ki Baat: "The team management should have called up players like Rahul Dravid, VVS Laxman and Sourav Ganguly on England tour as batting consultants as they have scored many runs there. Their experience would have benefitted the Indian batsmen."
The 39-year-old from Delhi also remarked on the performances of prominent batsmen like Murali Vijay, Cheteshwar Pujara and Ajinkya Rahane, who have failed to shoulder the responsibility so far in the tough Test series.
"Batsmen like Murali Vijay, Cheteshwar Pujara and Ajinkya Rahane would have learnt a lot from Dravid as they have a similar temperament," Sehwag said.
Talking about KL Rahul and Shikhar Dhawan, who are currently vying for the opening slot, Sehwag said he could help them as their playing style is similar to his.
"I could have helped KL Rahul and Shikhar Dhawan as their playing style is similar to mine," he explained.
For the third Test, starting on Saturday in Nottingham, the Virat Kohli-led No.1-ranked Test team will aim to bounce back in the series. Their pace attack will receive a boost with pacer Jasprit Bumrah set to return from an injury.
Bumrah had injured his left hand whilst playing in the first game of the long tour against Ireland in Dublin back in June. He didn't feature in the T20Is or ODIs against England since then, and also missed the first two Tests thanks to a fracture on his left thumb.
Meanwhile, skipper Kohli is in a race against time to get completely fit for the third Test. He had confirmed his availability albeit with the rider that he might not be able to field or run between the wickets up to a 100 per cent of his ability.