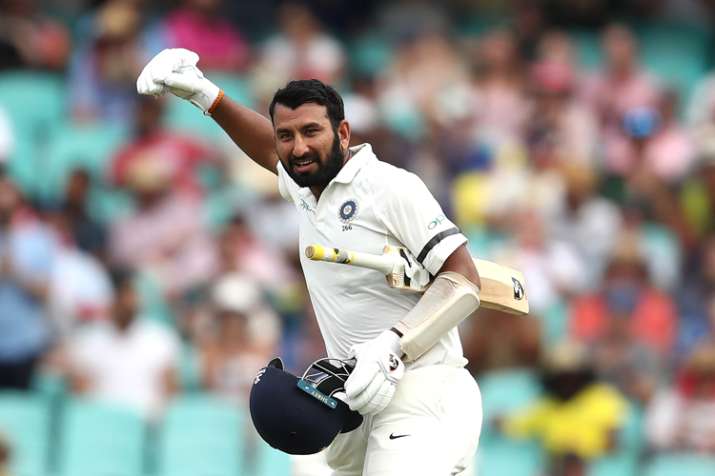 With India having lost a tightly-contested 5-match ODI series against Australia at home on March 13, doubts have been cast over the hosts' preparation for the all-important World Cup due to be played in the upcoming summer. The fact that India will not play any more internationals before departing for England looms large over a team which was supposed to run over the tourists having taken a 2-0 lead after the first two matches. But what unfolded in Ranchi, Mohali and Delhi has left the fans a tad bit disappointed.
On IndiaTV's show 'Cricket Ki Baat', former Indian captain and IndiaTV's cricket expert Sourav Ganguly sprung a surprise when he advocated Test specialist Cheteshwar Pujara's name for the crucial No.4 spot in the Indian batting lineup.
India have tried a number of players for the spot including Rishabh Pant, Vijay Shankar and Ambati Rayudu, but all of them have failed at times under pressure. Ganguly though has other ideas.
"See, I am going to say something that might not sound believable to many viewers and a lot of people might laugh at my suggestion. But for me, Cheteshwar Pujara should be India's No.4 in ODIs. His fielding might be a bit weak but he is a very good batsman. I know people will be shocked by my claim but if you want a quality batsman who is better than the options India has tried off late, I think Pujara is the best choice," Ganguly revealed.
Dada is confident that Pujara might be able to fill in the shoes of another legend Rahul Dravid in the Indian one-day side.
"I believe Pujara has the capability to perform the role that Rahul Dravid used to do for India in ODIs. But this would have been my personal decision and I know a lot of people won't agree with me on this. Sometimes, you need solidity in one-day cricket and Pujara provides you with that in ample measure. Especially, when your top 3 batsmen are so capable and are scoring a mountain of runs," added Dada.
While MS Dhoni remains the No.1 choice for the wicket-keeper's role, Dinesh Karthik and Rishabh Pant have also staked their claims for the spot in recent times although bearing less satisfying results. In the Prince of Kolkata's opinion, there could arise a situation wherein both the stumpers might fail to make it to the squad.
"I would back Rishabh Pant over Dinesh Karthik. The latter has played a lot of cameos but we haven't seen him play a big innings while pulling the team out of trouble like Kedar Jadhav does for India. So, if I have to choose one amongst the two, I would go for Pant as he is a player of the future.
"But it is quite possible that none of either Pant or Karthik are selected for the World Cup. The way they have backed Vijay Shankar recently, it is possible that none of the two frontline backup wicket-keepers will make it to England. So in the event that Shankar is chosen, only one amongst KL Rahul, Pant and Karthik will be selected," elaborated Ganguly.
On the question of India's chances at the quadrennial event, the Cricket Association of Bengal (CAB) chief said that it is still 'too early' to predict but Kohli must have figured the squad out already.
"There is still a lot of time left in the World Cup so it is difficult to predict India's chances at the event now. But it seems that Virat Kohli has already figured out who his Nos. 4 & 5 will be at the World Cup. I guess it will be Dhoni at five with Rayudu slotting in at the vital fourth position. Experimentation during the recent series against Australia was fine by me as you always want to look for talent but Kohli seems to have almost figured out the squad for England. 
"I'm not sure that KL Rahul has proved his worth for the World Cup. He has got many chances to reverse his fortunes but his international form has dipped in the past couple of years. We have backed him before but as was seen on the recent tours of Australia and New Zealand, Rahul wasn't able to inspire confidence amongst the captain or the viewers," Ganguly signed off by saying.