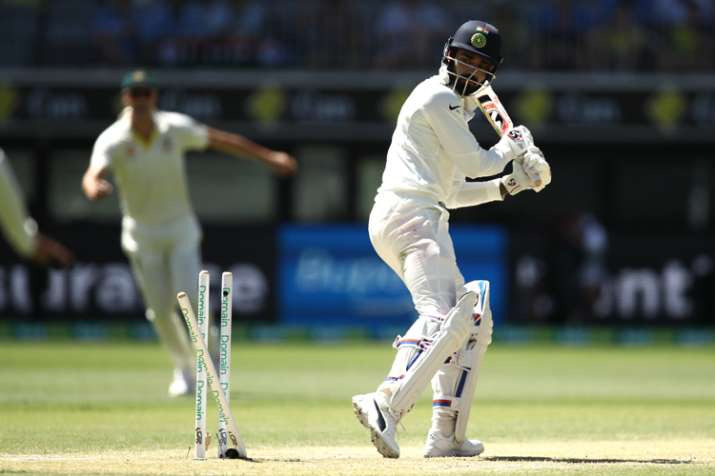 Former India captain Sourav Ganguly was critical of the approach the Indian batsmen took in the second Test in Perth, which the visitors lost by 146 runs.
Ganguly was disappointed with the mindset of most of the Indian batsmen, which was to hit the ball instead of grinding it out for runs on a difficult drop in pitch at the Perth Stadium.
"There is some flaw in the mindset, openers didn't back their defensive approach. In England, James Anderson and Stuart Broad troubled KL Rahul with in-swinging deliveries, which made his front foot defence weak. KL Rahul was very tentative in the fourth innings of Perth Test when the ball came in off stumps or outside it. If you have to score runs in Test cricket then your defence should be stronger. The same problem is with Murali Vijay, in the first innings of Perth when he got out looking clueless, though he looked well in the second innings. These all are technical issues, mindset issues, where you didn't play fast bowling well.
"Ajinkya Rahane was dismissed on the point, it's a sight in ODI cricket but you can't play on the up towards the point fielder's hands in Test cricket. The mindset is that the Indian batsmen don't fight or grind for runs, they are just looking to smash the ball to score runs. Only two players in Indian team grind well...one is Cheteshwar Pujara and the other is Virat Kohli. They played with great technique and defence and they looked to bat for six hours, that's why they score runs for India," Ganguly said on IndiaTV's show 'Cricket Ki Baat'. 
The 46-year-old also pointed out another reason that has resulted in Indian failing to win a Test series in England and South Africa in 2018.
According to him, the Indian bowlers have failed to wrap up the tail quickly and leaked runs which have later haunted India but overall, it is the lack of contributions from the other batsman around Kohli.
"You can't call anyone culprit in cricket, we all saw the stats and only Virat Kohli scored runs while everyone else failed. In 2018 we played 3 Tests in South Africa, 5 in England and 2 till now in Australia, we have played a total of 10 Test matches and how many times Team India has crossed the 300-run mark, it happened only once in Trent Bridge where India won the Test match. Average of Indian batsman is 26, 11, 30...you cannot win Test matches with this average outside sub-continent conditions.
"This sums up the reason of India's failure. I agree that our bowlers failed to get rid of tailenders but in the past year the thing that worked in our favour is the fast bowling attack. The main factor behind the failure is that Indian batsmen have not been able to score runs, before every series we talked about that they need to score 350 plus. When Virat Kohli scored then only India score 290 otherwise they scored much less when he got out early," Ganguly said.
The four-match series is now evenly poised at 1-1 with the next Test set to be played at the iconic Melbourne Cricket Ground from Boxing Day. And despite the resounding loss at Perth, Ganguly feels India can turn it around and take the series.
"I still think India can win the last two Test matches against current Australian team, because this Australia is weak. Without any doubt Australia played better in the Perth Test, but if India bat first in the Melbourne and Sydney Test then the pressure will be on the hosts. I don't say that India are out of the series, but they must score runs to win the matches," Ganguly said.