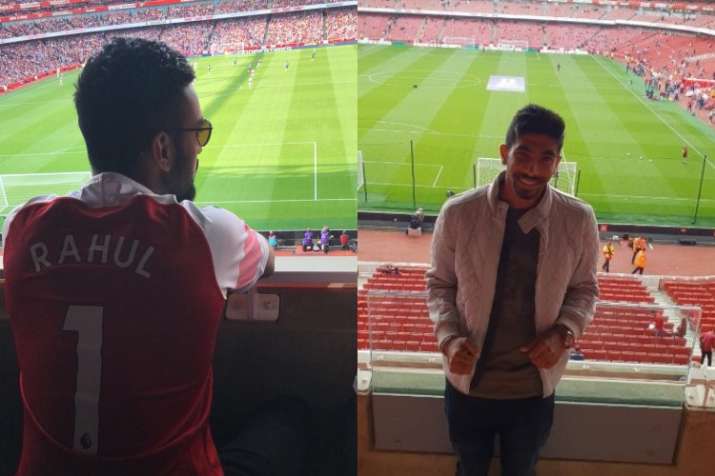 The English Premier League is back in action and luckily for the Indian cricketers, they can finally get to attend the electrifying fixtures from the stand. Team India, who are currently playing a five-match Test series against hosts England, have been given a few days off before they return for the 4th Test at Southampton. 
The Indian cricket players are making the most of their off-time after making an impressive comeback to win the 3rd Test at Nottingham. 
Earlier, batsman KL Rahul was spotted with 2018 FIFA World Cup winner and Chelsea midfielder N'Golo Kante. On Saturday, Rahul, Umesh Yadav and Jasprit Bumrah attended an EPL fixture /London derby between Arsenal and West Ham United. 
Bumrah was spotted at the Emirates stadium in London (Arsenal's home ground). His caption read,'Had a great time watching #ArsenalvsWestHam #totallyelectrifying'.
Had a great time watching #ArsenalvsWestHam ⚽#totallyelectrifying pic.twitter.com/uQatwdmiXI

— Jasprit Bumrah (@Jaspritbumrah93) August 25, 2018
#Londondiaries 🦁 pic.twitter.com/1qKLqriGZr

— Jasprit Bumrah (@Jaspritbumrah93) August 24, 2018
Arsenal won their first match of the season under the new management of Unai Emery as they defeated West Ham 3-1 at the Emirates. Rahul and Umesh met up with Arsenal striker Danny Welbeck, who scored the winner of the match and goalkeeper Bernd Leno.
KL Rahul earlier had a chat with Kante as they spoke about their respective games and the World Cup experience. 
Batsman-wicketkeeper Rishabh Pant was spotted with opener Shikhar Dhawan and pacer Shardul Thakur. 
Indian captain Virat Kohli is spending time with his wife Anushka Sharma. Look who they came across. 
Coming to red ball cricket, India trail the five-match series 1-2, but after a determined and dominating show at Trent Bridge, the players seemed to have found their mojo as it was an all-round performance by the players which led to an emphatic win over the Joe Root led side, defeating them by 203 runs in the 3rd Test. 
All eyes will now be on both sides as India have a chance to level matters, whereas the hosts need a win to clinch the series. 
The fourth Test commences from August 30 at The Rose Bowl, Southampton.