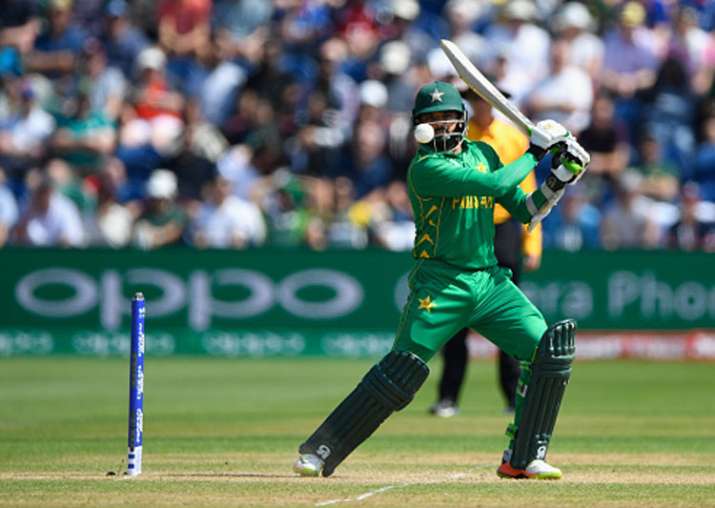 An unpredictable Pakistan today stunned England by eight wickets to enter their maiden Champions Trophy final, continuing their sensational run in the tournament. Pakistani bowlers produced another professional performance to restrict the formidable England batting line-up to 211 after Sarfraz Ahmed opted to bowl on a used surface. The star with the ball was once again pacer Hasan Ali, who ended up with a three wicket-haul for the third time in as 
many games. It seemed Pakistani batsmen were batting on a different pitch during the chase as they cruised to complete the target in 37.1 overs, after openers Azhar Ali (76 off 100) and Fakhar Zaman (57 off 58) provided a perfect start. The duo shared an 118-runs stand off 127 balls ensuring Pakistan gets home comfortably. The remarkable result also made a mockery of pre-tournament talk and predictions as the eighth-ranked Pakistan 
pummeled title favourites England to reach the final at The Oval on Sunday. (Scorecard)
HIGHLIGHTS FROM ENGLAND VS PAKISTAN, ICC CHAMPIONS TROPHY 2017, 1ST SEMI-FINAL
PAKISTAN INNINGS:
21.55 IST: England will be really bewailed with their performance today. They were clear favorites to win this one but who would have thought they would have been befuddled in all the departments today. Their batsmen didn't get going while their bowlers too couldn't create much of an impact as they didn't have much to defend. As a result, once again after getting so close to lifting the trophy, they have been knockedout.
21.50 IST: Azhar Ali was happy to play the second fiddle but once he got his eye in, he started to fire as well. The duo accounted for the 118-run opening stand and set the tone for the chase. Both scored their fifties but Zaman departed immediately after it. However, this time Pakistan didn't slip. Azhar Ali stood there with Babar Azam and continued the good work. Mohammad Hafeez towards the end provided the finishing touch and took his team over the line.
21.45 IST: Pakistan dressing room erupts in joy! Coach Mickey Arthur, skipper Sarfraz Ahmed are all pumped up. This shows how much this win means to them. They have knocked out the hosts and boy, they did so in an emphatic manner. After winning the toss and putting England into bat, their bowlers did a fabulous job to restrict them to a low total. The odds were in their favour and a good start was what they needed. Young, Fakhar Zaman and Azhar Ali started off in electric manner with the former going great guns.
21.42 IST: FOUR! That's it! Pakistan are through to the finals. Hafeez finishes it off in style, short ball on the stumps from Stokes, the batsman rocks back and pulls it through square leg for a boundary. Pakistan (215/2) beat England (211) by 8 wickets to enter final. Azhar Ali 76, Fakhar Zaman 57
21.39 IST: FOUR! Short and wide outside off, Hafeez cuts it through for another boundary. 2 required now. Srafraz Ahmed is all smiles at the balcony. PAK 211/2, need just 1 runs
21.37 IST: FOUR! Short ball outside off, Hafeez cuts it through cover-point for a boundary. Pakistan are one hit away now.
21.35 IST: FOUR! Full outside off, Azam drives it through covers. 200 up for Pakistan they need 12 more now. PAK 202/2 in 36 overs, need 10 runs in 84 balls
21.32 IST: SIX! Hafeez belts Stokes for a maximum. Bowls a short ball outside off, Hafeez tennis bats it over mid on for a maximum. A biggie on the free hit.
21.23 IST: SIX! Mohammad Hafeez hits Adil Rashid for a maximum to end the over. Rashid gives it a lot of air and bowls it full, Hafeez lofts it over mid off for a maximum. PAK 183/2 in 34 overs
21.16 IST: OUT! Jake Ball removes Azhar Ali for 76. Azhar Ali departs after a very good innings. He has turned the match Pakistan's way. Bowls a very short bouncer on leg stump, Ali comes down the track and goes for the pull but gets an inside edge onto the stumps. It is too late for England. Pakistan need only 39 off 106 balls. PAK 173/2 in 32.2 overs
21.04 IST: FOUR! Azhar Ali hits Plunkett for a boundary to end the over. PAK 163/1 in 29 overs
20.55 IST: FOUR! Babar Azam drags it down on middle, Azam rocks back and pulls it through mid-wicket for a boundary. Pakistan are getting closer and closer. PAK 157/1 in 28 overs
20.42 IST: SIX! Babar Azam hits Adil Rashid for a maximum over long on. Lovely use of the feet. Rashid bowls a leg spinner on middle, Babar Azam comes down the track and hits it straight down the ground for a maximum. PAK 138/1 in 24 overs
20.34 IST: OUT! Adil Rashid removes Zaman for 57. Fakhar Zaman walks off! Good sportsman spirit shown there by the young bloke! England finally draw first blood! Serves a lovely googly around middle, Zaman clears his front leg to go big over the leg side but misses as the ball turns the other way. He loses his balance as well and Buttler behind the stumps whips the bails off quickly. Adil Rashid strikes, can England create further inroads? PAK 118/1 in 21.1 overs
20.30 IST: FOUR! Fifty for Azhar Ali! Another valuable knock from the senior player! Shortish and outside off, Azhar Ali keeps the face of the bat open and glides it past Root at first slip for a boundary. The fielder in the deep could do nothing about it.
20.20 IST: Time for Drinks. Pakistan are going great guns and are heading safely through to the finals. But such is their past, that they wouldn't need to long to be imploded. But so far, so good for them. England have been left clueless. Can they pull off a miracle? If they have to, they need to do it now...
20.17 IST: FOUR! Zaman at it again! He is taking the England bowlers to cleaners. He's spanked it! Zaman makes room, Moeen keeps it full on the stumps. Fakhar thrashes it over extra cover for a boundary. Superb hitting from this young lad! PAK 105/0 in 18 overs 
20.12 IST: Second ODI fifty for Fakhar Zaman! PAK 99/0 in 17 overs
20.10 IST: FOUR! What a way to end the over. Zaman hits Plunkett for a boundary. Pulled away powerfully! Shortish on middle, it sits up at a nice height too. Zaman swivels a touch and pulls it firmly through mid-wicket for another boundary. PAK 95/0 in 16 overs
20.06 IST: FOUR! Fakhar Zaman hits Adil Rashid for a boundary. Steps out to the wrong one, knows that the mid off is inside the ring and thwacks it over Plunkett for a boundary. That was hit superbly. PAK 88/0 in 15 overs
20.02 IST: Good over from Plunkett - just 3 runs off it. PAK 81/0 in 14 overs
19.58 IST: FOUR! WOW! What a shot. Full ball outside off, Azhar Ali drives it square for a boundary. That made such a good sound off the bat. PAK 78/0 in 13 overs
19.55 IST: SIX!  Pakistan are on a roll here. Stokes bowls a short ball on the pads, Ali goes for the pull but gets a top edge down to fine. Adil Rashid for a moment thaught he had a chance but then sees the ball go over the fence for a maximum. PAK 72/0 in 12.1 overs
19.54 IST: 10 runs off the over. PAK 66/0 in 12 overs
19.52 IST: FOUR! It's becoming all too easy for men in green at the moment. Easy peasy for Fakhar! Plunkeet errs in line, strays down the leg side, Zaman just tickles it fine down the leg side for a boundary.  PAK 62/0 in 11.3 overs 
19.50 IST: FOUR! This time from Ali. England bowlers are now missing the line and Pakistan openers making them pay for this. PAK 56/0 in 11 overs
19.45 IST: 8 runs off the over. PAK 49/0 in 10 overs
19.42 IST: FOUR! Predictable stuff from English bowlers. They keep on bowling short to Zaman and he keeps hitting them. Brilliant from the youngster. PAK 46/0 in 9.3 overs
19.40 IST: FOUR! Another controlled shot from the young Zaman. He's turning the heat on here against the English bowlers. Wood again bowls it short, Zaman takes the short ball on and pulls it over square leg for a boundary. This is a very good start for Pakistan.  PAK 41/0 in 9 overs
19.37 IST: 5 off the over. PAK 35/0 in 8 overs
19.35 IST: FOUR! Brilliant shot from Azhar Ali. Short and a bit of width outside off, Azhar Ali stands tall and punches it a bit sqaure of the wicket on the off side for a boundary. No need to run for those. PAK 35/0 in 7.3 overs
19.33 IST: MAIDEN! Good stuff from Wood, he's bowling his heart out for the hosts. PAK 30/0 in 7 overs
Decent start from Pakistan keeping in mind their previous track record in the tournament. 
19.30 IST: Another tidy over from England, this time from Ball. PAK 29/0 in 6 overs
19.26 IST: Tidy over from Wood, 3 runs off it. PAK 26/0 in 5 overs
19.22 IST: A dot to finish the over by Jake Ball. PAK 23/0 in 4 overs
19.19 IST: FOUR! BANG! Short ball, Zaman comes down the track and pulls it through square leg for a boundary. He is showing some good intent here. PAK 22/0 in 3.1 overs
19.18 IST: IN THE AIR but lands safely. Zaman once again tested with the short pitch stuff. PAK 18/0 in 3 overs
19.15 IST: Ball finishes off nicely. PAK 16/0 in 2 overs
19.12 IST: FIVE WIDES! It's all going in the favour of the visiting side so far. Inswinger this time but bowls it down the leg side, it keeps swinging. Ali goes for the flick but misses it. Buttler who dives to his left to stop it has no chance and the ball races away to the fence. PAK 15/0 in 1.1 overs
Jake Ball to bowl with the second new ball. A couple of slips for him as well.​
19.09 IST: SIX! Positive start for Pakistan, Zaman hits the maximum off the fourth ball. TOP EDGE! Wood bangs it in short, Zaman goes for the pull but gets a top edge and it goes over the keeepers head for a six. That is how he plays he wont shy away from swinging his bat​. PAK 10/0 in 1 over
19.06 IST: WIDE! Marc Wood starts off with a wide. PAK 1/0 
19.05 IST: Pakistan Openers Fakhar Zaman and Azhar Ali are out in the centre to start the chase.
ENGLAND INNINGS:
18.50 IST: Sarfraz Ahmed couldn't have asked for a better show. His bowlers bowled as a unit and never let the game slip away. The new ball bowlers set the tone and then the spinners came to the fore keep the lid on the scoring rate. Special mention to Hasan Ali who once again rose to the occasion and impressed one and all. His figures of 10-0-35-3 speaks volumes regarding how well his molding himself into.
18.45 IST: An exceptional display of bowling from Pakistan twice in two games have seen them restricting England to a really scanty total. They would have really elated today as they were without Amir but his replacement in the name of Raees didn't let them miss his duties. To be honest, England never really got going. Root was the only man who was looking in good nick but he too was sent packing. All the Englishmen found it really tough to middle the ball and the fact that Stokes was struggling to score, tells you how beautifully he was deceived by the visitors.
18.37 IST: OUT! Run out! England have been bowled out for 212! Short ball on middle, Jake Ball misses his attempted pull shot and blindly tries to steal a bye. Sarfraz collects the ball and has an underarm shy at the striker's end. He hits and Mark Wood was nowhere in the frame. Pakistan bowl England out for 211 in 49.5 overs. Root 46, Hasan Ali 3/35
18.30 IST: OUT! Raaes removes Plunkett for 9. Shortish ball, angling in. Liam Plunkett looks to pull but doesn't get enough behind the shot. The ball travels towards deep square leg where Azhar Ali takes a fine catch. ENG 206/9 in 48.5 overs
18.25 IST: OUT! Ben Stokes' struggling knock comes to an end! Hasan Ali once again changes the pace, hurls a length ball on leg, Ben Stokes once again gets trapped as he looks to go across the line. The ball lobs off the leading edge towards covers and Mohammad Hafeez settles safely under it. Exceptional from Ali as he now becomes the leading wicket-taker this year.
18.11 IST: Decent over from Raae - 5 off it. ENG 187/7 in 45 overs 
18.07 IST: Good over from Hasan Ali. Just two from it and a run out. England in dire straits now! But nothing to take away from Pakistan! Excellency at its best! Ali angles in a very ball on middle, Rashid misses and is hit on the pads. The ball rolls towards covers but Hasan is busy appealing for an LBW. The umpire shakes his head and the batsmen look for a leg bye. In the meanwhile, Ahmed Shehzad (sub) charges towards the ball and has a shy at the bowler's end and he hits. They take it upstairs and replays find the English leggie short. ENG 182/7 in 44 overs
18.04 IST: OUT! Adil Rashid run out for 7. ENG 181/7 in 43.3 overs
18.00 IST: Good over for Pakistan. Raaes gives away just three runs. ENG 180/6 in 43 overs
17.50 IST: Just four runs off the over. ENG 169/6 in 40 overs
17.45 IST: England reeling at the moment with quick strikes from Pakistani pacers especially Junaid. ENG 165/6 in 39 overs
17.42 IST: OUT! WHAT A CATCH! Fakhar Zaman you beauty. That was amazing by the youngster. Moeen Ali has to go back now. Junaid digs in a short one on middle, Ali goes for a pull but gets a top edge down to deep backward square leg. Where Zaman makes great ground to his left, keeps his eye on the ball, stretches his hand out and takes an absolute blinder. Junaid Khan celebrates it in unique way. England have lost their 6th wiht only 162 on the board. Moeen Ali back into the hut at 11. ENG 162/6 in 38.3 overs
17.39 IST: FOUR! Ali heaves this one away to mid-wicket fence. ENG 161/5 in 38 overs
17.37 IST: Another good over for the men in green, 2 runs off it. ENG 155/5 in 37 overs
17.32 IST: FOUR! That will release some pressure off England. Nice shot from Moeen Ali. Uppish but safe . Bowls it wide outside off, Ali drives it square through point for a boundary. Zaman makes good ground to his right and dives but is not able to stop the ball. ENG 153/5 in 36 overs
17.29 IST: Brilliant over from the Junaid. ENG 149/5 in 35 overs
17.24 IST: OUT! What a beauty from Junaid to Jos Buttler. He's gone for 4. Another one bites the dust. The dangerous Buttler has to depart. Junaid khan bowls a lovely length ball on middle which moves away off the deck. Buttler tries to run it down to third man but gets a faint outside edge to his opposite number. England are in trouble here. They have half the side back in the hut. Pakistan are all pumped and the crowd is going ecstatic. ENG 148/5 in 34.1 overs
17.19 IST: Just 2 singles from the over. It's time for Drinks! ENG 148/4 in 34 overs
17.16 IST: Fine over from Junaid from the other end, just four runs off it. ENG 146/4 in 33 overs
Good captaincy from Sarfraz Ahmed! Brings back Junaid Khan into the attack.
17.11 IST: 3 runs and one wicket in Ali's over. ENG 142/4 in 32 overs
17.07 IST: MORGAN GONE! Ali strikes once again for Pakistan. England captain gone for 33. He has been brilliant through out the tournament. He has always provided the breakthrough when Pakistan have needed it. Engalnd are crumbling here. A tad fuller outside off, Morgan comes down the track and slashes at the ball. Gets an outside edge to the Sarfraz. They all go up and the umpire gives it. What a bowling change by the captain Sarfraz. The in-form Morgan has to depart. He is now the join highest wicket taker in the tournament.
 ENG 141/4 in 31.4 overs
Hassan Ali comes back into the attack for Pakistan
17.04 IST: How has that missed the stumps? Hafeez drags his length back a little. Morgan goes pack and tries to pull but misses it and it just misses the stump by a milimeter. Sarfraz is unable to catch it and it hits his leg and lobs to short fine. Another good over from Hafeez, ENG 139/3 in 31 overs
17.01 IST: FOUR from Morgan! Risky shot but gives England fans something to cheer about. Reverse swept! Pitched around leg, Morgan reverse sweeps it over backward point to find a much-needed boundary. ENG 136/3 in 30 overs
16.58 IST: BRILLIANT OVER! Hafeez gives away just one run off his sixth over. ENG 130/3 in 29 overs
Pakistan spinners - Shadab Khan and Mohammad Hafeez not allowing England to break the shackles at the moment. 
16:56 IST: 2 runs and a wicket off Shadab's over. ENG 129/3 in 28 overs
16.52 IST: OUT! Shadab removes Root for 46. ENG 128/3 in 27.3 overs. Ben Stokes is the next batsman in.
16.50 IST: 4 runs off the over. ENG 127/2 in 27 overs
16.47 IST: FOUR! Boundary to end the over from Morgan. ENG 123/2 in 26 overs
16.44 IST: MORGAN given out! England skipper instantly ask for a review, third umpire rules the decision in favour of the batsman. Morgan survives. ENG 119/2 in 25.4 overs
16.41 IST: Good over for England, 7 off it. ENG 118/2 in 25 overs
16.40 IST: FOUR! Much needed boundary from Morgan off Hafeez. Hit that hard! Hafeez drags his length back a touch but it's enough for Morgan to make him pay. Eoin camps back and pulls it along the ground towards deep square leg for a boundary. ENG 116/2 in 24.3 overs
16.38 IST: Tidy over from young Shadab Khan, 3 runs off it. ENG 111/2 in 24 overs 
16.31 IST: FOUR for MORGAN! Chance goes down? Short and angling down leg, from around the wicket. Morgan is hurried with that one as he looks to pull it away. The ball goes off the gloves and rolls past Sarfraz who dives to his right but couldn't do anything about it. A boundary for Morgan but certainly wouldn't impress him. ENG 106/2 in 22.2 overs
16.28 IST: 100 comes up for the hosts in the 22nd over, ENG 101/2 in 22 overs
Eoin Morgan joins '5000 club' for England. He becomes the third English player after Ian Bell and Paul Collingwood to score 5K in ODIs
16.26 IST: Another quality over from pacer Hasan Ali for Pakistan. Just 3 off it, ENG 96/2 in 21 overs
16.23 IST: LOUD LBW SHOUT! Not given, Hafeez wants a review but is unaware of the fact that his team have used up their review in the first over. Quicker one around middle and off, Morgan looks to reverse sweep but misses and is hit on the pads. Hafeez and Sarfraz start to appeal but the umpire shakes his head. Replays show, it's a good call from the umpire as there was an inside edge. ENG 93/2 in 20 overs
16.20 IST: Five runs of Ali's second over. ENG 89/2 in 19 overs
16.15 IST: Another good over from Mohammad Hafeez. ENG 84/2 in 18 overs
16.07 IST: OUT! Hasan Ali removes Bairstow for 43. Ali strikes in his very first over. And then the celebration - both the arms aloft and then punches downwards. A short ball, angling in, Bairstow looks to pull but doesn't get enough meat behind the shot. It goes straight to Hafeez at deep square leg who makes no mistake. Bairstow is really disappointed to have thrown it away, after getting two lives. Morgan is the next man in. ENG 81/2 in 17 overs
16.04 IST: Dropped! Babar puts down Bairstow at slip and Hasan Ali at short third man. There was a slip place for that and Babar Azam has spilled one. Nicely tossed up around off, Bairstow looks to drive without any foot movement and gets an outside edge. Azam at first slip fails to hold on to that one and Hasan Ali from short third man comes running in to take it but the ball falls short of him. Sarfraz can't believe it. But give it up to his captaincy. Bairstow gets another reprieve. ENG 80/1 in 16 overs
16.01 IST: Another good over from Wasim. Just 4 runs off it. ENG 77/1 in 15 overs
15.56 IST: FOUR! Bairstow welcome back Shadab with a boundary straight down te ground. Shadab tosses it up on off, Bairstow flat bats it straight back past the bowler for a boundary. That was hit with a lot of power. ENG 73/1 in 14 overs
15.55 IST: Good over from Imad Wasim. He gives away just 2 runs. ENG 67/1 in 13 overs
15.52 IST: FOUR! Half-volley from Shadab and Root hits him for a boundary. Shadab drags it short on the stumps, Root has ample of time and pulls it through mid-wicket for a boundary. ENG 65/1 in 12 overs
15.50 IST: Imad Wasim gives away 6 runs. ENG 58/1 in 11 overs
15.56 IST: Ten overs gone and England are 52/1. Live Score, England vs Pakistan
15.45 IST: Azhar Ali drops Bairstow on 28. Touch chance though. Back of a length delivery on middle, Bairstow stays put and looks to pull. Gets it off the toe end of the bat towards mid-wicket where Azhar Ali leaps and tries to catch it but the ball doesn't stick. It pops out and goes behind. Had he held on to that one, it would have been a spectacular catch. A single taken but what an effort from Ali nonetheless.
15.42 IST: Good over from Imad Wasim. Just a single off it. ENG 45/1 in 9 overs
15.39 IST: Four! Good way to end the over. Root hits Raees for a boundary. Raaes bowls it on the pads, Root flicks it past square leg for a boundary. ENG 44/1 in 8 overs
15.33 IST: Left-arm spinner Imad Wasim comes into the attack. Wasim gives away just 3 runs. ENG 37/1 in 7 overs
15.30 IST: OUT! Raaes removes Hales for 13. First ODI wicket for Raees on debut. The debutant strikes. That would settle his nerves. He nearly got him in the previous over but the review saved him, but there is doubt this time. Bowls it on a length, Hales comes down the track and tries to go inside out. Does not get the elevation he wanted and hits it straight to covers. Where Babar Azam takes a simple catch. Hales has to depart. Pakistan get their first Rumman has a big smile on his face. ENG 34/1 in 5.5 overs. Joe Root is the next man in.
15.28 IST: FOUR! Bairstow comes down the ground and hits Raees for a boundary. Lands it on a length on off, Bairstow pushes it straight back past the bowler for a boundary. The fielder at mid off does try to dive and stop it but fails to do so.
15.26 IST: FOUR! Hales ends Junai's over with a boundary. That is a throwdown. Slower ball very full. Hales just hits it through covers for a boundary. ENG 29/0 in 5 overs
15.21 IST: NOT OUT! It is all going Englands way. Rumman Raees bowls it full it shapes in a little. Hales goes for the flick but misses and is struck on the pads. Pakistani players go up and the umpire gives it this time. Hales and Bairstow have a long chat in the middle and Hales finnaly decides to review it. There is no insde edge on it. But the ball is pitching outside leg. OH MY! That is the only thing which could save him. A successful review for England. Mickey Aurther the Pakistan coach cannot believe it. ENG 24/0 in 4 overs
15.15 IST: FOUR! Back-to-back boundaries for Bairstow. length ball on middle, Bairstow pulls it over the square leg fielder for a boundary. After a nervy start he is underway now. ENG 20/0 in 3 overs
15.13 IST: FOUR! Bowls it on the pads, Bairstow clips it through square leg for a boundary. That should get him going.
15.11 IST: Good start from the debutant. Raees gives away just 2 runs. ENG 7/0 in 2 overs
15.08 IST: Left-arm pacer Rumman Raees comes into the attack. He is making his debut today. 
15.06 IST: FOUR! En eventful first over from Junai Khan ends with a boundary. Full ball on off, Hales leans into the drive and drives it past mid off for a boundary. Hales hits the first boundary of the day. What an eventful over. ENG 5/0 in 1 over
15.03 IST: NOT OUT! Bairstow survives. That was so close. Junaid bowls it on a length, Bairstow goes for the flick but misses it and is struck on the pads, Paksitan players go up for an appeal and the umpire gives it not out. The bowler wanted to review it and Sarfraz Ahmed does take the review. There was no bat involved. It pitched in line, struck him in line but just clipping the top of off. So the on field call remains.
14.59 IST: The national anthems are done and dusted. England openers Jonny Bairstow and Alex Hales are out in the middle, while Junaid Khan to start the proceedings for Pakistan. Here we go...
14.54 IST: The players and the umpires are out for their respective national anthem.
14.50 IST: Pitch Report
Ricky Ponting says there is a tinge of green on the surface and it's nice and hard. The average score here is 261. Ponting mentions that the outfield is quick and the bowlers might rely more on cross-seam deliveries.
14.45 IST: Captain's Take:
Sarfraz Ahmed: We will bowl first today. It looks like a good batting pitch, hopefully it won't change today. Mohammad Amir is not playing today, he has back spasm. Rumman Raees is in and Shadab Khan is playing for Fahim Ashraf. They are a good team and we will make sure we play positive cricket.
Eoin Morgan: We don't mind, had we won the toss we would have batted first. Pakistan managed to chase in the last game. The groundsmen have done fantastic job. The wicket looks good. I think you got to be prepared, on their day they can beat any side. They are a strong side and they would ike to produce their best. Jason Roy misses out and Jonny Bairstow comes in.
14.35 IST: Playing XIs:
Pakistan: Azhar Ali, Fakhar Zaman, Babar Azam, Mohammad Hafeez, Shoaib Malik, Sarfraz Ahmed (wk/c), Imad Wasim, Rumman Raees, Shadab Khan, Hasan Ali, Junaid Khan
England: Alex Hales, Jonny Bairstow, Joe Root, Eoin Morgan (c), Ben Stokes, Jos Buttler (wk), Moeen Ali, Adil Rashid, Liam Plunkett, Mark Wood, Jake Ball
14.30 IST: TOSS! Pakistan win toss, opt to bowl vs England
Brief Preview:
England have come a long way in a short span of time since a humiliating first-round exit at the 2015 World Cup in Australia and New Zealand. They thrashed Pakistan 4-1 in a bilateral ODI series last year at home, including a world record score of 444 for three at Trent Bridge, which provides ample proof of their resurgence in recent times in a format they are still in the process of mastering. In Ben Stokes, they have one of the world's best all-rounder, who can inflict damage on the opposition with both bat and ball.
It was not for nothing the Durham player was paid a handsome USD 2.16 million to take part in the lucrative Indian Premier League (IPL) this season. Joe Root is a world-class batsman and is the fulcrum around whom the England batting revolves. Morgan and Jos Buttler complete the middle order, while openers Alex Hales and Jason Roy have the ability to be devastating at the top. Roy, though, has not been in the best of form and could be replaced by Jonny Bairstow for the last-four clash.
Pacers Jake Ball and Liam Plunkett have been doing the job with the ball, while a fired-up Mark Wood revelled in his role as Morgan's strike bowler, propelling the side to the semi-finals. Wood has returned this summer after three bouts of ankle surgery but his pace remained intact, often bamboozling opposition batsmen with his 90mph missiles.
England have by far been the best team in the tournament. They are the only team still unbeaten in the competition as they sailed into the semi-finals with three victories on the trot in the group stage. (Read Full Preview Here)