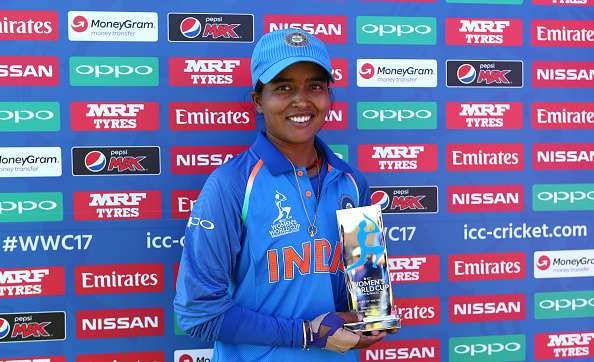 Spinner Ekta Bisht played a pivotal role in scripting a famous win for India in their third group encounter against arch-rivals Pakistan by 95 runs in the ICC Women's World Cup 2017. Applauding the effort of the 31-year old, Indian women's team skipper Mithali Raj was full of praise for Ekta whose five-wicket haul helped India to defend their lowest ever total against Pakistan in Derby.
Raj admitted that the Bisht's spell made the difference in the outcome of the match. She also said the Almora-born player has always delivered every time she has been given the challenge of the new ball.
"Ekta has always delivered when she has been given the challenge of the new ball. She's delivered time and again for India and I'm very proud of her. Her spell was so crucial. She gave us the heads up with the wickets in her first spell that got the team back into it," Raj said.
"When we reached 170, I knew that it could be anybody's game. We just needed those early breakthroughs so that we were in it," the skipper added.
Bisht has made a habit of tormenting Pakistan in 2017. She took five for 18 on Sunday as India made it three from three games in the ongoing Women's World Cup.
The left-arm spinner had also taken five for eight when the teams met in February during the ICC Women's World Cup Qualifier in Colombo, and after three wickets opening the bowling, she nearly matched those figures here.
Pakistan had never beaten India in an ODI before and despite a fine bowling performance that record continued following Bisht's heroics.
Pakistan captain Sana said, "This has been our best bowling performance against India in ODIs. In the last few overs, we leaked 10 or 20 runs, but otherwise, it was a very good bowling performance. With a better batting performance, we could have had a better game.
"Diana Baig brings a spark to the team (in the field), she's a wonderful athlete and the way she bowled, as a captain I'm very proud. Nashra was our key bowler in the qualifiers before coming to the World Cup and again she proved to be really good today," she added.
Having made 169-9 after electing to bat first, India looked under pressure, but the bowlers quickly showed that the total was more than enough, racing through the Pakistani batting line-up to move within touching distance of the semi-finals.
Pakistan were eventually bundled out for 74 in 38.1 overs to slump to their third consecutive defeat in the tournament.
Reflecting on the same, Sana blamed poor shot selection by the top-order for the team falling behind.
"I think the top order played too many cross-bat shots and against a good bowling line-up, there's no future if you play cross-bat shots, she said.
Earlier, the Mithali Raj-led side was done by some fine bowling performance by Pakistan as they registered their lowest total of the tournament.
Punam Raut (47), wicket-keeper Sushma Verma (33) and Deepti (28) made some noticeable contributions to help India reach 169-9 in 50 overs.
India will next face Sri Lanka at Derby on June 5.
(With Agency Inputs)