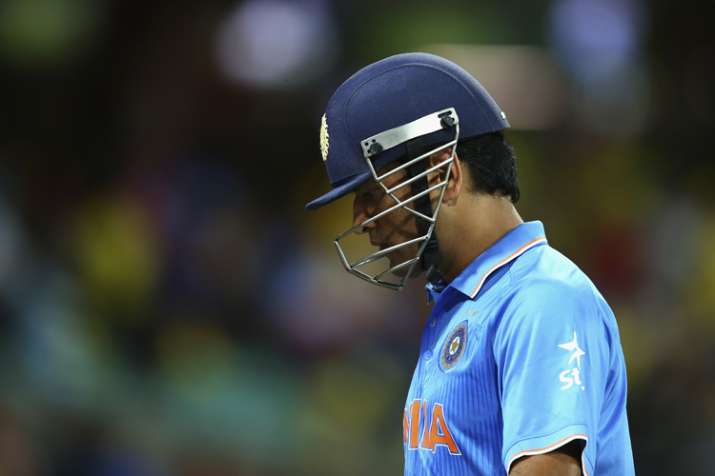 So it happened. MS Dhoni has been dropped from the Indian side for the first time after he attained a legendary status. He will not feature in the T20I series against West Indies at home and Australia later this year. While the selectors have stressed that they have chosen to 'rest' him while trying others for the second wicket-keeper's slot, there is no doubt that the Oracle has spoken on Mahi's T20I career.
The decision to "rest" Dhoni might just be the first sign of selectors trying to phase out the maverick former captain in at least one format. After all, they now have the luxury of trying out a dashing young stumper in the form of Rishabh Pant who has been making waves with his batting since his debut series in England.
A veteran of 93 T20Is, Dhoni has 1487 runs in the format at a strike rate of 127.09. However, at more than 37 years of age, his reflexes are not quite the same as they used to be when he was hitting sixes at will against the opposition bowlers. Despite being a sharp planner and a safe and agile hand behind the stumps, Mahi has been struggling to finish matches with the bat, something that came naturally to him at his peak and made him a modern legend. 
There is no doubt that his place in next year's ICC World Cup is safe but as far as the World T20 in 2020 is concerned, it might be too far-fetched a dream for Dhoni now. With Dhoni playing only seven T20Is this year and India's next ODI assignment only in January against Australia, the former captain won't be getting any domestic matches with both Vijay Hazare and Deodhar Trophy already over. The only T20Is left in the next six months is a three-game series against New Zealand, which is scheduled in February. There is a chance he can utilize the off-time to turn up for his State-side Jharkhand because otherwise, it is difficult to fathom him making a comeback into the shortest format team purely based on his status in Indian cricket.
In the subcontinent, there has been a long history of avoiding dropping players who have acquired the status of legends. In Dhoni's case, however, it was somehow always believed that he would be the first person to know when he needed to hang up his boots. That ship seems to have sailed for 'the fastest hands in the East'. 
It's time for Dhoni to pull up his socks and realize that the same logic that he applied to some of India's erstwhile legends while he was the captain is now being shoved on him as he turns greyer each day. He is still a part of the ODI setup and given the kind of confidence Kohli has on his senior, it is highly unlikely that the Jharkhand star will stay out from 2019 WC but that will only mean that the end will be even closer for Dhoni. The Ranchi-born would be better served if he goes out fighting rather than after getting dropped. After all, that is the 'Mahi way' isn't it!
The days of Dhoni the mercenary seem to be over now. Did any of us ever imagine it to end like this? No way. Maybe this is how the world ends - not with a bang but with a whimper.