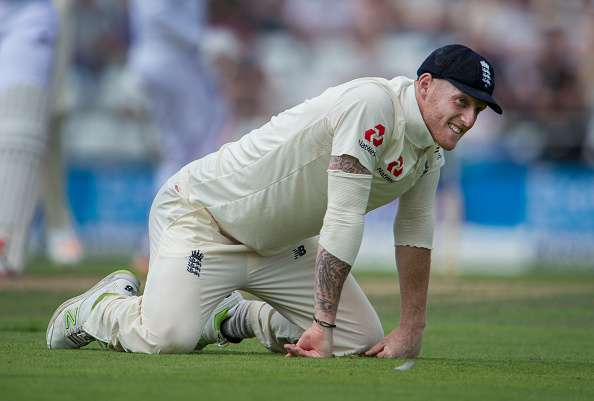 Former England captain Nasser Hussain has suggested all-rounder Ben Stokes to earn another demerit point in the third Test of the ongoing series against West Indies in order to avoid a ban during the Ashes this summer.
Stokes picked up his third demerit point for making an "inappropriate comment" during the second day's play in the ongoing second Test against West Indies at the Headingley, Leeds.
The incident happened in the 101st over of the West Indies innings, when Stokes reacted in frustration after being edged by Shai Hope for a boundary by making an inappropriate comment, which was clearly audible through the stump mic and also heard by the match officials.
If he gets another demerit point, he would be suspended for either his next Test match or two limited-overs internationals, leaving the possibility of him being out of the first Ashes Test.
But if the 26-year-old earns a demerit point in either the third Test or the six white-ball internationals that follow against the West Indies, he would cop a ban but effectively enter the all-important Ashes with a clean slate.
"If I were ( England captain Joe) Root I'd be tempted to tell him to get another demerit point during the third Test at Lord's (against the Windies), so he'd reach the four-point threshold for a ban and miss two of the forthcoming one-day matches, for which he may have been rested anyway, rather than an Ashes game," stated Nasser as media reports suggest.
The former skipper said that people know that Stokes has a fiery temper and that's why they will try to get him to react.
"This winter the Aussies will be going at him with subtle little digs around the bat, knowing that he's liable to go off and possibly get banned for a Test," he said.
The all-rounder had received one demerit point apiece in October and November 2016 for similar verbal offences.
(With ANI Inputs).