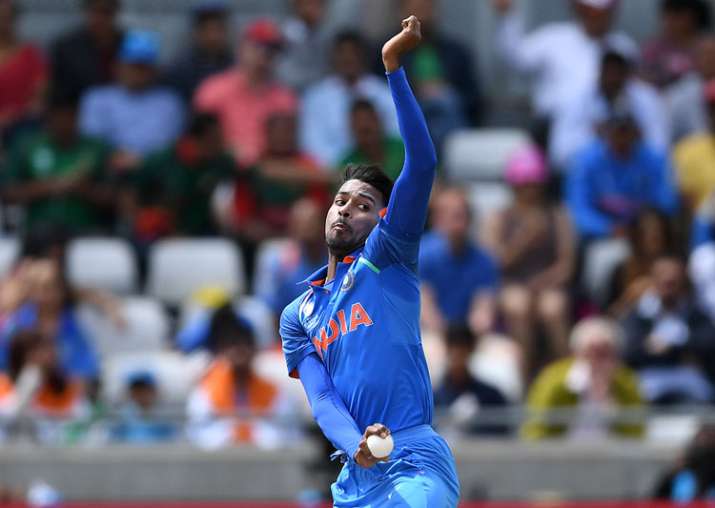 All-rounder Hardik Pandya has become the cynosure of all eyes after recent back-to-back impressive performances. The 23-year-old's match-winning performances on the Sri Lanka tour, where he scored his maiden Test ton and backed it up with a few all-round performances in the ODIs, and in the ongoing limited-overs series against Australia has made him one of the hottest properties in international cricket. Famous for his hard-hitting batting style, Pandya struck a brilliant 78 and guided India to series-clinching win against Australia in the third ODI at Indore.
Pandya's abilities with the bat and ball have made a centre of attraction in Indian cricket with many pundits comparing him to the legendary Kapil Dev. Pandya is seen as a bright prospect for the spot of the seam-bowling all-rounder, a rare breed in Indian cricket. 
Joining the bandwagon, former Australian cricketer Dean Jones went a step further and asked if Pandya's bowling action can be compared to legendary West Indies fast bowler Michael Holding. 
"Does anyone think that @hardikpandya7 bowling action similar to Michael Holding? Obviously speed is different,but similar," Jones asked in a Tweet.
Does anyone think that @hardikpandya7 bowling action similar to Michael Holding? Obviously speed is different,but similar @StarSportsIndia

— Dean Jones (@ProfDeano) September 24, 2017
However, Jones' tweet didn't go down well with many of the users who asked the Australian to stop comparing a cricketer of Holding's stature with a newbie like Pandya.
Deano what are you smoking these days? Must be some very good stuff that you are thinking like this

— Majid Arab (@MajidArab7) September 24, 2017
Dont compare legends like holding with pandya like shits....my kind request 😈😈😈😈

— 😈🔥Wallstreet Wolf🔥😈 (@WalllstreetWolf) September 24, 2017
You seems like a big cricket fan, but comparison between Pandya and Hopes shows you mostly follow cricket on Radio

— Dipesh Yadav🇮🇳 (@dipeshy01) September 24, 2017
You are an authority Deano but I beg to differ

— Sarmad Qureshi (@SarmadQureshi) September 24, 2017
Considered as one of the finest exponents of fast bowling in the history of the game, Holding was christened "Whispering Death" due to his ability to bowl at immense pace. Holding was part of the West Indies quartet (with Andy Roberts, Joel Garner and Colin Croft being others) in the '70s and '80s which instilled equal fear among the best batsmen of that era. Holding played 60 Tests and 102 ODIs, picking up 249 and 142 wickets, respectively.
Meanwhile, Pandya has so far played in three Tests, 24 ODIs and 19 T20Is. He has scored 178 runs in Tests, 489 in ODIs and 100 in T20Is. As far as his performance with the ball is consiedered, Pandya as taken 4 wickets in Tests, 28 in ODIs and 15 in T20Is.