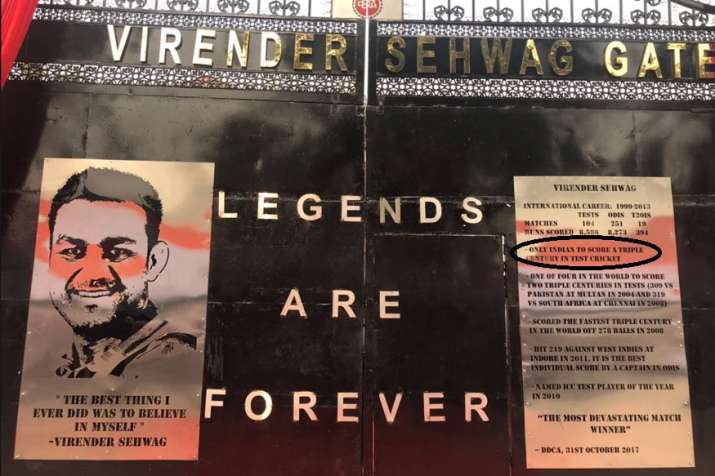 The iconic Feorz Shah Kotla cricket stadium on Tuesday got a gate named after one of its favourite alma mater and former India opener Virender Sehwag. It was indeed a huge occasion for Sehwag, whose enormous contributions to the game was being duly recognised by the Delhi and District Cricket Association. 
However, a factual but avoidable error led to a big embarrassment for the state association.
In a part of the gate where Sehwag's stats were mentioned, DDCA wrongly referred the Nawab of Najafgarh as the "only Indian to score triple century in Test cricket" - which is factually incorrect.
While Sehwag was the first Indian to score a triple century in Test cricket, he is not the only one to do so. Last year, batsman Karun Nair became the second Indian batsman to achieve the feat when he slammed an unbeaten 303 against England in Chennai.
However, Sehwag - one of the best Indian Test openers of all time - is the only Indian to score two triple centuries in the format. His first triple hundred - a magnificent 309 came against Pakistan in Multan in 2004, while his second one - 319 came against South Africa in Chennai in 2008.
Meanwhile, Sehwag said it was a great honour to have a gate at the Feroz Shah Kotla stadium named after him. 
The 39-year-old Delhi stalwart said the move will motivate many young cricketers in future. 
"It is a great honour and today we have a gate named after a cricketer but later we can have dressing room, stands and other things named after cricketers. It's a good thing and positive move from DDCA. I had a wish that whenever such a function happens, we should call all the cricketers who have represented Delhi and India," Sehwag said at a press conference.
Sehwag is also one of the five batsmen in world cricket to score a double hundred in ODI cricket.
During his international career, Sehwag has scored over 17,000 international runs.