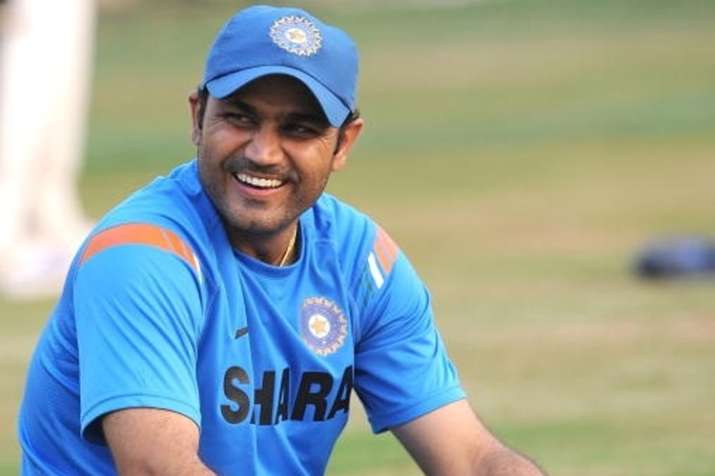 Former India opener Virender Sehwag has congratulated IndiaTV Chairman and Editor-in-Chief Rajat Sharma, who has been elected as the new President of the Delhi & District Cricket Association (DDCA) after a landslide victory on Monday.
Mr. Sharma, who is a Padma Bhushan awardee, received a total of 1,521 votes (54.40 per cent) in his favour and his team registered a 12-0 clean sweep in the DDCA elections. Rakesh Kumar Bansal has been elected as the Vice President with 48.87 per cent votes in his favour. (Rajat Sharma elected as DDCA President, thanks members after historic victory)
Sehwag himself was one of the voters in the DDCA elections. When asked about how he felt on Mr. Sharma's election as the DDCA President, the former opener emphasised that he had predicted his win when the latter filed his nomination papers. 
"I was sure that he would win when he filed his nomination. There was no need for him to even cast his vote as he was confirmed to win due to his clean image from the beginning," Sehwag told IndiaTV.
On the benefits that would accrue to cricket in general and DDCA in particular from it's new President, Sehwag said, "I believe that Rajat Ji will take DDCA to great heights as he did with his channel India TV." 
"The biggest beneficiaries of this will be the cricketers of DDCA who will now have a voice of their own in the BCCI in the form of Rajat Sharma. Since I met him for the first time in 2015, he has always expressed great interest in cricket and its state of affairs in Delhi. He has always been concerned about how cricket was being administered in Delhi and DDCA. Rajat Ji would also ask me how he could contribute towards improving the status of affairs of cricket in Delhi."
Sehwag expressed his belief in Mr. Sharma by saying, "Now that he is the President of the DDCA there is no doubt in my mind that the conditions at DDCA would improve and young cricketers will be immensely benefitted." 
These elections also marked the first time that the voting was conducted in a proxy-free manner and transparent democratic standards were resorted to during the process. Sehwag sees this as a very good sign. "With proxy voting eliminated, it was a very good sign for those involved as it meant that an outsider also had the potential to win the elections," added Sehwag.
On being asked what should be the priorities of Mr. Sharma as the new Chief of DDCA, Sehwag stressed upon the need to focus on improving cricket-related issues including facilities, payment clearance of staff and building better infrastructures. "There should be a cricket committee whose sole purpose should be the improvement of cricket. All decisions regarding cricket should be taken by this committee in an unbiased manner. The trainers and staff must be well paid and their salaries and arrears cleared. Providing better opportunities and infrastructures to budding cricketers should be a top priority of this committee," replied Sehwag.
Former India Test cricketer Yashpal Sharma asked Sehwag for his opinion regarding Mr. Sharma's election as he himself has followed Rajat Sharma's trajectory since the 1980s and believes that he is the best man for the post. Sehwag concurred with his senior on this by saying, "Arun Jaitley was the most strict and influential President before Rajat ji under whose auspices a number of cricketers like Gautam Gambhir, Mithun Manhas and myself were given a chance to play for the country. I am sure the tradition will resume under the new President as his priority is and always has been cricket."