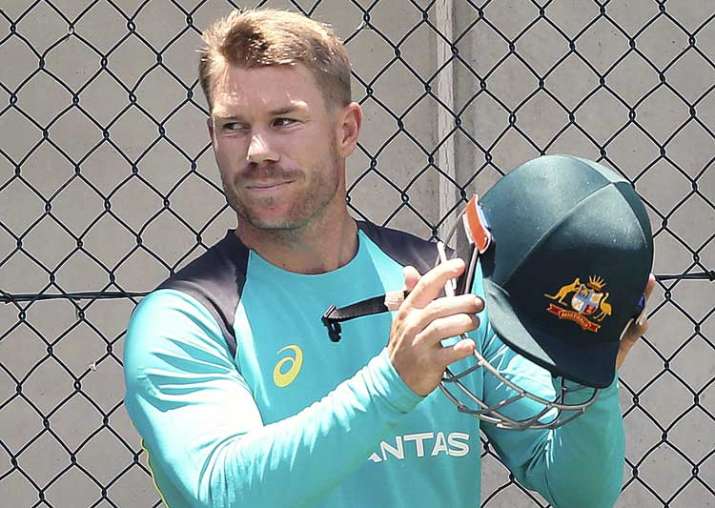 David Warner is confident he'll overcome a painful neck strain in time to play for Australia in the Ashes series opener against England on Thursday.
Warner hurt his neck during a fielding drill on Tuesday morning and received immediate treatment. He went for batting practice but only faced two balls before leaving the net. He gave himself 48 hours to recover before the first Test starts at the Gabba.
"My neck is quite stiff," the Australia vice-captain said. "I'm getting a bit of treatment at the moment and hopefully it settles down - I don't think a sore neck is going to keep me out."
The veteran opener said he stopped the batting session because he couldn't align himself properly in his stance, and wanted to have another go on Wednesday without it having it interfering with his technique.
"If I'm not able to be face on, I can't angle myself and I'll get out ... get bad habits," he said. "That's not what I want training to be like."
Warner whipped up pre-Ashes headlines when he said the Australian players would rely on hatred and aggression to rattle England during the five-Test series.
England holds the Ashes after winning 3-2 on home soil in 2015, but was swept 5-0 on its last tour to Australia. Warner, skipper Steve Smith and offspinner Nathan Lyon are all survivors of the Australian squad from that 2013-14 series that was won on the back of some intimidating fast bowling led by the now-retired Mitch Johnson.
England allrounder Moeen Ali said it was unlikely the neck strain would keep Warner out of the first Test at a venue where Australia hasn't lost an Ashes Test since 1986.
"I can't see David Warner not playing," Ali said. "Even with a sore neck, he'll want to play."