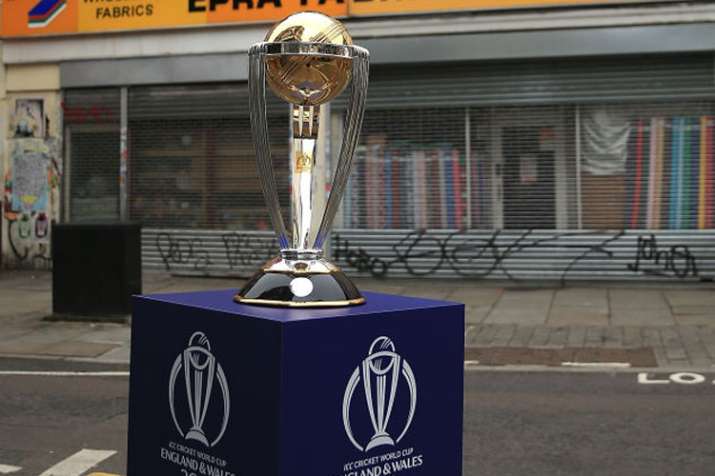 The wait is almost over as the ODI World Cup is all set to take the world by storm from May 30 when South Africa will lock horn against hosts England in the opening match at The Oval. 
In the 2019 edition of World Cup, only 10 teams will take part in the tournament and the group stage format is changed to the round robin set-up where every team will clash against each other to enter the semifinals of the tournament.
The ten teams who will participate in the cricket extravaganza are England (hosts), Australia, Bangladesh, India, New Zealand, Pakistan, South Africa, Sri Lanka, Afghanistan and West Indies.
According to many cricket pundits, England and India are favourites to win the biggest trophy. While the inclusion of David Warner and Steve Smith boost up the chances of defending champions Australia. Then there is West Indies who have the biggest hitters of the game in their World squad with the likes of Chris Gayle and Andre Russell.
After the Indian Premier League, the World Cup will take the center stage in cricket festival where every team will give their all to get their hands on the gold.
Here are the details of When, Where and How to watch World Cup 2019 matches live online and on television:
For Online Streaming: You can live stream All World Cup matches live on Hotstar and Jio TV
For TV: You can watch live World Cup Cup matches on Star Sports Network
Here is the full schedule of WC 2019 in England with timings, venus and further details of live stream World Cup : 
May 30 (Thursday): England vs South Africa - The Oval - 3 PM (Match Preview) (Live Streaming Online ENG vs SA match)
May 31 (Friday): West Indies vs Pakistan - Trent Bridge - 3 PM (Match Preview) (Live Streaming Online WI vs Pak match)
June 1 (Saturday): New Zealand vs Sri Lanka - Cardiff Wales Stadium - 3 PM
June 1 (Saturday): Afghanistan vs Australia - Bristol - 6 PM
June 2 (Sunday): South Africa vs Bangladesh - The Oval - 3 PM
June 3 (Monday): England vs Pakistan - Trent Bridge - 3 PM
June 4 (Tuesday): Afghanistan vs Sri Lanka - Cardiff - 3 PM
June 5 (Wednesday): South Africa vs India - Southampton - 3 PM
June 5 (Wednesday): Bangladesh vs New Zealand - Nottingham - 6 PM
June 6 (Thursday): Australia vs West Indies - Trent Bridge - 3 PM
June 7 (Friday): Pakistan vs Sri Lanka - Bristol - 3 PM
June 8 (Saturday): England vs Bangladesh - Cardiff - 3 PM
June 8 (Saturday): Afghanistan vs New Zealand - Taunton - 6 PM
June 9 (Sunday): India vs Australia - The Oval - 3 PM
June 10 (Monday): South Africa vs West Indies - Southampton - 3 PM
June 11 (Tuesday): Bangladesh vs Sri Lanka - Bristol - 3 PM
June 12 (Wednesday): Australia vs Pakistan - Taunton - 3 PM
June 13 (Thursday): India vs New Zealand - Nottingham - 3 PM
June 14 (Friday): England vs West Indies - Southampton - 3 PM
June 15 (Saturday): Sri Lanka vs Australia - The Oval - 3 PM
June 15 (Saturday): South Africa vs Afghanistan - Cardiff - 6 PM
June 16 (Sunday): India vs Pakistan - Manchester - 3 PM
June 17 (Monday): West Indies vs Bangladesh - Taunton - 3 PM
June 18 (Tuesday): England vs Afghanistan - Manchester - 3 PM
June 19 (Wednesday): New Zealand vs South Africa - Birmingham - 3 PM
June 20 (Thursday): Australia vs Bangladesh - Nottingham - 3 PM
June 21 (Friday): England vs Sri Lanka - Headingley - 3 PM
June 22 (Saturday): India vs Afghanistan - Southampton - 3 PM
June 22 (Saturday): West Indies vs New Zealand - Manchester - 6 PM
June 23 (Sunday): Pakistan vs South Africa - Lords - 3 PM
June 24 (Monday): Bangladesh vs Afghanistan - Southampton - 3 PM
June 25 (Tuesday): England vs Australia - Lords - 3 PM
June 26 (Wednesday): New Zealand vs Pakistan - Birmingham - 3 PM
June 27 (Thursday): West Indies vs India - Manchester - 3 PM
June 28 (Friday): Sri Lanka vs South Africa - Durham - 3 PM
June 29 (Saturday): Pakistan vs Afghanistan - Leeds - 3 PM
June 29 (Saturday): New Zealand vs Australia - Lords - 6 PM
June 30 (Sunday): England vs India - Birmingham - 3 PM
July 1 (Monday): Sri Lanka vs West Indies - Durham - 3 PM
July 2 (Tuesday): Bangladesh vs India - Birmingham - 3 PM
July 3 (Wednesday): England vs New Zealand - Durham - 3 PM
July 4 (Thursday): Afghanistan vs West Indies - Leeds - 3 PM
July 5 (Friday): Pakistan vs Bangladesh - Lords - 3 PM
July 6 (Saturday): Sri Lanka vs India - Leeds - 3 PM
July 6 (Saturday): Australia vs South Africa - Manchester - 6 PM
July 9 (Tuesday): First semifinal - Manchester - 3 PM
July 11 (Thursday): Second semifinal - Birmingham - 3 PM
July 14 (Sunday): THE FINAL
 (All timings are in IST)