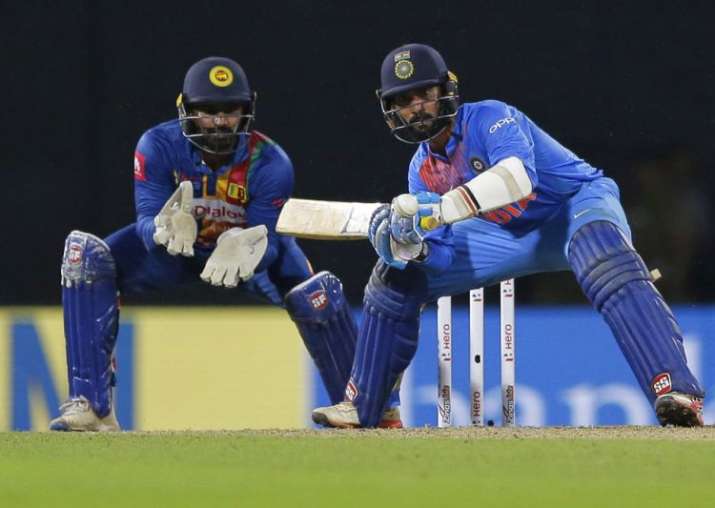 HIGHLIGHTS, 4TH T20I, NIDAHAS TROPHY: A combined effort helped India beat Sri Lanka by six wickets in the fourth match of the Nidahas Trophy Twenty20 International (T20I) cricket tri-series at the R. Premadasa International Cricket Stadium in Colombo on Monday. Chasing 152/9 target in a match which was curtailed to 19 overs due to rain, Rohit Sharma (11) and Shikhar Dhawan (8) could not provide the start India wanted. The duo was sent back to the pavilion in the fourth over with only 22 runs on board. New batsmen Lokesh Rahul (18) and Suresh Raina (27), who were looking good at the crease, were dismissed after getting a good start. The first one to go was Raina in the seventh over. His time at the crease was cut short by Nuwan Pradeep when scoreboard was reading 62 runs. But after that, Manish Pandey (42) and Dinesh Karthik (39) played sensibly and made sure that their team overhaul the target without any more hiccups. Together they forged an unbeaten 68-run partnership. (SCORECARD)
HIGHLIGHTS, INDIA VS SRI LANKA, NIDAHAS TROPHY, 4TH T20I
23.41 IST: India (153/4 in 17.3 overs) beat Sri Lanka (152/9) by six wickets to win the 4th T20I of the Nidahas Trophy. 
India win by 6 wickets! IND 153/4 (17.3 Ovs, Manish Pandey 42*, Dinesh Karthik 39*) v SL 152/9 #HeroNidahasTrophy #SLvIND pic.twitter.com/r6dSlD1bPW

— Sri Lanka Cricket (@OfficialSLC) March 12, 2018
23.36 IST: FOUR! Overpitched and Chameera has paid the price. Good batting from Karthik. Saw it pitched up, knew the fielder was inside the circle so he slogged it over mid-wicket for a boundary.
23.31 IST: FOUR! IND need 26 runs now. Terrific way to start the over! Short and width offered outside off, Karthik pounces on it and crashes it through the covers, beating the man out in the deep.
23.28 IST: SIX! Pandey looks to wrap it up early now. He's muscled it! Short of a length, Pandey picks the length early and he leaves nothing behind. Throws everything at it and sends the ball sailing over the mid-wicket fence with a powerful pull.  India need 32 runs in 27 balls.
23.21 IST: FOUR! What a shot! Elegant and skillful from Manish Pandey. Short of a good length outside off, Pandey stands tall, gets on top of the bounce and punches it firmly through extra cover for a boundary.
23.18 IST: 100 up for India. Jeevan Mendis to Dinesh Karthik, 2 runs. Just behind a driving length, on the stumps, whipped through mid-wicket for a brace.
23.15 IST: FOUR! Good shot. Should relieve some pressure. It's dropped short, Karthik waits for it to come to him, and then unleashes a fierce cut through point for a boundary.
23.13 IST: IND 92/4 in 11 overs. Dushmantha Chameera to Manish Pandey, 1 run. The batsman defends it from within the crease. They pick up a single.
23.08 IST: Dinesh Karthik is in next.
23.07 IST: OUT! KL Rahul hit wicket for 18. Hit wicket! Would you believe it? After surviving a close run out chance on the previous ball, he finds this way to throw his wicket away. He bags a record as well - First India batsman to get out hit wicket in T20Is! Flatter delivery on the stumps, Rahul goes too much in the crease to tuck it away but in doing that, his back leg makes contact with the stumps and that is it for him tonight as the LED bails come out. Really, soft dismissal. India require 68 from 55 balls. India 85/4, need 68 runs vs Sri Lanka (152/9) in Colombo.
23.04 IST: NOT OUT! Jeevan Mendis to Manish Pandey, 1 run. Just in, just! The TV umpire gives it in the favor of the batsman! Manish lets the ball dip in and then pushes it towards backward point and sets off. The fielder is quick to throw it to the keeper who takes the bails off as KL Rahul dives full stretch to get back in.
22.59 IST: FOUR! Superb hit! Perera begins with a short ball outside off, Pandey gets on top of the bounce and thrashes it through cover for a boundary to welcome the Lanka skipper into the attack.
22.57 IST: Thisara Perera brings himself on.
22.56 IST: IND 75/3 in 8 overs,  need 78 runs in 66 balls.
22.50 IST: Manish Pandey is in next. 91 needed in 73 balls.
22.49 IST: OUT! Pradeep removes Raina for 27. Tame dismissal! Nuwan Pradeep breaks the stand! He sees Suresh jumping out of the track early and so he drops it on a length wider that his reach. Suresh Raina still goes on with the shot. Doesn't get any power behind it and spoons a simple catch to Thisara Perera at mid off. What a time to pick up a wicket and the looks on the faces of the Lankans tells us that. IND 62/3 in 6.5 overs
22.48 IST: SIX! Raina hammers Pradeep for a maximum. Dumped away! That was a poor delivery from Pradeep and gets the treatment! Pradeep digs in a short ball down the leg side, Raina walks across and helps it over fine leg. There was a man stationed near the rope but he could only watch it sail over him and into the fence.
22.46 IST: FOUR! KL Rahul hits Pradeep for a boundary. Rahul gets his first boundary! A stylish looking shot that! Gets across to a length delivery and flicks it over the man at short fine leg. No need to run for those!
22.44 IST: Four runs off Dananjaya's over and India 50/2 in 6 overs.
22.40 IST: SIX! What a shot that was! Raina hits it over mid-wicket fence. Another one on a shorter length on middle, Raina flat-bats it across the line. Booming hit that as the ball clears the square leg fence for a maximum. All power! IND 46/2 in 5 overs
22.39 IST: FOUR! Raina pulls it over square leg. Chameera once again digs in a short ball on middle, Raina jumps down the track, is a bit cramped for room as well but still swings across the line. Gets decent connection and fetches a one-bounce boundary towards square leg.
22.38 IST: FOUR! Raina hits Chameera for a bounday! Easy as it would get! Shortish and down the leg side, Raina is quick to get inside the line and help it fine down the leg side for a boundary.
22.35 IST: Raina makes it in! But hello? What were they doing? Horrible mix-up and that cost India nearly another wicket. IND 30/2 in 4 overs
22.31 IST: FOUR! Wides...Spinning down leg, Rahul misses his pull and the keeper had no chance to stop it either. Bonus runs for India!
22.28 IST: OUT! Dananjaya removes Dhawan for 8. Dhawan, the man in form is walking back now. Both the Indian openers are gone inside the first 4 overs. Sri Lanka are all pumped up. Good bowling from Akila again. Nicely tosses it up around off, Dhawan dances down the track but the ball turns away from him and since Shikhar is already out of the crease he goes on with his shot. Miscues it in the air towards mid on where Thisara Perera takes it easily. IND 22/2 in 3.1 overs
22.27 IST: FOUR! Dhawan hits Lakmal for a boundary towards fine-leg. That had please-hit-me written all over it! Lakmal is certainly struggling to find his line and length. Delivers a short ball down the leg side and Dhawan takes full toll of it. Walks across and pulls it down to fine leg for a boundary. IND 22/1 in 3 overs
22.21 IST: OUT! Dananjaya removes Rohit for 11. Straight to the man! Dananjaya sees Rohit is giving the charge and hence he smartly drifts it on the pads. The India skipper is too close to the pitch of the ball but still looks to whip/flick it over mid-wicket. Doesn't get it off the middle and hands a simple catch to Kusal Mendis at mid-wicket who is just at the edge of the circle. Rohit shakes his head in disarray as he trudges back. IND 13/1 in 2 overs
22.15 IST: FOUR! Effortless from Rohit. India off to a flier, too! On the pads this time, Rohit walks across just a touch and dumps it on the bounce over backward square leg for a boundary. India 11/0 in 1 over
22.14 IST: SIX! Rohit hits Lakmal for a biggie! Rohit is up and running! True pitch, screams Russel Arnold on air. Lakmal hurls it on a back of a length on middle, it sits up at a good height too as Rohit Sharma stands tall and muscles the pull over square leg for half a dozen.
22.13 IST: India openers Rohit Sharma and Shikhar Dhawan are out in the middle to open India's chase.
Sri Lanka Innings:
22.05 IST: Shardul Thakur to Suranga Lakmal, 1 run. Shardul Thakur almost had another! He has his hands on his head and eventually starts to head back. Another slower delivery on the stumps, Suranga Lakmal looks to go big but squirts it off the inner half down to fine leg to end the innings with a single. SRI LANKA FINISH WITH 152/9!
22.02 IST: OUT! Thakur removes Chameera for 0. Two-in-two for Thakur! The knuckle ball is working well for him. He's on a hat-trick now. Chameera gets across and swings as hard as he can. Gets beaten by the slowness on the ball, gets a top edge and Jaydev Unadkat at short third man takes it comfortably.  Sri Lanka 151/9 in 18.5 overs vs India in Colombo.
21.56 IST: FOUR! Suranga Lakmal starts with a boundary! A boundary to begin the final over and it's 150 up for Sri Lanka with that! Gets across to a back of a length ball and hits it over mid on for a boundary.
21.55 IST: Suranga Lakmal is in next.
21.54 IST: OUT! Unadkat removes Dananjaya for 5. Yes, he does! Good catch from KL Rahul. Jaydev with another slower ball on the stumps, Akila Dananjaya swings again but the bat turns in his hands at the point of impact. Still travels towards long on but only as far as KL Rahul is waiting there. He takes it easily.  Sri Lanka 146/7 in 18 overs vs India in Colombo.
21.52 IST: SIX! Shanaka shows off some confidence here. Off the meat! Brilliant from Dasun took everyone by surprise there! He anticipated Unadkat to bowl another slower delivery and was up for it. Waits deep in the crease and bludgeons it over extra cover for a maximum all the way. SL 145/6 in 17.3 overs.
21.50 IST: Jaydev Unadkat to bowl the 18th over.
21.47 IST: FOUR! Dasun Shanaka welcomes Thakur with an impressive shot. Nicely done! Thakur comes from over the wicket and drops it on a back of a length outside off, Shanaka makes room and at the last moment opens the face of his bat to guide it fine down to third man for a boundary. A much-needed one.
21.45 IST: Shardul Thakur is back. He has given 15 in the 2 overs that he has bowled so far.
21.40 IST: SL 123/6 in 15 overs. Four more overs are remaining in the game. Yuzvendra Chahal to Akila Dananjaya, no run. Gets across and works it towards the leg side. 4-0-34-1 for Chahal, good comeback from him after getting hit for a way too many in his first two overs.
21.38 IST: Akila Dananjaya walks out next.
21.37 IST: OUT! Chahal removes Kusal Mendis for 55. Another one departs! What's going on Sri Lanka? Will a collapse follow? Chahal drops it on a shorter length, it's the leg break. Kusal Mendis camps back to cut but isn't too keen to play with full heart. Gets it off the toe end of the bat and Rohit Sharma at cover accepts a dolly. The hosts are losing their way now. Sri Lanka 120/6 in 14.1 overs vs India in Colombo.
21.34 IST: Dasun Shanaka is the new man in.
21.33 IST: OUT! Sundar removes J Mendis for 1. Bowled 'em! Sundar is having a good outing as he picks up his second wicket of the game. In fact, my colleague reminds me that it's his first non-Kusal wicket in this format. Tosses it up bravely on the stumps, Jeevan Mendis makes room to drive it away, expecting it to turn away but this one doesn't and just goes straight on. Beats the inside edge and hits the middle stick. Sri Lanka 118/5 in 13.2 overs vs India in Colombo.
21.27 IST: Jeevan Mendis is the new man in. Sri Lanka looking to maintain the left hand-right hand combo? Anyway, Yuzvendra Chahal is back as well. 
21.26 IST: OUT! Thakur removes Perera for 15. Thisara's show is over! Well, you live by the sword and die by it goes the saying here. Thakur bowls a slower full ball outside off, Perera swings wildly but is deceived by the lack of pace on it. Gets a big top edge which balloons high up in the air over extra cover. Chahal backtracks, keeps his eyes on the ball and takes a well-judged reverse cup catch.  Sri Lanka 113/4 in 12 overs vs India in Colombo.
21.25 IST: FIFTY! Kusal Mendis hits 4th T20I half-century off 31 balls. Sri Lanka 113/3 in 11.5 overs vs India in Colombo.
21.22 IST: SIX! What a start for Perera! He's not going to hold back and that is why he has promoted up the order! Stays put to a length delivery and swings it flat over deep backward square leg to open his account.
21.20 IST: The skipper, Thisara Perera is the new man in, replacing Tharanga.
21.17 IST: OUT! Shankar removes Tharanga for 22. You miss and I hit stuff! India finally have the breakthrough as they manage to break the 62-run stand! Rohit Sharma is all smiles! Shankar bowls another cross seam delivery, angling in on middle, Tharanga comes down the track to go slog across the line but misses and sees his furniture shattered. To be honest, Upul that wasn't needed. You just have to rotate the strike and let the man at the other end do the hitting job. Sri Lanka 96/3 in 10.4 overs vs India in Colombo.
21.12 IST: Kusal Mendis concludes the 10th over with a SIX! THAT'S HUUUUUGGGEEEEE!!!! The boy is on fire tonight. Leaving nothing to chance, smashing everything so well. Short ball, Mendis moves across and swings hard. Hits it high into the night sky and then deep into the square leg stands. The man in the deep can only watch that go away.  SL 94/2 in 10 overs.
21.08 IST: Jaydev Unadkat is brought back into the attack. India need a wicket, he could just be the man to provide that.
21.05 IST: FOUR! A juicy full toss outside off, Upul Tharanga accepts the freebie with delight as he smacks it over the covers. Beats the man in the deep, picks up a good boundary.
21.00 IST: Chahal give flight to the ball and Kusal Mendis makes the best out of it. Poor length and Kusal Mendis has punished that! Half-tracker on the stumps, Mendis uses the depth of the crease well before positioning himself for the big pull. Right off the meat, it goes sailing into the mid-wicket stands. SL 75/2 in 7.5 overs.
20.57 IST: SIX! Tharanga slams it elegantly between the mid-wicket and long-on. Massive hit! Chahal gives this some decent flight and it's quite slow through the air, Tharanga clears his front leg and breaks the shackles with a big swing over the long on boundary. Needed that, can probably help him to cut loose now.
20.55 IST: Vijay Shankar to Kusal Mendis, 1 run. Back of a length delivery well outside off, Kusal Mendis goes a long way across before mistiming the scoop behind square on the leg side for a run.  SL 58/2 in 7 overs.
20.50 IST: FOUR! Nicely done. Mendis picks up the length early, kneels forward and across before lifting the sweep over backward square leg for a boundary. Picked his spot and executed the shot to perfection. The 50 comes up for Sri Lanka, which interestingly, is their slowest in this tournament so far.
20.45 IST: After 5 overs, Sri Lanka are 46/2. Yuzvendra Chahal to Kusal Mendis, 1 run. Just behind a driving length, on the stumps, sweeped away towards square leg for one run.
20.43 IST: FOUR! Finds the gap this time. Short ball and this time Mendis pulls it wide of the mid on fielder for a boundary.
20.39 IST: Upul Tharanga is the next batsman in.
20.38 IST: OUT! Sundar removes Kusal Perera for 3. Kusal Perera is gone. This is a big wicket for the Indians. Sundar from around the wicket bowls it full, Perera kneels down to reverse sweep but gets it off the back pad back onto the stumps. He's shocked at that sight, while the Indians rejoice. Credit to Washington here, he's comeback well. Got hit for a six the first ball of his last over, picks up a wicket this time around.  Sri Lanka 34/2 in 3.1 overs vs India in Colombo.
20.33 IST: Kusal Perera walks in at No.3. He's been in magnificent form, was in prime touch against India in their first game. Will he replicate something similar this evening?
20.32 IST: OUT! Thakur removes Gunathilaka for 17. MAGNIFICENT CATCH FROM SURESH RAINA! Absolute blinder. Oh wow. The replays won't justify just how hard that was hit. Unbelievable stuff. It's on a back of a length on middle and off, Gunathilaka rocks back and looks to blast the pull over mid-wicket. Not much elevation on this though. Raina moves to his left and dives full stretch as the ball sticks in his hand. Superb. Thakur is happy and relieved at the same time, he knows his mat has bailed him out. Early breakthrough for India.  Sri Lanka 25/1 in 2.1 overs vs India in Colombo.
20.28 IST: Gunathilaka greets the young pacer with a SIX! Welcome, young Sundar! Gunathilaka greets him with a hammering blow. From around the wicket, it's tossed right up there. The left-hander backs away and bangs it straight back down for a flat biggie.
20.27 IST: Washington Sundar will bowl from the other end.
20.25 IST: An expensive over by Jaydev Unadkat. Jaydev Unadkat to Danushka Gunathilaka, 1 run. Quick single to end a good over for the Lankans. 15 runs off it. It's tapped towards mid on and both batsmen quickly cross over. SL 15/0 after the first over. 
20.23 IST: SIX! Kusal Mendis gives Sri Lanka a flying start. What a hit! Took one hand off it while playing that but that still went a long way. It's dropped fuller in length, Kusal Mendis lofts it high and handsome over covers for a maximum.
20.21 IST: OVERTHROW! Sri Lanka get some bonus runs here. Jaydev Unadkat to Danushka Gunathilaka, FIVE OVERTHROWS! Drama right off the bat... literally. Unadkat lands it on a length on off and gets it to shape away. Gunathilaka taps it down in front of point with an open face and both batsmen go for the run. Rahul comes to the ball and has a shy at the striker's end, but it goes off Mendis' bat and away to the fine leg boundary.
20.18 IST: Sri Lanka Playing XI: Danushka Gunathilaka, Kusal Mendis, Kusal Perera (wk), Upul Tharanga, Dasun Shanaka, Thisara Perera(C), Jeevan Mendis, Akila Dananjaya, Nuwan Pradeep, Suranga Lakmal, Dushmantha Chameera
20.16 IST: "It looks like a good batting track. We would like to put runs on the board. Our batters are doing well, our bowlers couldn't execute plans in the last game. We have learnt our mistakes. Normally, we are a good bowling line-up, hopefully we can do some change," Thisara Perera says after the toss.
20.14 IST: India Playing XI: Rohit Sharma (C), Shikhar Dhawan, Suresh Raina, Lokesh Rahul, Manish Pandey, Dinesh Karthik (wk), Vijay Shankar, Washington Sundar, Jaydev Unadkat, Shardul Thakur, Yuzvendra Chahal
20.10 IST: "There has been some rain around and we wanted to have a score in front of us. We have seen in this tournament that the wicket seems to get better. It was a high-scoring game (Sri Lanka vs Bangladesh) and that proves wicket will get better. We have done that well. Another opportunity for us to showcase our talent. We spoke at length (about plans against Sri Lankan bowlers), we have understood their strength and weaknesses. Hopefully, we can execute today," says Rohit Sharma after winning the toss.
20.06 IST: India win toss, opt to bowl first against Sri Lanka in the rain-delayed 19-over match. KL Rahul comes in for India.
Toss time - #TeamIndia have won the toss and will field first. Game has been reduced to 19overs. One change for India - @klrahul11 in place of @RishabPant777 pic.twitter.com/llpmajWEhn

— BCCI (@BCCI) March 12, 2018
19.58 IST: UPDATE!  Toss has been scheduled at 8.05pm and the match will begin at 8.20pm. 
It's all clear now and we will have a game. Toss to take place at 8:05PM and start of play at 8:20PM #TeamIndia pic.twitter.com/6fv2wosqNj

— BCCI (@BCCI) March 12, 2018
19.53 IST: The main cover goes off at the R Premadasa Stadium, Colombo. The groundstaff's preparations have started. Is the toss coming in next few minutes?
The main cover goes off, ground preparations started.. #HeroNidahasTrophy #SLvIND

— Sri Lanka Cricket (@OfficialSLC) March 12, 2018
19.49 IST: "Covers are coming off, it seems drizzle has stopped," confirms Sri Lanka Cricket (SLC).
Covers are coming off, it seems drizzle has stopped. #HeroNidahasTrophy #SLvIND pic.twitter.com/zRZbs4W1Na

— Sri Lanka Cricket (@OfficialSLC) March 12, 2018
19.45 IST: Some covers are being removed as the rain gets lighter.
19.35 IST: Now, we have started losing overs. The cut-off time is 21.35 pm IST. 
19.15 IST: The rain gets heavier in Colombo. More covers are coming.
18.54 IST: "The drizzle has got slightly heavy. And the covers are coming back on. Toss and start of play delayed," confirms BCCI.
The drizzle has got slightly heavy. And the covers are coming back on. Toss and start of play delayed. Stay tuned for further updates #TeamIndia pic.twitter.com/FjA1YjR1yw

— BCCI (@BCCI) March 12, 2018
18.50 IST: Russell Arnold on air says it should be a passing shower. It doesn't seem though.
18.46 IST: Meanwhile, Sri Lankan cricket team is being led by Thisara Perera as the International Cricket Council (ICC) handed regular skipper Dinesh Chandimal a two-match suspension for over-rate offense. (Read full story)
Thisara Perera have been appointed to captain the Sri Lanka team in the next two games in the ongoing #HeroNidahasTrophy, following the ICC's decision to suspend Captain Dinesh Chandimal for two games for an over-rate offence.

— Sri Lanka Cricket (@OfficialSLC) March 11, 2018
18.42 IST: Rain returns in Colombo. The groundstaff puts the covers back. It's not a heavy shower though. 
18.34 IST: "Tentative toss time - 6:45 PM and start of play by 7:15 PM," says BCCI.
The players are out on the field with the Umpires inspecting the field of play. Tentative toss time - 6:45PM and start of play by 7:15PM #TeamIndia pic.twitter.com/0Iv5EDAPdM

— BCCI (@BCCI) March 12, 2018
18.28 IST: India's coaching staff, comprising Ravi Shastri and Bharat Arun, takes a close look at the Colombo wicket.
18.24 IST: Good News! The covers are coming off now.
18.18 IST: It's drizzling in Sri Lanka. Toss set to be delayed. "Everybody looking skywards at the moment. It's become slightly gloomy here with the drizzle getting a tinge heavier," says BCCI.
Everybody looking skywards at the moment. It's become slightly gloomy here with the drizzle getting a tinge heavier #TeamIndia pic.twitter.com/TekXfpZ2d6

— BCCI (@BCCI) March 12, 2018
18.15 IST: R Premadasa stadium is under wraps at the moment.
Under a slight cloud cover and under wraps at the moment the R Premadasa stadium. Stay tuned for further updates as we await a weather check #TeamIndia pic.twitter.com/8TQrCJhAjB

— BCCI (@BCCI) March 12, 2018
18.12 IST: Here are the squads for the Nidahas Trophy 4th T20I.
India: Rohit Sharma (c), Shikhar Dhawan (vice-captain), KL Rahul, Suresh Raina, Manish Pandey, Dinesh Karthik (wk), Deepak Hooda, Washington Sundar, Yuzvendra Chahal, Axar Patel, Vijay Shankar, Shardul Thakur, Jaydev Unadkat, Mohammad Siraj and Rishabh Pant (wk)
Sri Lanka: Dinesh Chandimal (c), Suranga Lakmal (vc), Upul Tharanga, Danushka Gunathilaka, Kusal Mendis, Dasun Shanaka, Kusal Janith Perera, Thisara Perera, Jeevan Mendis, Isuru Udana, Akila Dananjaya, Amila Aponso, Nuwan Pradeep, Dushmantha Chameera, Dhananjaya De Silva
18.05 IST: Leading the Indian cricket team, stand-in skipper Rohit Sharma will be desperate to get back to form when India take on hosts Sri Lanka in the fourth match of the Nidahas Tri-Series in Colombo on Monday. Rohit, termed as the most prolific white ball player after regular leader Virat Kohli, has gone off the boil since the start of the South Africa series. He will like to score heavily to get his confidence back as he frets on whether he could give Rishabh Pant another game in the tournament. (Read full match preview)